If you love birdwatching but live in an apartment, chances are you're looking for ways to attract birds to visit your home so you can enjoy their natural beauty.
One of the main ways you can achieve this is to provide food for birds, which is where balcony feeders come in.
In today's article, we're reviewing the 7 top options on the market to help you find the best balcony bird feeder for your needs.
We're also sharing some important considerations and tips on attracting birds to your balcony.
First up on our list is a highly popular bird feeder with a classic design that'll keep your balcony looking stylish while attracting a lot of birds to your apartment. It's available in black, copper, gray, green, and silver colors with a faded finish to complement the rustic feel of the feeder.
Top Tip: The Twinkle Star Bird Feeder arrives fully assembled. All you need to do is unbox the unit and hang it wherever is most suitable.
This hanging balcony bird feeder features a plastic hopper with a seed capacity of 2.15 pounds. The plastic container is clear so you can easily keep track of when refilling is due.
The feeding tray has a hexagonal shape, which provides birds with more edges for a more peaceful sharing of food. As for the feeder's roof, it's inclined to shade the birds from sun rays and rain.
To help you refill and clean the feeder swiftly, its cover is equipped with a twist-lock mechanism that's simple to figure out. At first, we found it a bit tricky to pull the roof off and put it back, but it only takes a few trials to get the hang of it.
If you're in the market for a traditional balcony feeder that you can hand or mount onto a pole, the Twinkle Star is a great choice at a very affordable price.
What We Like:
Elegant, rustic design
The twist-lock roof keeps the feed fresh
Easy refilling and cleaning
Budget-friendly price
What We Don't Like:
All-plastic construction isn't very durable
If you often run into issues with squirrels raiding your balcony bird feeders, the Standard Squirrel-proof Bird Feeder from Squirrel Buster could be exactly what you need. It's equipped with a couple of defenses against the unwanted critters including:
A chew-proof material that discourages squirrels from approaching the feeder.
An automatic shield control system that engages a spring-loaded mechanism to automatically close the seed port when it detects the extra weight of squirrels. You can adjust the weight limit to allow only certain types of birds to eat from the feeder.
Author Note: To achieve the best results with this squirrel-proof feeder, the company recommends keeping a minimum clearance of 18 inches around the feeder to prevent these critters from finding nearby support and accessing the food with its assistance.
The seed hopper has a capacity of 1.3 pounds and provides sufficient ventilation that preserves the freshness of the doof for a longer time. Not to mention, the entire feeder is UV-resistant to maintain it looking new.
With 4 ports and 4 metallic perches, assembling this unit doesn't require any tools besides your hands. feeder. The green feeder won't fade up easily due to its ultraviolet-resistance feature.
What We Like:
What We Don't Like:
On the pricey side
The dispenser's opening is a bit too small for sunflower seeds
From Perky-Pet, we have the Panorama Bird Feeder. It's named for its 360-degree feeding capabilities thanks to the circular design of its seed tray and perch. Its size is ideal for small and medium birds.
Installation-wise, this balcony bird feeder comes pre-assembled. All you need to do is strip it from the protective foam and tag, then hang it wherever you deem suitable.
While the top and bottom of the feeder are made out of metal, the seed reservoir is made out of transparent plastic to let you see the levels of the food. The metal parts are available in blue and brown color options, both are powder-coated to prevent rusting.
The capacity of this balcony bird feeder is 2 pounds of seeds. It also has a large opening to help you refill and clean the feeder with ease.
What's more, the cap features a Sure-Lock system to keep out persistent squirrels.
What We Like:
Rust-proof finish
Arrives ready to install
The cap locks securely
What We Don't Like:
Larger birds can cause some seeds to spill
The Urban Deco Multi-use bird feeder is an excellent option for anyone interested in watching birds eat and drink/bath right on their balcony. With a water source readily accessible while feeding, you'll have better chances of attracting more birds.
Offering exceptional value for money, this bird feeder is designed to be mounted onto most railings (up to 2 inches thick). This also makes it a good option if your balcony is on the smaller side.
Construction-wise, this bird feeder features a seed tray made out of thick steel and a water bowl made from plastic. The clamp is heavy-duty steel with a rust-resistant powder finish and a stylish bronze color.
Top Tip: To clean this feeder, simply turn the trays upside down and rinse or wipe them. Not to mention, refilling this bird feeder is as easy as they come as there are no locks or caps to consider.
Another neat aspect about the Urban Deco bird feeder is that the water bowl side can double as a potholder for plants if you don't feel like using it as a birdbath. The unit is backed up by a 12-month warranty.
What We Like:
Easy to attach to a balcony railing
Also serves as a birdbath and a plant potholder
Hassle-free cleaning and filling
What We Don't Like:
This Window Bird Feeder from Nature's Hangout is a terrific option if you want to experience birdwatching up-close and/or you don't want a feeder hanging from your balcony's ceiling or on its railing.
This unit attaches directly to your window, so practically, you don't need a balcony per se to set it up. It's equipped with 3 sturdy suction cups for secure adhesion.
It features a transparent plastic design to facilitate the viewing of birds and to help you see when it's time to refill the tray. This feeder has a capacity of 4 cups of birdseed.
With built-in drain holes to prolong the freshness of the food, the tray is also removable for easy filling and cleaning. Additionally, you get 3 extra suction cups with hooks for future replacement.
What We Like:
Compact design fits small balconies
See-through construction
Comes with strong, easy-to-mount suction cups
What We Don't Like:
More likely to cause a mess below the feeder
If you're particularly interested in attracting hummingbirds to your balcony, you may want to consider a feeder that's specifically developed to lure in these small birds. Enter the Glass Hummingbird Feeder from BOLITE, with its vintage look and effective bottle design.
The unit features a durable glass container that stores and serves nectar. It's available in bright red and blue colors to catch the attention of hummingbirds.
The base is made out of plastic with a copper finish that resists fading, whereas the cap is made out of metal to endure repeated hits of hummingbirds' beaks. Not to mention, the overall weather-resistant quality of the construction adds more value.
Author Note: The capacity of the Bolite feeder is 22 ounces, which means it can last for a few days, saving you from frequent refills. However, we recommend not filling the container fully and providing only enough nectar for a couple of days as it spoils quickly.
The cap is fitted with 5 flower-shaped feeding ports with a bright red color to further attract hummingbirds. As for cleaning and refilling, the glass container is dishwasher-safe and its opening is wide for easy access.
What We Like:
Vintage design
Durable materials
Developed to capture the attention of hummingbirds
Multiple hanging options
What We Don't Like:
If not many birds visit your feeder, the nectar in the large-capacity container is prone to spoiling
Last but not least, this Gray Bunny Bird Feeder is a nice choice for people looking to keep things simple. It doesn't require any hanging or mounting; all you need to do is place it in a suitable spot on the ground of your balcony and you're good to go.
Alternatively, you can tie it to the railing using wires or zip ties to the ground clear for traffic. Its mesh construction features heavy-duty wire, so it's both durable and easy to clean.
The holes of the mesh are small enough to hold tiny seeds such as millet. Additionally, the curved steel legs of the feeder maintain the unit's balance even with the weight of birds while feeding.
What We Like:
All-metal construction
No mounting needed
The mesh holes are small enough to hold tiny seeds
Works on the ground or railing
What We Don't Like:
You may need to file down its edges
What to Consider Before Putting a Bird Feeder on Your Balcony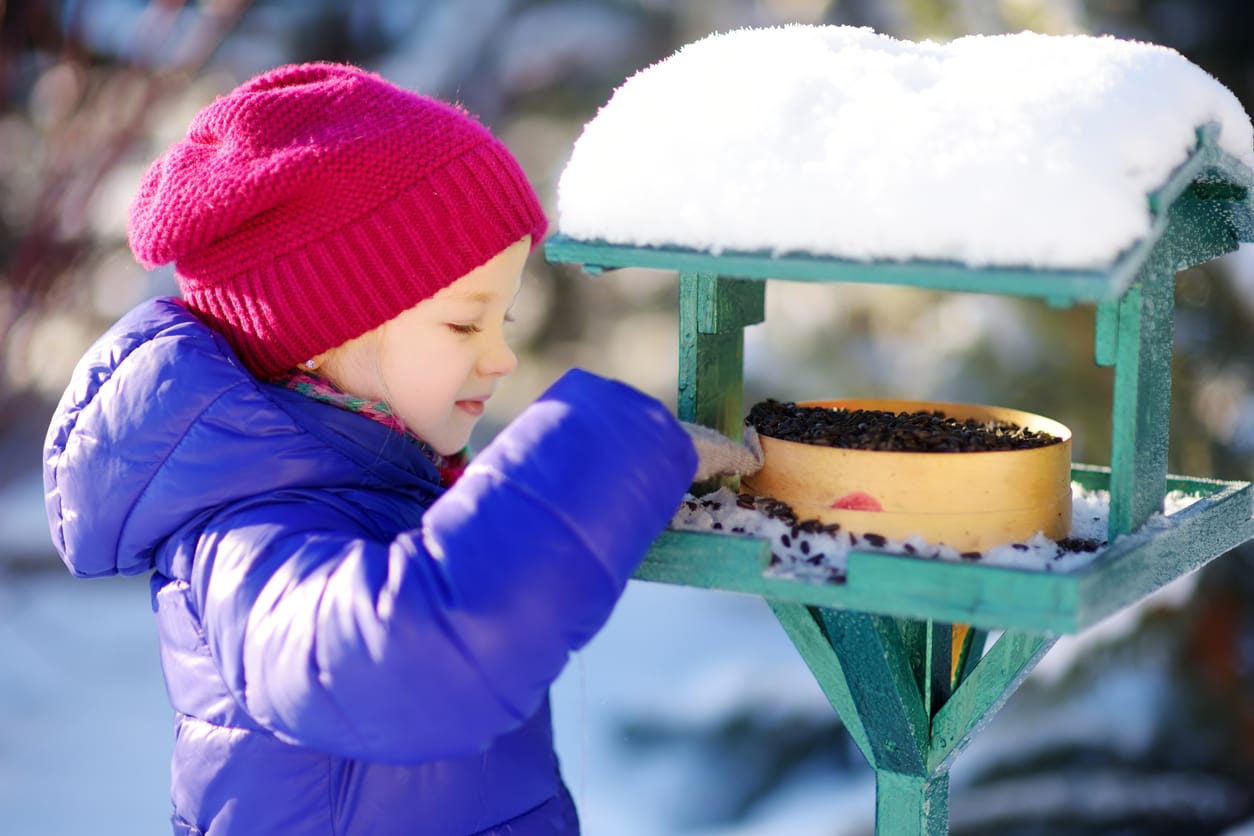 Before buying a bird feeder for your balcony, be sure to familiarize yourself with any regulations or restrictions on such an action. If you live in an apartment or condominium complex, chances are there are some guidelines or rules for installing feeders on your balcony.
Author Note: For example, you may not be allowed to use screws or hooks that may compromise the walls or railing.
Also, tenant rules may prohibit a certain level of mess in the balcony, and consequently, have a restriction on the types or number of bird feeders permitted.
Additionally, it's part of being a good neighbor to consider that your bird feeders won't negatively affect the balcony space of other people in your building.
What Birds Visit Balcony Bird Feeders?
Being aware of the possible visitors your best balcony bird feeder may attract can help you tailor the feeder style and type of food to attract the birds you prefer watching. Birds that fly and are comfortable eating at different heights include:
Sparrows
Finches
Doves
Orioles
Tanagers
Hummingbirds
Parrots from feral colonies in urban areas
How to Attract Birds to Your Balcony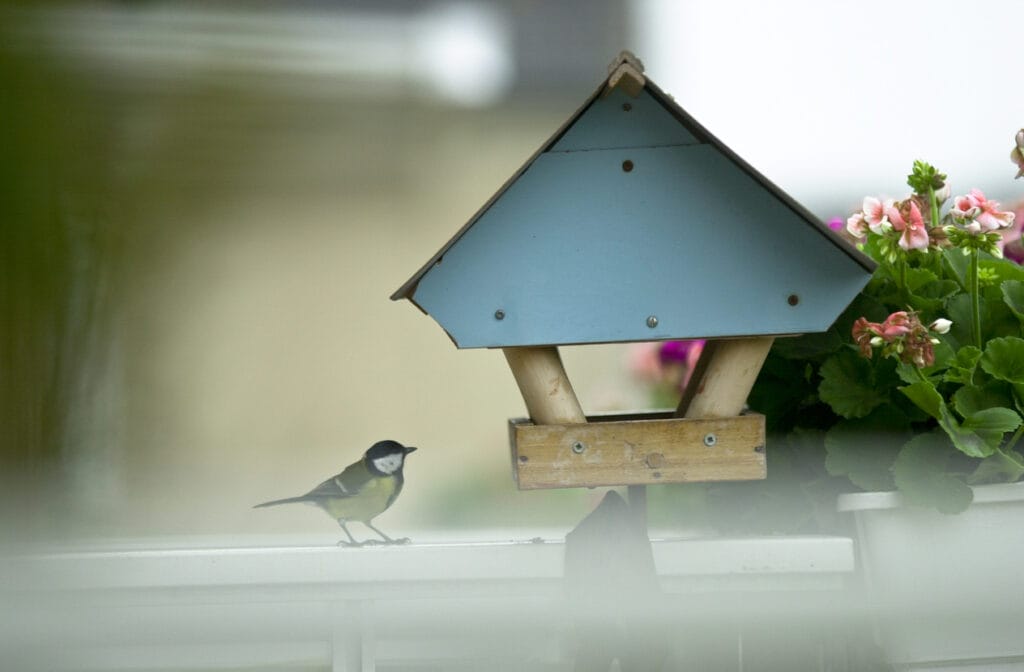 If you're trying to attract birds to your apartment balcony, here are some ways that can help lure them in:
Set up a balcony garden — a natural way to catch the attention of birds is a colorful garden, preferably with flowers or plants that feature bright shades and appealing scents. If your balcony is on the smaller side, consider hanging or potted plants that don't mind growing in a limited space.
Provide a water source — offering easy access to water along with food makes for a very attractive bird feeding spot. This can be as simple as a shallow water dish.
Use mixed bird seeds — this will help attract a variety of bird species.
Keep large birds away — small birds often avoid larger species because they tend to bully them for food. So, if you want to attract small birds, try deterring large birds if you notice them visiting your feeder.
You can do them by choosing the proper feeder type and the right seed types. Generally, small birds love to munch on sunflower and nyjer seeds that don't appeal to most large birds.
Play recordings of bird sounds — this can work wonderfully in attracting birds to your balcony feeder. balcony. However, you mustn't overuse this method to avoid harming certain species and causing communication issues.
Wrap Up
Choosing the best balcony bird feeder can be a challenging task, this is why we included only the top-performing options on today's list to make sure you end up with a reliable product no matter what.
That said, we recommend the Hexagon Hanging Wild Bird Feeder by Twinkle Star as the winner thanks to its rustic design, easy refilling/cleaning, twist-lock roof, and budget-friendly price.
FAQ
What is an alternative to using a balcony feeder?
You can put up hanging baskets with native flowers in that will attract birds. Use plants that are nectar producing to increase the range of potential species.
Do balcony feeders make a mess?
If you are concerned with the birds spilling foods on the balcony, choose one with a tray underneath to catch any stray seeds. There is the potential for birds to leave their own kind of mess on your balcony and that will need to be cleaned up by yourself regularly.
How do I make a bird feeder if I don't want to buy one?
You may not to buy a bird feeder if you are not sure that it will work, make your own version by just putting up a tray with seeds on. Secure it somehow on the balcony or put it on something so the birds will find it. There are also lots of resources about using plastic soda bottles to make feeders as well.