Known for their intelligence and bright blue plumage, Blue Jays are the finest birds nature has to offer.
These birds have a particular fondness for acorns, peanuts, and sunflower seeds, so they're quite easy to lure with the right feeder. So, if you're a passionate bird watcher and interested in snapping a few pics of Blue Jays from your backyard, you need a bird feeder that gets the job done.
To help you with your endeavors, I've listed some of the best bird feeders for blue jays, as well as effective ways to attract them to your yard.
Let's dive right in!
Top 7 Blue Jay Feeders That Actually Work
Chosen for their design, durability, and effectiveness, here are seven of the best bird feeders you can use to attract Blue Jays to your backyard.
The Bird's Choice Whole Peanut Feeder has everything you want in a feeder and more. It's durable, well-built, and aesthetically pleasing. Plus, it holds a decent amount of peanuts.
This feeder allows Blue Jays to extract whole peanuts from the feeder's circular ports. The thick acrylic Plexi panels are constructed from recycled plastic, which not only makes it eco-friendly but also immensely durable. With this, you don't have to worry about constantly replacing your bird feeder due to cracks or damage.
The structure itself is made from poly-lumber, which promises to withstand the test of time. Its high strength-to-density ratio makes it exceptionally strong. It also resists cracking, weathering, and splitting.
Thanks to its hinged roof design, the peanuts inside the feeder are protected from rain and snow. You can store up to 2-1/4 quarts of shelled peanuts in there, which is more than enough to last several days of winter.
Pros
Removable screen base for easy cleaning and installation
Durable construction
Attractive design
Holds a lot of peanuts
Cons
Suitable for shelled peanuts and large nuts only
With a maximum load of 5.18 pounds, the Solution4Patio Bird Feeder is as sturdy as it is durable. It's made from high-quality natural cedarwood, whose scent attracts all sorts of birds including Blue Jays. The cedar itself is insect-resistant, rot-resistant, and doesn't wrap under extreme heat, further increasing its overall longevity.
The feeder's roof and sidewalls protect birds from intense heat, rain, and snow. Additionally, the bottom tray drains moisture and circulates air to keep seeds free from mold and mildew.
The center feeder can hold an array of seeds and nuts, including sunflower seeds, peanuts, and corn. Likewise, the suet cages on either side of the feeder hold suet cakes, shelled peanuts, and other large nuts.
Pros
Detachable roof and plastic window makes it easy to fill and clean
Large capacity
Holds seeds and suets
Accommodates large and small birds
Cons
Top opening isn't very big
The Gtongoko Hanging Peanut Wreath is a wreath-shaped bird feeder that can hold about 1.25 pounds of peanuts and similar-sized nuts. This is fantastic news for our blue-feathered friends since shelled peanuts are one of their favorite foods.
This particular feeder is made of high-quality steel, providing a solid foothold that won't bend or break under the weight and beak of Blue Jays. To increase its longevity, it's covered with tarnish- and rust-resistant powder coating that can withstand harsh weather conditions.
Unfortunately—or fortunately, depending on how you look at it—this feeder isn't squirrel-proof. If you don't mind squirrels, then this isn't much of an issue. However, if you want to lure Blue Jays and birds only, you might find the presence of squirrels annoying as Blue Jays are quite wary of them. When there are squirrels around, Blue Jays will stay away from the feeder.
Pros
Holds a decent amount of peanuts
Consistently holds its round shape
Weather-proof and rust-proof
Durable
Easy to fill and clean
Cons
With its whimsical gazebo design, the Sand Mine Bird Feeder is a welcome addition to anyone's backyard.
Featuring a tray-style feeding port and a 360-degree perch, this feeder allows birds to dine from whatever angle they choose. The inclined roof shields birds from sun, rain, and snow, making it a great season-round feeder, especially for Blue Jays visiting during winter.
The Sand Mine Bird Feeder holds up to 2.6 pounds of seeds and nuts. Unfortunately, the holes in the bottom aren't large enough for acorns and shelled peanuts, but it can still carry unshelled peanuts, sunflower seeds, and corn, all of which are Blue Jays' favorites.
Pros
Sure-lock cap keeps squirrels out
Easy to clean and fill
Aesthetically-pleasing design
Cons
Doesn't fit shelled peanuts
Crafted by hand from rot-resistant cedar, the Nature's Way Tray Bird Feeder accommodates Blue Jays of all sizes, no matter how big or small.
Its open design gives Blue Jays the freedom to hop freely and enjoy their beloved seeds and nuts without obstructions. Plus, it's large enough to feed multiple Blue Jays at a time!
Coated with a water-based protective stain, the Nature's Way Bird Feeder is not only weather-proof but also rust-proof. The feeder's perforated design allows rain drainage and air circulation, keeping the seeds fresh and free from rot.
Thanks to its removable seed tray, cleaning is easy as pie. Simply lift the seed tray from the feeder and gently scrub it with soap and water. As long as you clean the tray in between refills, you won't have to worry about bacteria or mold build-up.
Pros
Removable tray with drainage
Easy to fill and clean
Feeder's perforated design prevents water damage, mold and, mildew
Constructed with rust-free hardware
Feeds an array of creatures
Cons
Holes in the bottom are too large for smaller seeds
Made from shatterproof acrylic, the Wild Birds of Joy Bird Feeder holds up to three cups of seeds and nuts. Since it's fairly large—measuring 4 x 5 x 12 inches—it can easily feed multiple Blue Jays at a time.
Equipped with four extra strong suction cups, this feeder sticks to glass like super glue. It's so sturdy it can be used as a squirrel feeder if you so desire.
Rain or shine, the Wild Birds of Joy Feeder is built to last in all weather conditions. Its roofing structure safeguards Blue Jays from immense weather conditions like heavy snowfall or rain. Additionally, it has drain holes on the bottom to allow rainwater to seep through and keep the seeds dry.
Pros
Transparent glass gives bird watchers a clear view of the birds
Textured perch is easy to grasp and clean
Weather-proof design
Sturdy construction
Cons
Suctions need to be replaced when removed after an extended period
Measuring 17.5 x 2.5 x 2.5 inches, the Droll Yankees Metal Peanut Feeder is among the tallest bird feeders on the market. It's designed to hold peanuts, peanut mixes, and sunflower seeds, which Blue Jays go crazy for.
Made from die-cast zinc and stainless steel mesh wiring, this feeder combats rain and snow without a hitch. The stainless steel bail wire is chew-proof and long-lasting. Best of all, it has a lifetime warranty against squirrel damage, so expect this feeder to last you years if not decades.
This feeder's mesh tube design allows multiple birds to cling to the wire and feed. Since it holds up to one pound of nuts and seeds, you won't have to constantly refill the feeder. Even if you do, it takes no time at all to refill; simply lift the lid, slide the cap up the hanger, and pour your feed of choice. That's it.
Pros
Easy-to-slide metal cap for quick refills
Durable stainless steel construction
Perfect size for peanut nuggets
Cons
Not the highest feeding capacity
Factors to Consider When Buying a Blue Jay Feeder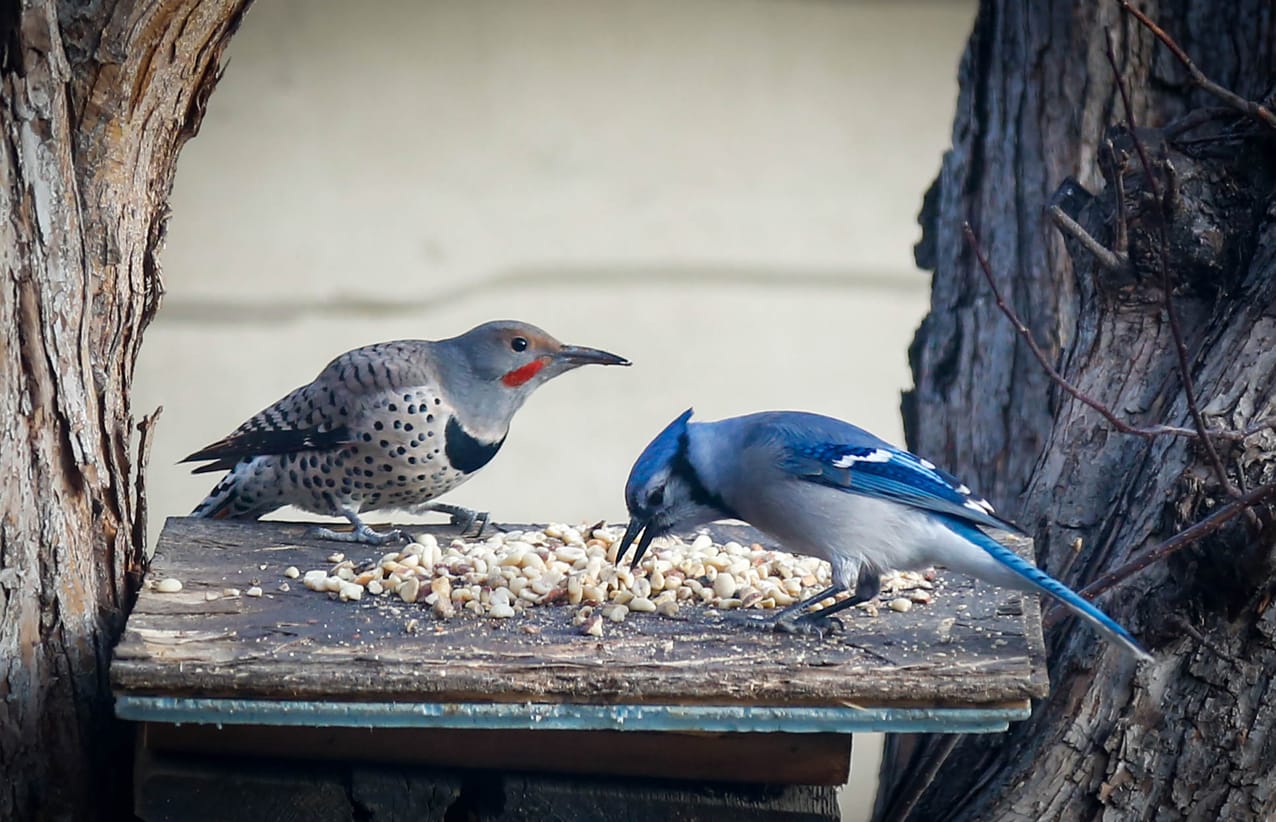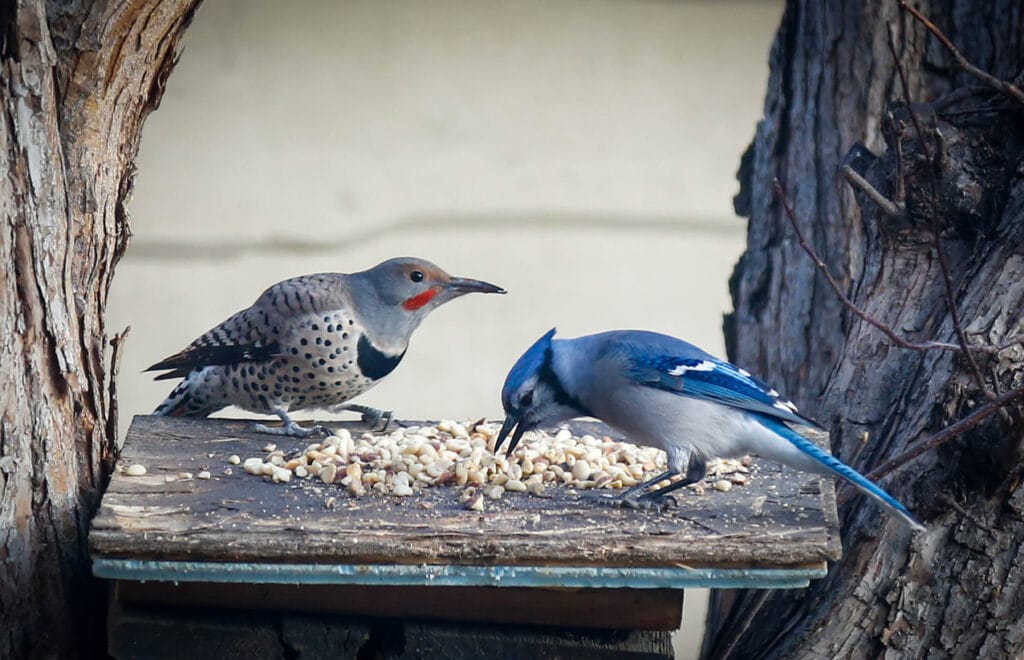 To effectively attract Blue Jays to your yard, you have to buy the right feeder for the job. Here are some key factors to consider when buying a feeder for these majestic birds.
Material
Bird feeders come in an array of material options, including wood, plastic, and stainless steel.
Wooden bird feeders are aesthetically pleasing but not as durable as plastic or stainless steel. So, if you're buying a wooden bird feeder, make sure it's painted, stained, or made of weather-resistant cedar. Plus points if it features anti-rot materials.
Author Note: Plastic feeders, on the other hand, are lightweight, budget-friendly, and mold-resistant. Most of these feeders are transparent, giving you a clear view of birds eating from the feeder.
If you're searching for a feeder that stands the test of time, stainless steel feeders are the ideal choice. These feeders are valued for their durability and longevity. Moreover, they often feature rust- and corrosion-resistant capabilities.
Capacity
Feeders with higher capacities attract more birds and require fewer refills. But if you don't mind refilling the feeder often, you can't go wrong with a small feeder. Blue Jays are quite small, measuring only 9 to 12 inches, so they don't need large feeders.
Feeder Type
As much as possible, avoid hanging feeders that swing and sway as they don't provide enough support for Jays to feed. Rather, opt for Jay-specific feeders like pole-mounted feeders, tray feeders, tube feeders, window feeders, and hopper feeders.
Additionally, make sure the feeder is large enough to hold peanuts (shelled and unshelled), sunflower seeds, corn, and suet balls to increase your chances of attracting Blue Jays.
Tips to Follow to Attract Blue Jays to Your Backyard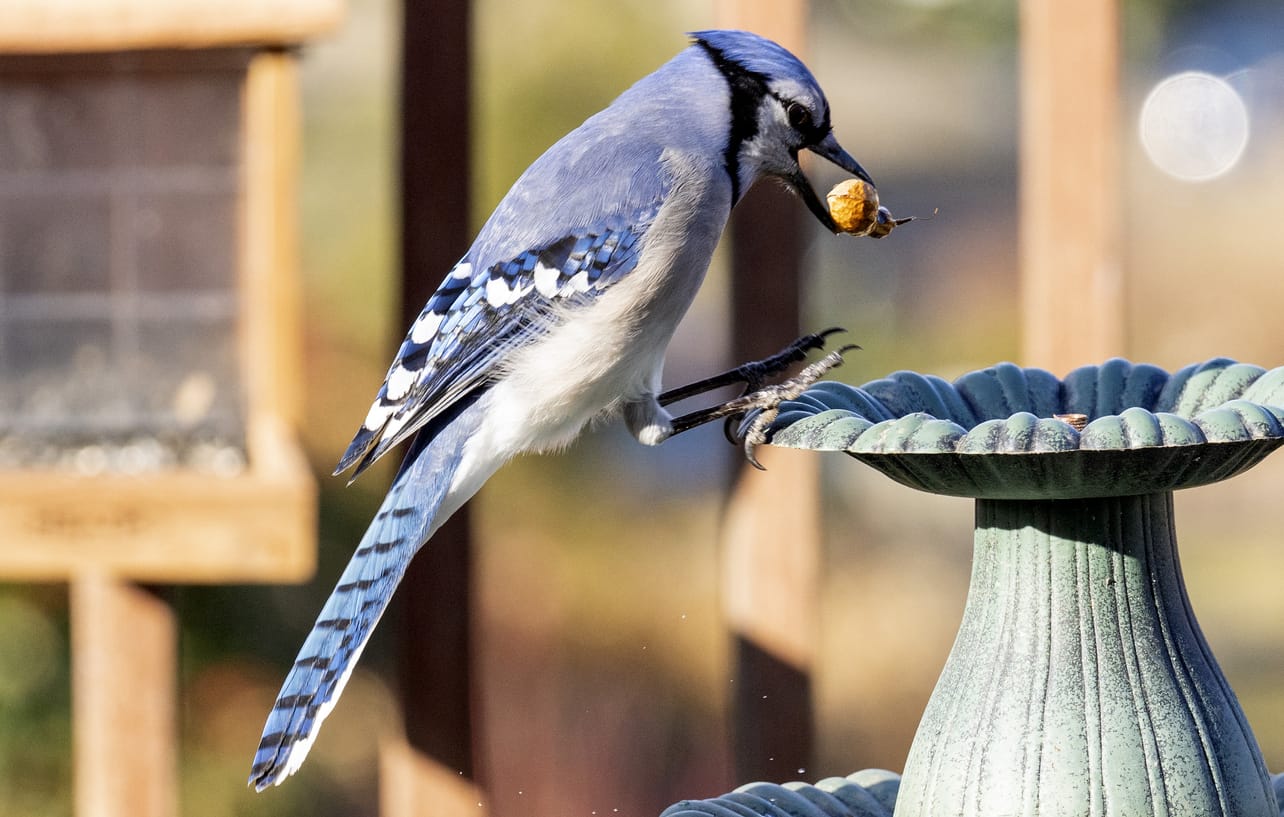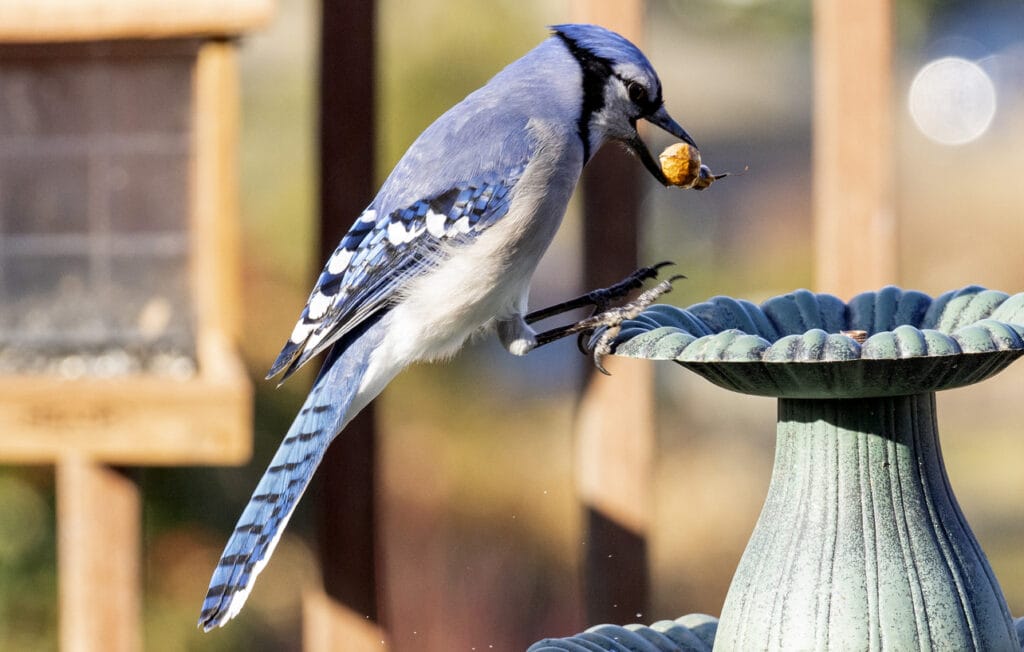 If you've bought a feeder but has yet to spot these blue-feathered beauties, here's a list of things to try:
Use the Right Food
Blue Jays aren't picky when it comes to food. They eat almost anything, whether it be vegetables, fruits, nuts, insects, or small animals like mice.
But like most creatures, there are certain foods they absolutely can't resist. These include:
Peanuts
Sunflower seeds
Mealworms
Suet
Acorns
Corn
Thanks to their strong bills, Blue Jays can easily crack nuts, acorns, and sunflower seeds. They'd sometimes even store several seeds in the pouches of their throat and bury them for later.
Some Jays also eat corn kernels straight from the cob, so if you grow your own corn, save one or two for visiting Blue Jays.
It's likewise important to note that a single Blue Jay can eat up to 150 mealworms a day. Therefore, if you have mealworms in your feeder, your chances of them visiting increase exponentially.
Place the Feeder Appropriately
Top Tip: If possible, place your feeder close to a natural shelter like shrubbery or a tree where Blue Jays can rest and hide in between feeding sessions.
Blue Jays are extremely cautious creatures, so they won't visit feeders in open spaces. Therefore, it's best to place the feeder in a shaded area as this is where they feel most comfortable and safe.
"Advertise" the Feeder
When restaurant owners want to attract more customers, they invest in fliers, commercials, and billboards. The same applies with bird feeders, except instead of fliers and billboards, you'll simply have to sprinkle seeds on the ground to make the feeder a bit more obvious. The seeds will attract more Jays and birds to your feeder.
If Blue Jays congregate nearby but don't seem to be interested in your feeder, make a trail by sprinkling seeds between the favored area and your feeder. They'll follow the trail until they reach your feeder.
Add a Water Source
Adding a bird water feeder and a birdbath is an effective way to attract Blue Jays to your yard. This is especially true if there are no close water sources around the feeder.
Water helps keep a bird's body cool and hydrated. It can also remove loose feathers, dust, and other debris from a bird's plumage.
Author Note: Just make sure the water feeder and birdbath are large enough to accommodate multiple birds at once.
Conclusion
Each of the mentioned products above has its own perks, but if I had to choose, I'd say the Birds Choice Whole Peanut Blue Jay Feeder is my preferred feeder.
It's large enough to accommodate multiple Jays at once, plus it's designed to store one of Blue Jays' favorite treats—peanuts! It has a large hopper and holds a lot of peanuts, which Blue Jays and other birds can work at. I also love how aesthetically pleasing it looks; it's certainly one of the best I've seen.
Which of the feeders above is your favorite?
FAQ
What's the most important thing about a Blue Jay feeder?
Any feeder you choose needs to be able to support its size and weight. The Blue Jay is a larger bird and needs to be supported on any feeder.
Will Blue Jays eat from a tube feeder?
It depends on whether the arms sticking out of the tube or around the bottom of it will support the weight and size of the Blue Jay.
Where is the best place to put a Blue Jay feeder?
In the same way as for all birds, put feeders where the birds will feel safe and cool. So shaded areas near shrubbery and trees is best.