Whether you're planning to build a birdhouse or a feeder for the birds in your garden or yard or refurbishing an existing one, the objective is to provide a comfortable and safe environment for them.
Not only is the structure of the birdhouse, nest box or feeder important, but you should ensure that whatever material you use to build the structure and the treatment you use, whether it is mineral oil, paint, polish, varnish or sealer, should be safe for the environment, along with being non-toxic and safe for your feathered friends.
So, what are the best bird safe wood treatments that you can use? In this guide, we will not only review some of the best bird safe wood treatments available on the market, their pros and cons and a buying guide. So, let's get started.
Reviews of the Best Bird Safe Wood Treatment
When you consider the products, types and brands of wood treatments available on the market, you're bound to get confused, especially with the plethora of options available.
And so, to make things easier for you, we have reviewed some of the best bird safe wood treatments that you can consider.
First, on our list of best bird safe wood treatments is the 100% pure Food Grade Mineral Oil from Thirteen Chefs that is perfect for your birdhouse, bird feeder or any other wooden structure.
Made of high-quality ingredients, the mineral oil penetrates the wood and protects it from the effect of water, while preventing it from drying, warping, cracking internally and being damaged.
Perfect for use on all types of wood, the mineral oil hydrates the wood, seals the minor ridges and helps to restore and protect it, while maintaining the integrity of the wood.
The product is so versatile that it can be used for various surfaces including wood, granite, soapstone, bamboo, stainless steel, marble, etc.
The oil comes in a 12-oz bottle with a push applicator that ensures easy application without any spills or mess. You can simply pour it directly onto the wooden surface and rub the oil in with your hands or a cloth.
Bottled in FDA-compliant facilities in the USA, the oil is lab tested to ensure that it meets the food safety standards and is certified by the NSP. The Thirteen Chefs Food Grade Mineral Oil is perfect for your feathered friends.
What We Like
100% food-grade pure mineral or white oil.
Available in multiple sizes.
Works on all types of wood.
Easy application.
Hydrates the wood and restores its finish.
What We Don't Like
The bottle is of poor quality.
The lid is flimsy and leaks, creating a mess.
Made from natural plant-based ingredients, the Bayes Food Grade Mineral Oil is a high-quality protectant and conditioner oil that helps to preserve your birdhouse, bird feeder or any other wooden structure for years to come.
Free of any harsh and harmful chemicals, the 100% pure food-grade mineral oil is non-toxic and safe for birds, pets and humans while being completely environmentally friendly.
The mineral oil is made from the most effective and safest ingredients. The oil penetrates the wood surface, hydrates it and prevents it from drying out and cracking.
Infused with natural fragrance, the mineral oil is very easy to use. All you need to do is wash the wood and allow it to dry completely and then apply the oil to the wood.
Let the oil soak into the wood for 2 to 3 minutes and then wipe it clean with a dry cloth. The mineral oil comes in a biodegradable, recyclable, non-toxic bottle with a convenient pour spout.
Made in South California, USA, the Bayes Mineral Oil is Leaping Bunny certified for being cruelty-free and USDA Biobased certified.
What We Like
Easy to apply and dries very quickly.
Organic, non-toxic and fragrance-free.
Not very oily or sticky.
Restores and protects the wood very well.
Makes the wood shine.
What We Don't Like
Cannot be sprayed on the wood.
The bottle and lid are quite flimsy and start leaking.
If you're on the lookout for an anti-termite solution for the wooden structures in your garden or backyard such as the birdhouse, bird feeder, etc., then the Nisus Bora-Care is a great, effective option.
Containing 40% borate (disodium octa-borate tetrahydrate) as the active ingredient and glycol-based compounds, Bora-Care helps to protect any type of wood from termites, wood-boring beetles, carpenter ants and decay fungi. The treatment does not repel the pests but as soon as they try to eat the treated wood, they die.
The compounds in Nisus Bora-Care penetrate the wood grain deeply and kill the existing pests. It also remains there, preventing any future infestations for up to 30 years, providing long-term protection.
The solution is easy to apply by simply spraying or rolling into the wood and is not poured into the soil, making it very environmentally friendly.
What We Like
Helps to protect against all termite species.
Can be used both outdoors and indoors.
Can be sprayed, as well as rolled into the wood.
Protects the wood for several years.
What We Don't Like
Needs to be diluted.
Low toxicity of the product increases the time to eliminate large colonies.
If you want to refurbish your old birdhouse or bird feeder in your garden, then the PC Products Wood Hardener is a good option. The wood hardener is a single component adhesive by PC Products is a water-based product that penetrates the wood and helps to repair any wood that has been damaged by rot or insects.
The liquid's low viscosity allows it to penetrate deeply into the wood fibers and restore its structural integrity. Very easy to use, the liquid does not require pre-mixing and can be sprayed, brushed or injected into the pores of the wood.
The wood hardener also helps to prepare any wood surface for priming, filling and painting, while improving the hardness of the wood and minimizing wood damage. Once cured, the wood hardener is non-toxic and perfectly safe for humans, pets and birds.
What We Like
Very good product to harden rotted wood.
Penetrates the wood nicely and bonds to it strongly.
Non-toxic and eco-friendly product.
Affordable price.
Cleans up easily with water.
What We Don't Like
Has a chemical odor.
It may not be effective for heavy-duty structural repairs.
The Wood Polish & Conditioner from Howard Products is perfect to restore and enhance any old or new wooden furniture or surface. Containing gentle and natural ingredients like beeswax and Carnauba wax, the polish and conditioner is an excellent dual-use product.
Perfect for dried-out wood, the polish and conditioner not only polish the wood but also provides a protective coating providing a nice soft luster. The conditioning oil penetrates deeply into the wood, feeds it and prevents it from drying or fading. It also helps to improve the depth of grain and natural beauty of both unfinished and finished wood.
The application of the polish and conditioner is very simple. All you need to do is spread it on the wood surface uniformly, allow it to rest for around 20 minutes and polish it with a soft, clean cloth. The product does not contain any linseed or silicone oils and is non-toxic.
What We Like
Easy to apply.
Gentle formula.
Offers an excellent protective finish.
Keeps the wood surface from drying and fading.
Has a nice and pleasant orangey fragrance.
What We Don't Like
Can be quite sticky and leaves an oily residue.
The dispenser is quite flimsy and messy.
Best Bird Safe Wood Treatment Buying Guide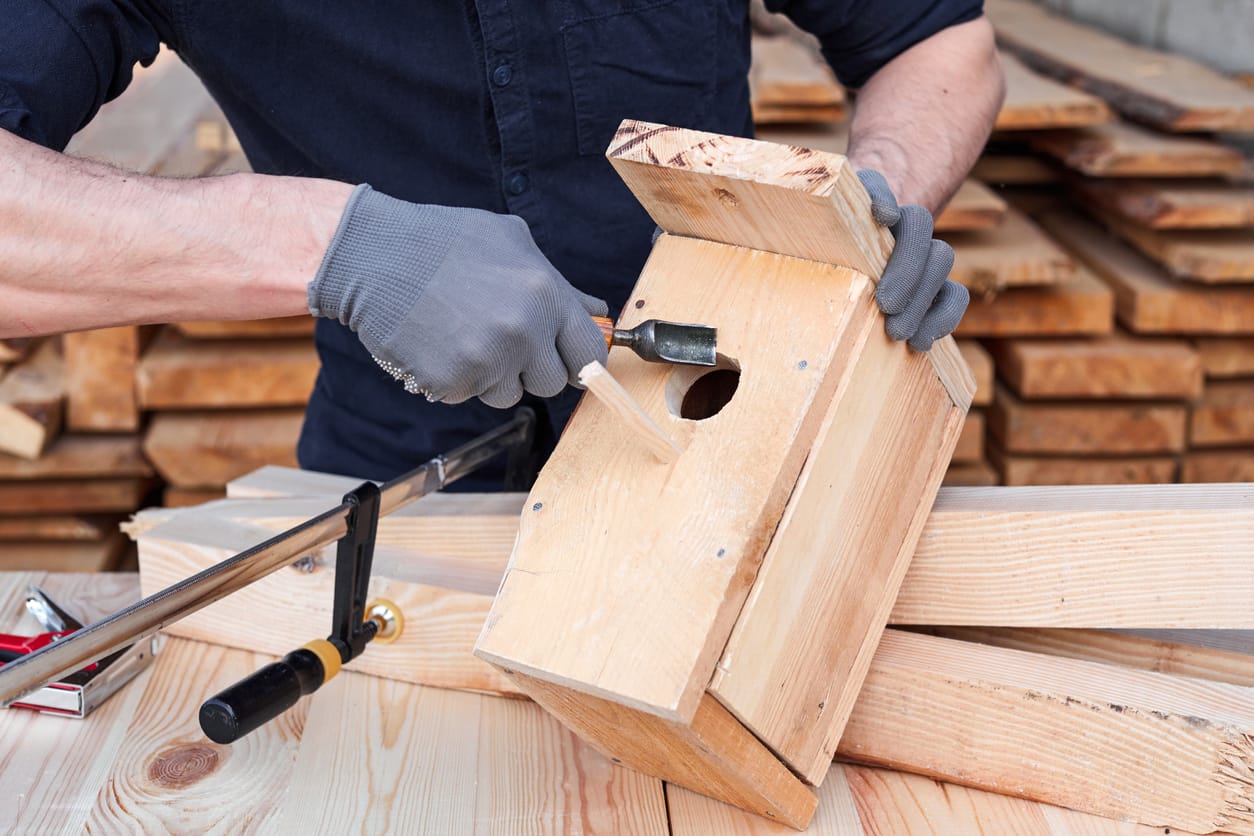 Before you actually go out and purchase the wood treatment, it is a good idea to educate yourself about choosing the safest paints, oils, polishes, stains, sealers and other products.
And, in this buying guide, we have discussed in-depth the things to consider before selecting the best bird-safe wood treatment.
Factors to Consider When Purchasing the Best Bird Safe Wood Treatment
Types of Wood Finishes
Oils
Usually, produced from nuts and seeds, oils are commonly used as wood treatments. Oils such as linseed oil or tung oil are quite commonly used and help to weatherproof your birdhouse or feeder, protect it from the elements and make it more durable and long-lasting.
Author Note: These oils harden on the wood and cure it. Linseed oil is essentially a vegetable oil that is pressed from flax seeds and since the oil does not contain any volatile drying compounds, it takes longer to cure.
While linseed oil provides good weatherproofing, it does not protect the wood from the UV rays and is not mold resistant.
Tung oil offers better protection compared to linseed oil, forming a better chemical and water barrier but you require around 5 coats of tung oil to do the job, which can be time-consuming and expensive. Also, tung oil is not scratch-resistant.
Shellac
The natural secretion is obtained from the lac bugs, shellac is produced by collecting the secretion, drying it into flakes and mixing it with alcohol.
This is then applied to wood surfaces and provides an effective stain, as well as a water barrier. Shellac is non-toxic and is edible; however, it is not very heat- or scratch-resistant.
Water-Based Coatings
Water-based coatings are becoming quite popular as wood treatment because they contain low levels of solvent. These coatings are usually transparent and resist stains and water effectively. Oil-based stains are available in a range of colors and may contain UV blockers that protect the wood surface from sunlight.
Wood Preservatives and Sealers
Water-based sealers protect the wood by sealing its pores partially and also allows the wood to age naturally. These may be available in spray cans allowing easy application and some brands may include UV-blockers that offer extra protection from the sun's rays.
Exterior/ Interior Paints
While painting or staining the birdhouse is not an absolute necessity, doing so can help to weatherproof the structure and make it long lasting. Painting your birdhouse using bright colors like blue and red may look cool and make your yard pop; however, these may attract predators and larger birds, which can harm your birds.
So, opt for neutral colors like brown, olive green, white, taupe or gray. Purchase paints that do not have any heavy metals like lead or zinc, as these can be toxic to the birds.
Look for non-toxic, natural and bird-safe paints. Look for water-soluble latex-based paints as these are the best and avoid acrylic paints as these are usually chemical-based and are harmful to birds. Avoid painting the interior of the birdhouse as this may be harmful to the birds and the young chicks.
Author Note: However, if you do want to paint the interior, then choose water or latex-based paint or finish. And, it is a good idea to do it when the season ends so that the paint or finish can dry and cure properly over the winter months.
Roof Coating
Roof coatings are designed to provide waterproofing. These coatings protect the roof of the birdhouse and also help to prolong the life of the roofing materials.
While some roof coatings may be available in clear acrylic, you can find brands that are light tan or white. However, roof coatings are generally quite expensive, especially if you are planning to use them for just one or a few birdhouses.
Curing Time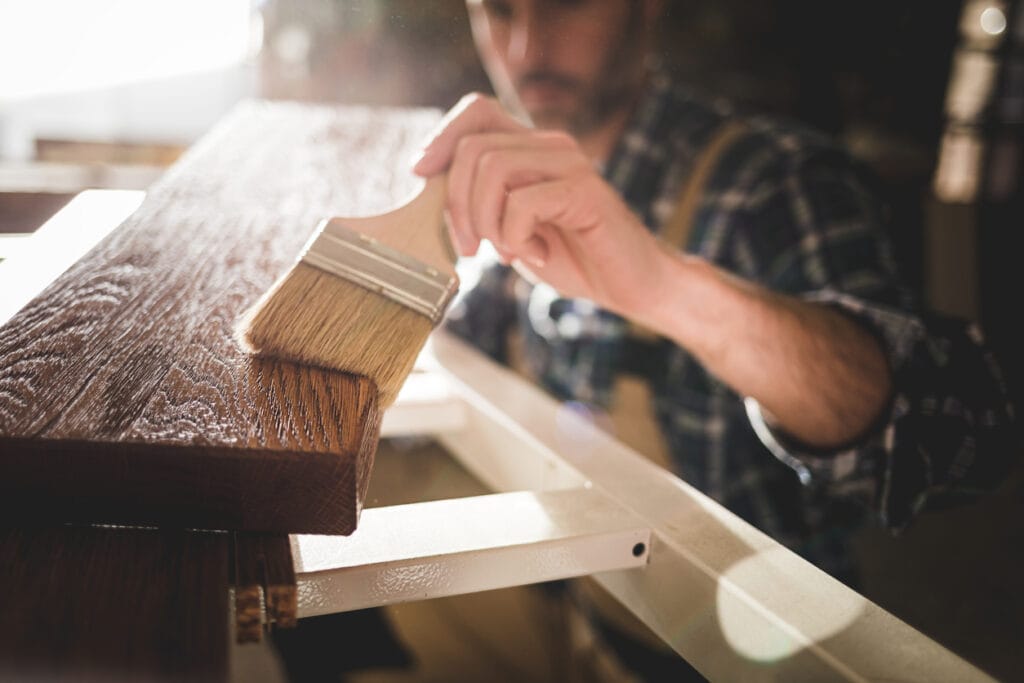 When deciding on the type of wood treatment, you must consider the drying and curing time of the product. It is important to understand that the finish is not cured even if it has dried.
Often, finishes have the drying time mentioned on the label of how long to wait before applying additional coats of the product. The products also mention the curing times, which is the time you should wait before using the item.
Toxicity Levels
The treatment that you choose for your birdhouse should be non-toxic and safe for your feathered friends. Choose finishes or treatments that are made from natural ingredients. and do not contain any VOCs.
This is crucial when picking out the best bird safe wood treatment.
The best and least toxic products that you can use to treat the wood birdhouse are tung oil or boiled linseed oil. The next best option is shellac, followed by water-based and oil-based treatments and finishes, while acrylic-based paints and finishes like lacquers are the most toxic.
Irrespective of whatever type of finish or treatment you use for the wood birdhouse, make sure that you use the product exactly as recommended by the manufacturer. And, once you use it, it is advisable to wait until the birdhouse is completely dried and cured before you start using it.
Exposure to Sunlight and Humidity
Another important factor to consider when choosing a wood treatment is the impact of the environment on the finish. While some wood treatments are not resistant to factors like sunlight, humidity, etc., others deliver better resistance.
For instance, varnishes offer good resistance against heat, UV light and everyday wear and tear. They are also water resistant making them good for use outdoors.
Heat Resistance
When purchasing the finish or treatment, check the heat resistance of the product. Following the recommended temperature guidelines ensures that you get the best results from the treatment. Also, make sure that the treatment you use will not break down or melt when exposed to high temperatures during the hot months.
Durability
The treatment should not only be weather resistant and withstand the elements, but it should also be durable and long-lasting, while also offering resistance to physical damage such as scratches, solvent damage, chemical damage, etc.
Top Tip: For a birdhouse, you may require a finish that penetrates the wood and creates a protective surface that will not split, crack or warp over time.
For instance, wax-based wood finishes offer good resistance against acids and alkalis; however, they are prone to damage when exposed to sunlight, heat, and water, while lacquer provides good overall durability.
Wrapping Up
So, in conclusion, as you can see, there are plenty of options when you consider treatments and finishes for wood, especially if you're planning to build a new birdhouse or feeder or restore an old one.
We hope that after reading our reviews of the best bird-safe wood treatments and the accompanying buying guide, you are able to narrow down your choice to the best option that is not only good for the wood but the environment and your feathered buddies too.
We hope you enjoyed this guide on the best bird safe wood treatment.
Fly high friends!
FAQ
Can I treat the wood of the birdhouse with cooking oils?
While vegetable oils are often used as a wood finish; however, it is better to avoid using most vegetable or cooking oils completely. They are not the best bird safe wood treatment. The main reason for this is that the vegetable oils tend to coat and thicken on the surface of the wood and form a cloudy layer, which may peel off after a while.

Also, the wooden surface can get discolored when you apply the vegetable oil. Vegetable oils become rancid after some time and may cause your birdhouse to smell quite bad and they are also highly flammable.
Can I buy pretreated wood or bird boxes?
Yes, you can. Pre-treated pieces of wood and bird box kits are available. Just check what treatment has been used to ensure you are happy with it.