Bird watching has its allure as one of the most fun outdoor activities. Watching your surroundings and waiting for the bird to make an appearance needs patience, but once the bird appears, it becomes a magical moment. You get an adrenaline shot, your heart flutters, and you quickly adjust your binoculars, trying to catch as much as you can of the bird's flight. So what are the best bird watching hats?
If we rewind that scene and include sunlight and flying debris, the activity won't seem so fun anymore. You'll be too distracted by the sweat running down your neck to pay attention to the bird, and the glaring sunlight may obscure your vision. Not to mention, the flying debris will all land in your hair, and you'll need a serious shower after you get back.
The solution is pretty easy: a bird watching hat.
Here, I'll round up the best bird watching hats, so you have enough protection on your next trip. I'll also include a buying guide to help you choose the best hat for your preferences.
The Best Bird Watching Hats on the Market
Author Note: Your bird watching hat needs to be airy because you may spend long hours outdoors; no need to have something heavy on your head. It also has to be lightweight for your comfort and wide enough to offer protection from the glaring sunlight.
With these considerations in mind, I gathered the best bird watching hats on the market in this list.
In a Hurry? Here's Our Top Picks…
The Mega Cap hat is ideal for bird watching because it's breathable, lightweight, and protective enough against sunlight. It features two vent holes on its sides to keep you feeling cool, even under the scorching sun heat. And, its canopy is in the right size to avoid irritating you—big enough to protect you, but not too big that it obscures your vision.
The hat is made of ripstop fabric that's breathable and durable. If it happens to get stuck to a tree branch, it'll come out unscathed. On top of that, the material is foldable, so you can pack the hat up and put it in your pocket for the trip home. I'd say it's pretty convenient for long bird watching.
The chin strap is adjustable to fit different sizes, and there's a size chart to help you choose the best size for you. That said, some users reported that the hat might shrink a little bit in the dryer. So, you can either leave it to dry in the air or get a hat that's one size bigger.
Pros
Breathable material and vent holes available
Lightweight and foldable
Camouflage print to avoid grabbing the birds' attention
Cons
Some users complained it shrinks in the dryer.
If you don't prefer hats with wide canopies, this fisherman-style hat from AJG may be the one for you. It's meant for outdoor activities; that's why it's windproof and protective against the sun. Its small canopy has small breathable holes to avoid getting your head hot, and the rim is comfortable against your skin to prevent causing irritations.
The hat folds into a small size, so you can fit it anywhere after you're done. This makes it ideal for trips because it doesn't take much space in your backpack.
There's a wide array of colors available from the fisherman hat, so you can easily find a match for your favorite bird watching outfit. There's even a two-sided design that enables you to switch sides whenever convenient.
The AJG hat is made of breathable cotton; it's skin-friendly and comfortable. Not to mention, it doesn't change shape after washing and drying, which is a huge bonus.
Pros
Breathable material that doesn't change shape
Various shapes and colors available to match all tastes
Windproof material for winter bird watching
Cons
The brim is a bit wide for some people's liking.
If you're looking for the best bird watching hat for women, look no further. You'll love the Jane Shine with its elegant design and high functionality.
The hat is made of comfortable polyester that's both lightweight and breathable. Its top side is made of nylon mesh for better breathability and less feeling of heat.
The convenience doesn't stop here; there's a sweat-absorbing cotton lining on the inside that keeps the hat from feeling wet on your head. I'd say it's one of the best hats you can wear for long hours without feeling uncomfortable.
There are two ventilation holes on the hat's sides for further breathability. On top of that, the fabric is waterproof in case it decides to rain while you're bird watching. It'll dry in an instant without changing shapes, as it happens with other hats.
The hat comes fully equipped with an adjustable drawstring so that you can fit it to your head's size precisely. Besides, there's a windproof buckle, so you don't spend the rest of your trip chasing your hat in the air!
Pros
Breathable material and sweat-absorbing cotton lining
Waterproof polyester for faster drying and comfort
Adjustable drawstring for the right size
Cons
Some users complained that the hat arrives folded in half.
If you want maximum protection against the sun, this woman's HSELL hat may be your best bet. It features an extra-wide canopy to shield your face from the glaring sunlight, and its material is breathable.
The hat is foldable, so you can pack it in your pockets whenever you need to. Additionally, it has a ponytail hole, so you don't have to suffer the heat of your hair when it's bundled up inside the hat.
The material is quick-drying, so you can wear it again after the rain subsides. On top of that, the brim folds to the sides and attaches to the two buttons, so you can raise it off your face whenever you need to. This way, you can observe the birds around you better without anything obscuring your vision. You can also look into your binoculars comfortably.
The mesh fabric keeps the air circulating so that your head doesn't feel hot under the scorching heat. But the best feature yet is the UPF 50+ sun protection and the waterproof material. The hat promises comfort in all weather conditions, and it delivers just that.
Pros
Waterproof and quick-drying material
Suitable for all weather conditions and for multiple outdoor activities
UPF 50+ sun protection to prevent sunburnt skin
Cons
The one size may not fit some users.
If you prefer traditional hats, the Gelante safari hat will be the best option for you. It features a basic design with a semi-wide brim to offer sufficient protection against the sun. Besides, it's made of 100% cotton, which is a huge bonus.
Pure cotton means there's no synthetic material in the hat, which ensures breathability and durability. The air will pass right through the cotton, circulating around your head and keeping you cool. And for further ventilation, there are two mesh holes on the sides.
The canopy is wide enough to protect you from the sun but small enough to prevent interfering with your binoculars or bothering your vision.
Moreover, you can raise the canopy of your head and attach it to the button studs on the hat's sides. This way, you can get more air around your face on cloudy days.
There's an adjustable drawstring dangling from the hat in the front, enabling you to tighten the hat around your face whenever you want to. It also provides good windproofing.
Pros
A wide variety of colors available
100% cotton material for breathability, comfort, and durability
Side snaps available for versatility
Cons
Some users reported that the sizes run big.
Buying Guide: What to Consider When Buying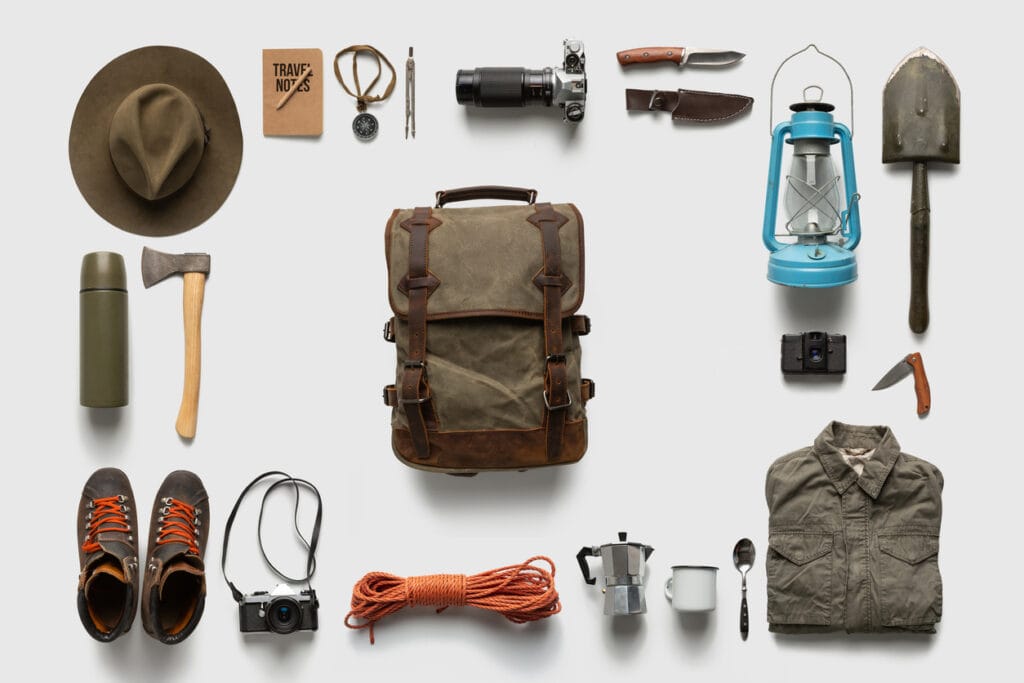 Hats are pretty simple to buy in most cases. However, when it comes to specific outdoor activities, like birdwatching, kayaking, or hiking, there are some extra requirements that you need to fulfill to get full protection.
Here are the essential things to consider when buying bird watching hats.
Sun Protection
Protection against the sun's heat should be your priority when choosing a hat for bird watching. For one, you don't want to go home with one half of your face darker than the other. Secondly, you don't want to get sunburnt skin while watching your surroundings for a Blue Jay or a Red-bellied Woodpecker.
Author Note: A hat that offers sufficient protection against the sun should have a wide canopy to keep the rays off your face and neck. If it has UV protection, too, that's a nice bonus.
The wide canopy will also protect you against the rainwater if it happens to rain.
I'd recommend a hat with a floppy canopy, so you can fold it and pack it in your pocket whenever you need it. This way, it won't get in the way of your binoculars, too.
For further protection against the heat, you'll want to get a hat with a wide back canopy to protect your neck. You can also aim at one with side studs to let you pin the sides up whenever there's no sunlight bothering you.
Ventilation
Air circulation is important to keep your head cool on extra hot days. That's especially true if you bird-watch for long hours in the morning. You'll be under the sun at its hottest moments, so you'll need good ventilation. Too much heat can cause headaches and ruin your trip.
A hat with good ventilation will have mesh fabric on the sides to let air inside. Alternatively, it may have ventilation holes on each side. The material also plays a significant role here. For example, cotton is one of the most breathable materials, but I can't say the same about polyester and other synthetic materials.
Minimizing Glare
On particularly hot summer days, the sunlight glare will be too much that you may not be able to identify the bird you're looking for. Your hat should protect your eyes against that so that you can enjoy your bird watching trip.
Hats with short canopies aren't convenient in this case because they'll likely leave your eyes exposed to the hot sunlight rays. These are more suitable for winter and cloudy days.
When choosing your hat, make sure it'll allow you to watch the sky without straining your eyes.
Waterproofing
In case you go on winter bird watching trips frequently, you'll need a hat with a waterproof material to endure the rainwater. Some hats are fully waterproof, and some offer enough protection against gentle streams of rain. You'll have to choose yours according to the weather in the area you're going to.
Along with efficient waterproofing, you'll want to get a hat with a quick-drying material. This way, whether it gets wet under the rain or you sweat in it, it'll be suitable for using it again in no time.
Warmth
Bird watching isn't only fun in the summer. If you're an avid bird watcher, you likely go on winter trips too to catch birds in their migration season. For that, you need a hat that provides enough warmth and protection against rainwater.
Make sure the hat isn't all mesh because it'll only be suitable for summer trips in this case. Additionally, you can choose a hat with an insulating material on the inside.
You may want to get a hat with ear muffs to protect your ears from the cold, but that's not a good idea. The earmuffs will make it harder for you to hear the bird calls and songs, which may cause you to lose the chance of seeing the bird you're looking for altogether.
If you're getting a hat with earmuffs, make sure they can be clipped up to the sides, so you can raise them off your ears whenever you need to.
Camouflage
If you're looking for a particularly smart bird, you'll need a camouflaging hat to keep you hidden. If the hat has a vibrant color, the bird will know it's being watched, and it'll likely stay hidden in the thick foliage.
Author Note: You don't want to put the bird you're looking for on alert, especially if it's a dangerous bird that preys on humans, like Snowy Owls.
A hat with a camouflage pattern will make you blend seamlessly against the earthy ground, so it'll be the better option for some birds.
Frequently Asked Questions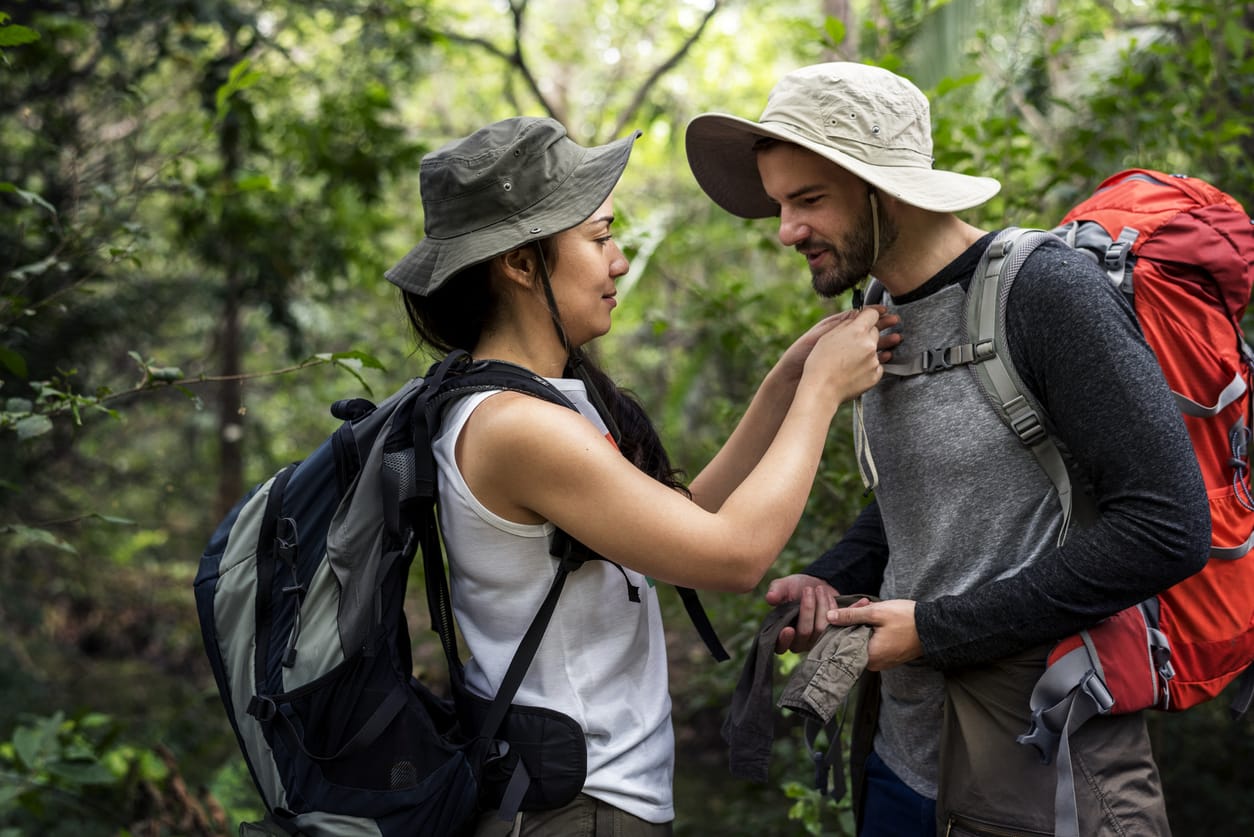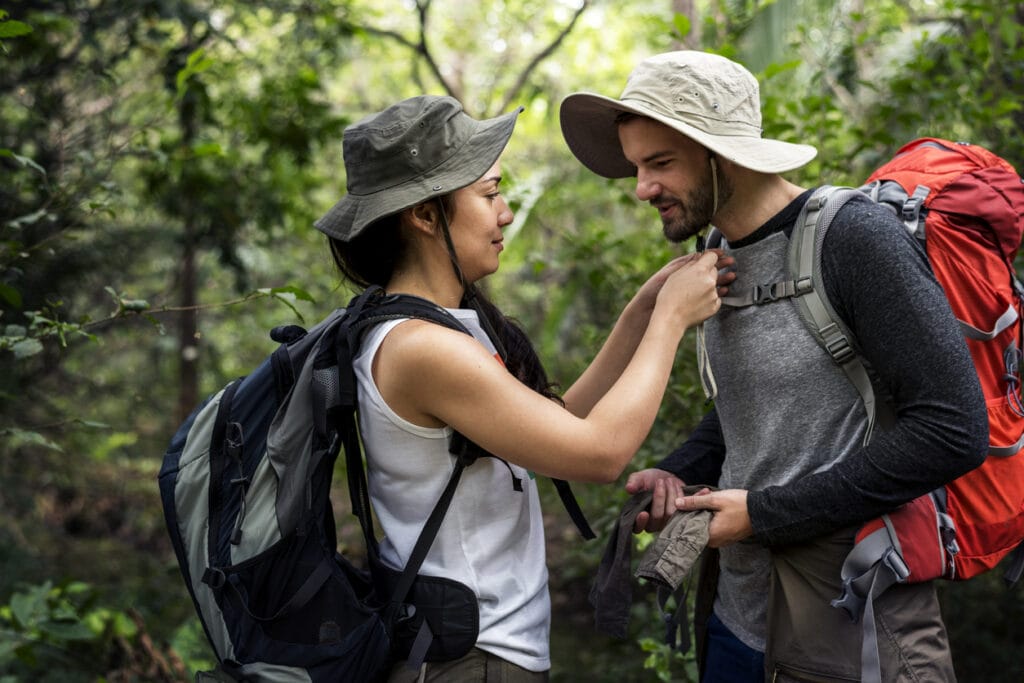 If you still can't make a decision about which hat to buy, these answers to frequently asked questions will hopefully help you.
Can any hat for outdoor activities work for bird watching?
If it fulfills all the requirements for bird watching, why not? Make sure it's well-ventilated and breathable, and it must offer sufficient protection against the sun. Additionally, it should have a drawstring for both windproofing and size adjustment.
I would also choose a hat with a quick-drying material because a lot of hats shrink when put in a dryer. Being able to air-dry it fast in a short time is a nice bonus to have.
Should I choose my hat in a specific color or pattern?
It depends on the birds you're looking for. Some birds can't make out different colors, so it won't make a difference which color you wear. On the other hand, some birds can see vibrant colors a mile ahead, so you need to wear a camouflage pattern to trick them.
Author Note: Generally, camouflaging patterns are the better option because they protect you from prey birds. Plus, they keep you undetected, which makes it easier for you to watch the birds and catch photos of them.
Should I choose the same hat for summer and winter?
I wouldn't recommend that for a simple reason. In the summer, you need different requirements from the winter. For example, you need a breathable material, a mesh fabric, and a wide canopy to protect against the harsh sun glare. You may also need a cotton lining on the inside to absorb your sweat.
Meanwhile, in the winter, you need a hat that provides enough warmth on the inside. In addition to that, you'll need a waterproof material that'll protect your hair from rainwater. A quick-drying material will also be a bonus because you'll be able to wear it again shortly after the storm subsides. This is important to consider when picking out the best bird watching hats.
The Final Verdict
My favorite option out of the best bird watching hats I listed above is undoubtedly the MG Camo Ripstop Floppy hat. It comes in a camouflage pattern that helps you stay undetected when looking for birds, and its canopy is floppy to leave enough space for binoculars.
Not only that, but the hat is also breathable and durable, thanks to the ripstop fabric it's made of. I'd say it has everything a bird watcher may be looking for.
No matter which hat you choose, make sure it's comfortable enough for the weather conditions and fitting nicely around your head. We hope you enjoyed this article on the best bird watching hats.
Fly high friends!