Coneflowers are beautiful, endearing, and perfect for gardens. They're attractive to both birds and wild animals, and they add a lively flair to any garden.
You may not know this, but coneflowers symbolize healing, and they're widely used for herbal medicine.
All that aside, these colorful flowers make for some beautiful bird feeders! If you're having a hard time attracting birds to your garden, hanging a coneflower feeder may be your answer.
With its unconventional inverted shape, it'll surely attract some hummingbirds and songbirds into your lawn.
Here's a buying guide to the best coneflower bird feeders on the market.
The Best Coneflower Bird Feeders on the Market
When choosing a coneflower-shaped feeder for your garden, you don't want to forget about its functionality and features. That's why you need these reviews.
You don't like the coneflower feeders? I included some other flower-shaped feeders for you!
I doubt you'll find a better coneflower-shaped feeder than this one from Desert Steel. It looks strikingly similar to real coneflowers, helping it blend seamlessly into your assortment of flowers. As a result, it won't ever look out of place in your garden.
Moving on to its construction, the standing feeder is made of highly durable steel. It won't budge under harsh weather conditions, and the material is rust-resistant. So you may keep it outside in the rain without fearing it'd rust or corrode.
It also has drainage holes, so the rainwater doesn't collect inside and ruin the seeds. You won't have to be afraid of mold forming inside it.
The standing feeder comes disassembled, but the installation is relatively easy. All you have to do is attach it to its stake base and push it into the ground forcefully.
Bear in mind that the feeder is only designed for small birds. Larger birds will have larger bills, and they won't reach into the mesh to get the seeds. That's both bad and good news—bad if you'd like to see a couple of woodpeckers in your backyard, and good if you don't want the small birds disturbed.
If you don't want to put the feeder in your garden, you can always hang it from a window sill. It's easy to refill while it's in place, anyway, thanks to its removable lid.
Pros
Removable lid for easy refilling
Rust-resistant material
Handmade to perfection
Cons
It may not fit larger seeds.
If you like coneflowers but don't like the inverted petals, you may like this one instead. It looks similar to a coneflower feeder but with fewer petals and a more subtle design. It's designed so that the birds stand on the petals, feeding on the mesh bowl in the middle.
The design has both advantages and disadvantages. The mesh is small for some seeds, so you'll only be able to offer seeds that fit in it. As for the benefits, the feeder fits multiple birds at once, which is more than I can say about most feeders on this list.
Luckily for you, the feeder isn't designed to hold any animals, only tiny hummingbirds and songbirds. If squirrels or other pesky animals decide to intrude, they won't be able to stay on the feeder.
The feeder comes with an S-shaped hook for easy installment. You can hang it on any window sill. On top of that, it has a removable lid for easy refilling.
If you're worried about the rain, the feeder has a top layer of a weather-resistant finish. It won't show signs of rust, except maybe after years of use.
When you want to clean the feeder, your mission is easier than ever. All you need is to wash it with water and soap, then rinse it before refilling it.
Pros
Room for multiple birds to feed at once
Weatherproof coating to prevent rust
It won't hold squirrels or other intruding animals
Cons
Some users mentioned it tilts to one side upon installation.
The thing with most coneflower feeders is, they mostly have mesh bowls with no lids. While this is convenient for tiny seeds, you won't be able to cram larger seeds inside. That's bad news if you want to provide sunflower seeds.
The Casseiehaha feeder eliminates this problem because it has an opening on the top. That way, birds can feed both from the mesh sides or from the top if they want to. It also means you can fill the feeder with large seeds all you want.
The opening makes refilling more accessible than ever. All you have to do is remove the lid and refill it, or just refill it if you keep it without the top.
Upon purchase, you'll receive three pieces: the feeder, its stalk, and the removable lid. The assembly is pretty straightforward and won't take more than five minutes. The feeder is lightweight, too, so it'll stand well on the base. It's made of durable steel that's weatherproof and rust-resistant.
Pros
Cons
The bendable stalk may swing in the wind.
If you love innovative garden gadgets, this one will be your favorite on my list. It's a solar-powered feeder that collects light during the day and lights up at night. That way, you don't only have an attractive bird feeder, but you also have a lovely lamp to light up your garden.
The lamp only stays lit for 8–10 hours, but that's more than enough for residential gardens.
That's not the best thing about the feeder yet. It comes with a removable tray for the seeds, unlike most similar feeders that come with mesh bowls. The removable tray fits all sizes of seeds, so you can feed all the birds you want.
You don't want to use it as a bird feeder? It's okay; it'd make a wonderful nut station at parties! It's one of the most functional coneflower feeders on the market.
Moving on to the construction, the bird feeder is made of rust-proof metal. You can keep it outside all winter long without fearing it'd corrode.
Pros
Multi-functional as a birdbath and a feeder
It lights up at night
Rust-proof construction
Cons
Not proof to squirrels and large birds
The metal coneflower bird feeder from Shretilre is one of the most durable feeders on the market. Its parts attach together using screws, which means it won't break apart upon the strong wind. On top of that, its stalk is quite sturdy and waterproof.
Author Note: The stalk is 24.4 inches long, and the feeder's bowl has a 3.35-inch diameter. The feeder is large enough for a lot of seeds, and it fits multiple birds at once. That means you won't have to refill it as frequently.
The feeder comes disassembled, but it's pretty easy to assemble in five minutes. All you have to do is screw the upper part so that it latches onto the bowl. Then, attach it to the stalk base, and choose a place for it. If it doesn't attract birds, it'll serve as a beautiful piece of decoration in your garden.
On top of all that, the feeder is easy to refill, thanks to the large opening of its bowl. There's one downside, though. The bowl won't fit large seeds, such as sunflower seeds. However, that's fine since you'll likely be attracting hummingbirds, and they eat other seeds.
Pros
Highly durable
Large enough to fit multiple hummingbirds at once
Tall enough to keep squirrels out
Cons
On the expensive side of the market
You didn't find a coneflower feeder that you like? Maybe give this sunflower one a chance. Like all Desert Steel flower-shaped feeders, it's handmade to perfection, closely resembling the natural flower.
The sunflower feeder is made of steel, which is both highly durable and resistant to rust. It also has a powder coating on top for corrosion resistance. If you live in an area that rains a lot, you won't have to worry about the feeder rusting w getting ruined from the water.
The feeder is designed so the bird can stand on the little perch, gaining access to the opening that has all the seeds. The perch only fits small birds, so you won't find a crow eating some of the seeds you left out for hummingbirds.
You can fill the feeder quickly from the back opening, so you can refill it without moving it from its place. It's also reasonably easy to install. All you have is to attach it to the stake base and push it into the ground.
Pros
Highly sturdy and durable
The opening is convenient to fit any type of seed.
It doubles as a pretty garden decor
Cons
Some users mentioned it's a bit heavy for the base that comes with it.
Buying Guide: How to Choose a Bird Feeder
Choosing a bird feeder is easy when you only want a pretty one. If you want to get one that lasts and attracts a lot of birds, there are some things to consider. Here's a brief roundup.
Durability
You don't want to keep replacing your bird feeder every few months. That's why you need to choose one that's durable enough to stay outside without getting damaged. Try to choose one that's waterproof, or at least make sure it has drainage holes.
Top Tip: Bear in mind that feeders have to deal with a lot of abuse from squirrels, feral cats, and other intruders. It has to be sturdy enough to endure that.
I also recommend setting a decent budget and staying away from cheap feeders. They'll cost you less, but you'll have to replace them more frequently than high-end ones. It's better to get a high-quality one from the start.
Capacity
You don't want to keep refilling the feeder every few hours. Choose one with a large capacity for seeds, so you can enjoy watching it for days without reloading it.
Ease of Cleaning
Bird feeders create a huge mess, and you'll need to clean them a lot more than you think. So, ease of cleaning should be a priority when choosing a feeder. Steel feeders are generally easier to clean than other materials, and plastic is pretty easy too.
Author Note: Wood is hard to keep clean because it's absorbent.
How to Stop Squirrels From Getting On Your Bird Feeder
Squirrels are the biggest enemies of your bird feeder. These pesky little creatures aren't as cute as their faces imply. They'll get on your feeder, scare the birds away, and start munching on the feeds as if they did nothing.
Not only that, but they may also break the feeder if it stands on a stalk. Since most coneflower feeders stand on stalks, you'll want to keep the squirrels away.
Bear in mind that they're cunning, and they have impressive jumping skills. These fellows can jump up to eight feet up, and they can jump horizontally as far as five feet. To fight them, you'll need to be as smart as they are.
You have two options: give them a peace offering or hide the feeder.
Top Tip: If you want to start with peace, put food out for the squirrels, so they can feed on it and leave your birds alone. You can offer them any seeds; they'll eat absolutely anything, including corn and peanuts.
Not only will they stop attacking your feeder, but they'll also start protecting your garden from outsiders.
All that said, this solution may not work if you have flowers. Squirrels are notorious for jumping on flower beds and ruining them, so you may want to keep them out. In this case, you can position the feeder somewhere they can't reach.
Make sure it's away from any tree branches and that it's on a further height than what they can reach.
You can also get a squirrel baffler if you have no other option.
The Takeaway
My favorite coneflower bird feeder on this list is undoubtedly the Desert Steel Red Coneflower Standing Bird Feeder. It's available in both red and blue colors, and it resembles coneflowers beautifully.
On top of that, it's highly durable and functional. Make sure to keep it away from squirrels, and it should serve you for a long time.
FAQ
What does a coneflower look like?
Very similar to the bird feeders above. They are a member of the daisy family and indeed look like large daises. Their full name is the Echinacea purpurea.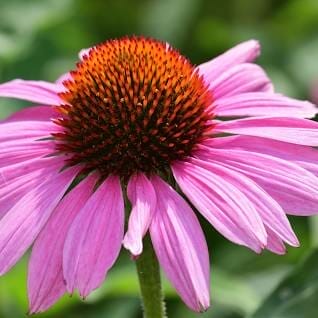 Where is best to position bird feeders?
Bird feeders should be in the open but close to trees and plants so that the birds feel safe and have somewhere to fly to if threatened. Feeders should also be in shaded areas so the feed does not spoil.
Do birds remember feeder locations?
Yes, they do. Birds are familiar with their local surrounds and are able to recall new additions and new places. Nothing is more important than food, so they will definitely remember where they find a new source.