Bird watching is one of the most interesting activities for many people. And according to some U.S. Fish and Wildlife Service statistics, about 45 million Americans enjoy watching birds around them. If you want to enjoy more of the beautiful detail and exquisite colors on the birds, you might want to invest in some decent magnifying tools. This might drive you to ask " what is the best magnification for bird watching?"
Lucky for you, this article will have all answers as well as all the information you need to know before picking your bird watching magnification. So without further ado, let's dive in!
What Are the Types of Magnification Tools for Bird Watching?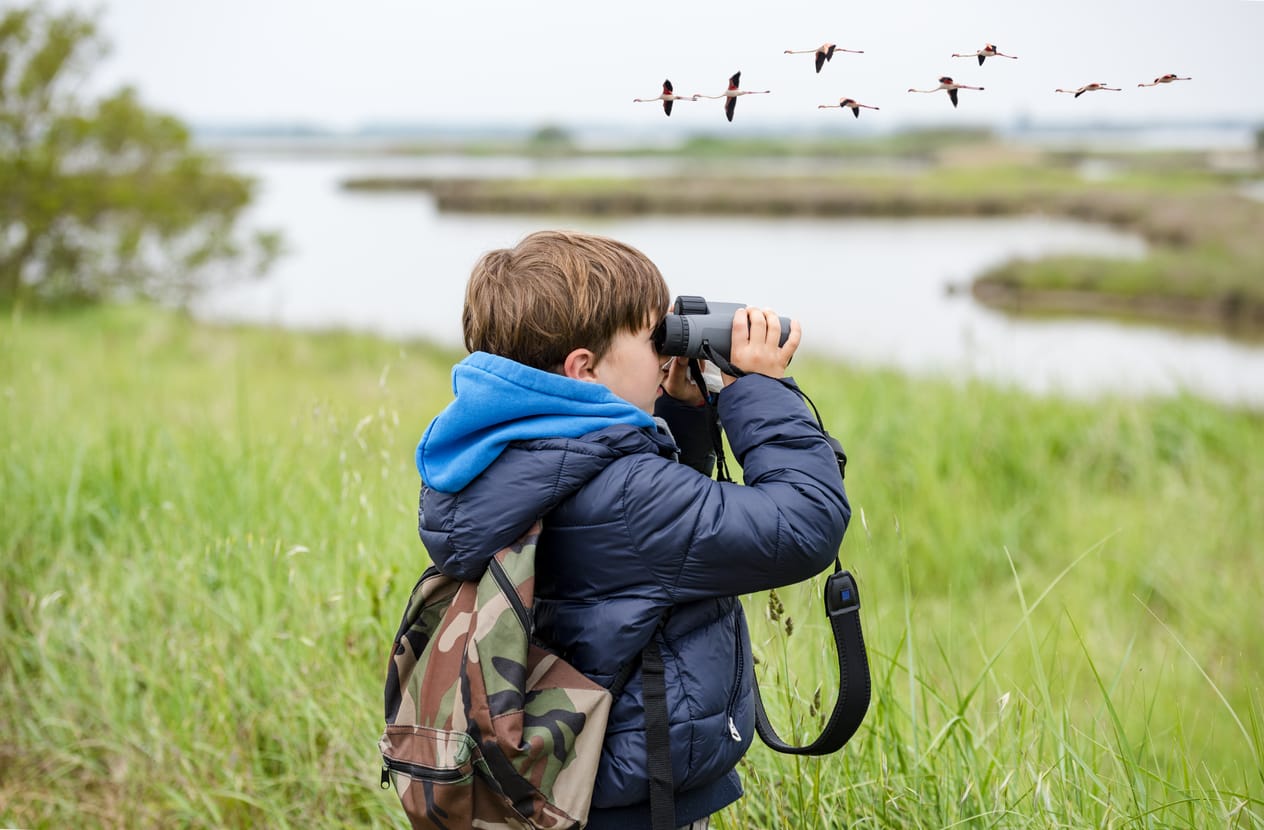 Ideally, there are two types of tools that can be used for bird watching. Both of these tools use a similar concept for magnification. Let's have a quick look at each one of these options.
Binoculars
Author Note: Binoculars are the tools of choice for most people in the bird-watching community. They're relatively more portable and can offer a much more authentic magnification and 3D representation of the birds.
The 3D effect comes from the design of the binoculars, as they allow you to view the bird through two optical tubes, and therefore, using both of your eyes.
This is essential for the brain and eyes to fully perceive a stereoscopic view of any object in their line of sight.
However, if you want to take a picture of the bird, you'll need to step a little closer or sneak up on the bird.
Since most birders and bird watchers will try to get as physically close as possible to some of the birds, they don't mind the lack of capture ability and prefer using binoculars for zooming on the birds.
Other telephoto lenses and spotting scopes also have the drawback of needing a specific tripod or some sort of support to ensure a steady view while bird watching.
This means more gear for the birder to carry, and therefore, a higher chance for auditory and visual noise that the birds can pick up and get spooked.
Optical Zoom Cameras
As the name suggests, bird watching is all about stopping for a moment to contemplate the beauty of birds in their natural habitat.
However, there are many bird watchers that also love taking pictures of their live count and rare encounters.
In that case, you might need a camera with a powerful optical zoom that has the same magnification power as a decent binocular.
However, you should keep in mind that these cameras might cost a lot more than regular binoculars and won't allow you to watch them in 3D.
What is the Ideal Magnification Power for Bird Watching Binoculars?
Now that you know more about magnification tools, it's time to find out the ideal magnification for bird watching.
The first thing you need to know is that binoculars and magnifying tools come in a variety of magnification powers and other features.
For instance, you'll find binoculars with magnification powers labeled as 10 x 42, 8 x 42, or others. These numbers refer to both the magnification number and the size of the length.
Let's use 10 x 42 binocular as an example. The "10" means that you'll be able to see things about 10 times closer than they actually are, and so on.
Binocular Specifications
The other number stands for the lens size and diameter. Of course, if the size of the lens didn't matter, it wouldn't have been associated with the magnification power.
The size of the lens means its diameter in millimeters. In this example, this means that the diameter of the lens is 42 mm.
What you need to know about the diameter of the lens is that the bigger the lens, the brighter the resulting image will be.
In other words, a 12 x 42 isn't a great magnification for bird watching. Of course, it has great zooming, but it will be very shaky to the point that you can only use it with a tripod and still miss some essential features of bird watching.
For that reason, higher magnification power isn't always the best for bird watching. However, going too low defeats the purpose of magnification. So you should pick a balanced magnification power.
As a rule of thumb, most avid bird watchers with tons of experience in the field believe that 8x magnification power is the sweet spot for magnification.
It's powerful enough to allow you to enjoy all the details of a bird from a long distance without making it impossible to stabilize.
When it comes to the size of the lens, both 32 to 42 millimeters would do the trick. Based on that, while choosing the best magnification for bird watching, always make sure that it's either 8 x 32 or 8 x 42.
Other Aspects to Consider While choosing a Magnification for Bird Watching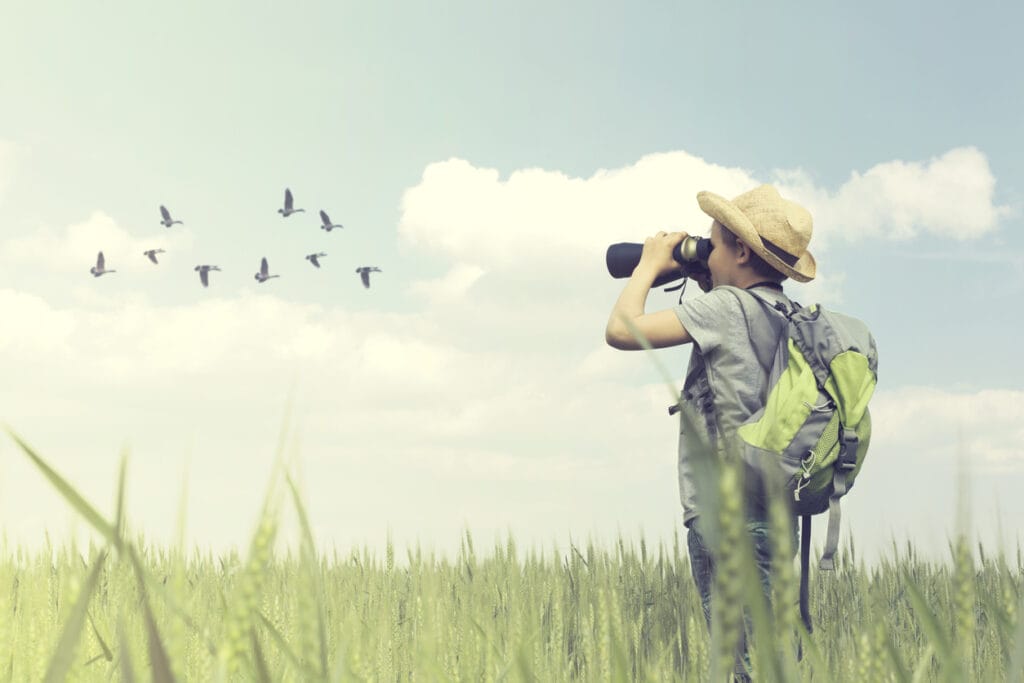 Author Note: Although the magnification of any binoculars for bird watching should be your number one priority, there are other aspects that you need to consider. Let's have a brief overview of each one of them:
1. Minimum Focus Distance (Close-Up Focus)
Some birds are very human-friendly and might allow you to get very close to them. In that case, you might want the binoculars to enjoy an up-close look.
For that reason, make sure that the binoculars you get also have this feature for added value.
2. Overall Weight and Portability
Despite not being the main reason why binoculars are preferred over high-zoom cameras, portability is always an essential feature that you should consider.
Always make sure that the binoculars are compact and lightweight enough to not feel heavy in your hands as you hold them or weigh you down while moving and stalking a bird.
3. Water and Weatherproofing
A serious bird watcher won't only seek out birds on sunny days. In fact, rainy time is one of the best times to sneak up on birds without disturbing them because they're distracted by the rain.
However, sneaking up in the rain would be pointless if the binoculars you're using aren't resistant to moisture buildup on the lens.
Always make sure that the binoculars are weather-proof and can handle different elements of weather, such as fog and rain.
4. Eye Relief and Adjustable Eye Cups
Eye relief describes the distance that should be present between your eyes and the lens of the binoculars.
Since different people might feel comfortable with specific distances because they have a distinct focal point where the image would be clear to them.
This is extremely essential for eyeglass wearers as well as providing enough shade while using the binoculars.
Also, people with long eyelashes might feel a slight discomfort while blinking if the distance between the eyes and the lens is small.
It's extremely essential for the binoculars you're buying to offer eyecup adjustability in order to reach the ideal eye relief distance, so you don't have to see black rings around the image.
5. Warranty
One of the most underrated aspects of bird watching binoculars is the warranty. However, if you want to make sure that the binoculars stay as functional and reliable as they are today for years to come, you must always seek a model with a lifetime warranty.
Birding will have you walking around in different terrains and under various weathers, where slippery ground and accidents are bound to happen.
In that case, having a replacement warranty to install new lenses instead of the cracked ones will save you the costs of purchasing a brand new one.
What Is the Best Binocular for Bird Watching?
Author Note: With so many great options on the market, it's quite a challenge to name a specific model of binoculars as the absolute best, as distinct options and features may appeal to a different set of needs.
However, to help you narrow down your search, here's a quick list of the top 5 magnification binoculars that you can find on the market:

Wrap Up
There you have it! A complete guide that walks you through everything you need to know to pick a magnification for bird watching.
So what is the best magnification for bird watching? Ideally, 8x magnification is the magnification of choice for the best results. However, make sure that it's within a decent lens size of 36 to 44 mm, such as our recommendation, the Vortex Optics Diamondback 8 x 42 HD Binoculars.
However, if you prefer to pack light and looking for a binocular that offers both exceptionally high clarity and portability, you should consider a high-end portable option, such as Zeiss Terra ED 8 x 25 Pocket Binoculars.
We hope you enjoyed this article on what is the best magnification for bird watching.
Fly high friends!
FAQ
What does 8×42 magnification mean?
The number 8 refers to the power of the optical tool, ie, it magnifies by 8 times. The 42 is the size of the lens in the front part of the binoculars.
Why isn't a 10x magnification better?
There is a sweet spot in magnification that 8x magnification hits. It gets you pretty close to the subject and isn't relatively free from hand shake. If you go to a 10x or 12x then you may find focusing difficult on the subject because of shake.