Bird watching is an activity that requires a lot of patience and perseverance. But if you have the right tools, then the results are always rewarding no matter how much it tests your patience!
A monocular is one such tool that will provide you with incredible and clear shots of a bird that is far away in the distance.
But how does one find the best monocular for bird watching? Finding the right one can often be a challenge as there are certain technical aspects that one must be sure of before making a decision.
Best Monocular for Bird Watching Reviewed
In the following sections, the best monocular for bird watching have been reviewed. Each monocular has been picked out for its durability, design and incredible magnification, among other things.
The reviews are followed by a brief buying guide on how to choose the best monocular for bird watching.
The Gosky high definition monocular telescope has an incredibly high power magnification of 12×55. The telescope lens promises a bright and clear image, excellent for early morning birdwatching. You can also enjoy these monoculars for ball games and concerts at large stadiums.
This is also a simple handheld device that does not take up a lot of space in your luggage. Whether you are out on a safari or if you are traveling out of state for a basketball game, you can pack these monoculars in your luggage easily without worrying about how much space it takes.
What We Like
The monocular has 12×55 high power magnification which allows you to see great distances without the image getting distorted.
The monocular has a long eye-relief, as well as a twist-up eyecup that makes it extremely comfortable to hold and see through.
The monocular is argon purged, which makes it waterproof, dustproof, fog proof, as well as shockproof!
The monocular also has a rubber-armored body which enhances its durability.
One can avail of lifetime customer service from the manufacturers.
What We Don't Like
The monocular can be a little heavy mounting for the phone.
This is not the best monocular set for taking pictures.
Another great option from Gosky, this monocular set has a powerful adjustable zoom magnification of 20-60x. You can lock into the object you want to take a closer look at and then zoom for greater detail.
This is the perfect monocular for target shooting, bird watching, hiking, etc. It's simply a great present for someone who loves the outdoors!
The image delivered by the monocular is consistently bright and clear, thanks to the quality BAK4 Porro prism optics, which is responsible for increasing the light transmission. Even when the light conditions are low, you can enjoy high contrast images.
What We Like
The monocular boasts of a 60-mm objective lens that is a fully coated green film lens.
You will be able to enjoy a clear field of view at 50-110 ft/1000 yards.
The eyepiece is angled at 45 degrees, which allows for a more comfortable viewing experience.
It has a waterproof design thanks to the O-ring seal that is able to prevent dust, debris and moisture from entering.
There is an eyepiece shield for protecting the eyepiece.
The monocular comes with a smartphone digiscoping adapter so you can take photos of all that you have observed through the lens.
You can enjoy a full range of accessories, including a carry case, tripod and lens protection covers.
What We Don't Like
It can be difficult to lock in on the target at times. The slightest shake could mean you might lose the target.
The Smithsonian Monocular Set from the Omano Store is an excellent choice for birdwatching. At times, birding monoculars can be difficult to align properly. But with the Smithsonian monocular, this should not be a problem.
Author Note: This is a great monocular, with a zoom magnification of 12×50 mm for a clear and bright visual. There is also a twist-up eyecup, which is a true blessing for those who wear glasses. No more struggling with a handheld telescope and still seeing black spots!
Besides, the monocular is named after the Smithsonian because the company has tied up with the museum to include an incredibly comprehensive birdwatching guide! This is a great, lightweight and compact bird-watching monocular set that even comes with the appropriate literature!
What We Like
The 12x magnification and 50-mm lens provide a clear and bright visual every time. You can simply lock into the target and then activate the zoom magnification.
The twist-up eyecup is great for those who wear glasses, as you can adjust the distance between the lens and your eye.
At 500 grams, this is an extremely lightweight monocular. You can easily pack it into your camping backpack and it will barely add any weight.
The birdwatching set in partnership with the Smithsonian also means that you can enjoy a comprehensive guide to birdwatching.
The monocular is nitrogen-filled and O-ring sealed, which makes it water and dustproof.
What We Don't Like
The attachment for the phone can at times be a bit tedious to mount.
Another great product from Gosky, this monocular has a high power magnification of 12×50. You can get incredible views of the outdoors, perfect for bringing on hikes where there is a chance of spotting beautiful and rare birds.
It even comes with the latest model of Gosky's quick alignment smartphone holder. The holder works with most smartphone models.
The monocular also has a fully multi-coated lens which offers a clear and vivid image each time. The lens coating also ensures better light transmission and brighter images.
It also has a great and durable design that will ensure that it can withstand weather extremities of various kinds. After all, if you go bird watching in snow conditions, the monocular should still be able to provide you with a crisp and clear picture.
What We Like
The quick alignment smartphone holder is compatible with almost all smartphones, so you can also get incredible images of all the beautiful birds you are observing.
The monocular has a large BAK-4 prism inside, which ensures you get bright and clear views thanks to the enhanced light transmission.
It has a shock-absorbing rubber armor, which provides tight-fitting protection for various types of weather. The stripes on the body also make it easier for you to maintain a grip.
This is a water, dust and shockproof monocular. It is nitrogen filled and O-ring sealed.
What We Don't Like
The lens can be quite difficult to keep steady.
The Saudio Store Monocular Telescope is another great option for those looking for a good piece for birdwatching. It has a magnification of 16x and a 60-mm objective wide lens. This is a great monocular not only for bird watching, but also for hiking, hunting, and even ball games!
This monocular also comes with a quick alignment smartphone holder and tripod. It is compatible with various smartphones in the market. The light transmission in the monocular reaches up to 99.5 percent! The monocular also offers low-light-level night vision, which ensures that you can get a clear picture even when there is low natural light available.
What We Like
The monocular is compatible with various iPhone models and also comes with a tripod.
It comes with a BAK4 prism and an FMC green multi-coated lens that offers great light transmission, which is important for a clear and crisp visual.
This is a lightweight and handheld monocular that one can pack into their luggage without worrying about how much space it takes up.
The rubber shell can be held securely and also provides a great grip so it does not slip, especially if you are hiking in difficult terrain.
The monocular is nitrogen filled and has an anti-fogging coating, which also makes it waterproof. It also has an O-ring optical protection.
What We Don't Like
It can at times be difficult to align the lens to the phone camera, despite the quick alignment smartphone holder.
How to Choose a Monocular for Bird Watching
A monocular is one of the best tools one can have in their bird watching kitty. But it can often be challenging to find the best one as you need to find a monocular that offers good magnification and is also easy enough to carry when you are out bird watching.
The following are some of the factors that you may want to keep in mind while choosing a monocular for bird watching.
Magnification
The magnification of the monocular is one of the most important factors to consider. There is no point in investing in a monocular that does not allow you to zoom into a target and get a clearer picture.
Author Note: A 50-mm objective lens is the minimum that you should consider while looking for a bird-watching monocular. A magnification of 12x is also something that you should consider first, but if you can afford to go up slightly more, that is ideal.
A good magnification is the main factor that should be the unique selling proposition (USP) of a monocular, so that is the first thing that you should look at when selecting a monocular for bird watching.
The monoculars that have been reviewed above are generally in the 50-60-mm objective lens range, with a magnification between 12x to 16x.
Design
The design of the monocular is the next thing that you should consider before buying a monocular for bird watching. The design would include the coating on the lens, as well as the BAK4 prism in the lens that can improve the light transmission.
This is as important as the lens of the monocular as this is how the lens will receive the appropriate amount of light so you get a clear vision, even if there is low light. A good design will also ensure that you can use the monocular even at night or in the late evenings!
Durability
The durability of the monocular also has a lot to do with the hardware and the design. The monocular should ideally have rubber armor that provides it good protection.
You may be using the monocular in tough terrains if you are out on a hike or camping, so it is important that the body of the monocular should be protected. A striped body will also ensure that you can maintain a good grip on the monocular.
It is also important for the monocular to be water, dust and shockproof. The monocular should ideally be nitrogen filled and O-ring sealed.
Alignment
If you want to use the monocular along with your phone, you should be able to align the lens so that you can get good images. Not everyone has an expensive DSLR that they may carry around with them on bird watching trips or hikes.
But that does not mean people do not want to get pictures back of the incredible birds they have observed. So, being able to capture images on their phone is an important consideration.
Author Note: To be able to do that, the monocular should come with a quick alignment smartphone holder that will make it easy for you to mount the monocular on the smartphone and take photographs.
Lightweight
The monocular should also be lightweight and compact. You should be able to carry it in your backpack and it should also be easy to carry it in your hand without it being awkward.
An objective lens can be heavy at times, but if you had to carry a heavy device around, you could opt for a different device such as a good-quality camera with a zoom lens. So, it is important for the monocular to also be lightweight and easy to carry.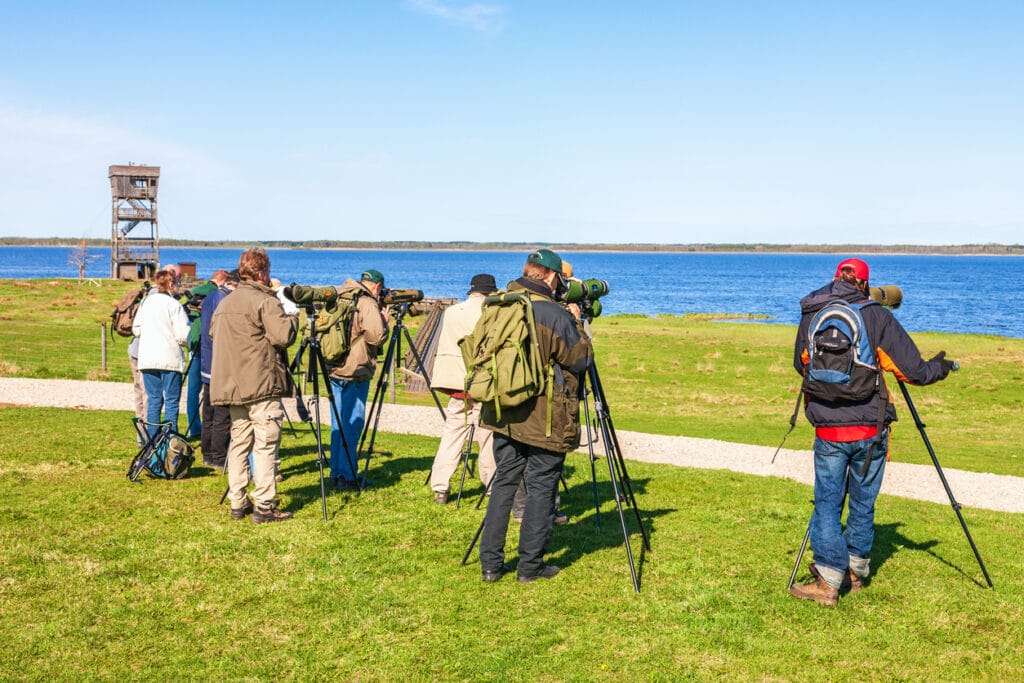 Wrapping Up
A monocular is one of the most important tools one can invest in if they are interested in bird watching. You will be able to get a clear and crisp view of the birds, even if they are at a distance.
Since monoculars are so compact and lightweight, most of them can also be mounted on a phone through which you can capture photographs for posterity.
A good monocular may set you back a bit in terms of expenses, but this is a one-time investment that will reward you with several incredible sights. The monoculars that have been reviewed above are some of the best ones in the market.
Fly high friends!
FAQ
Are Monocular Good for Birdwatching?
Monocular are an excellent device for bird watching as they are compact and lightweight. They can be packed into your camping luggage easily. A monocular in some ways is just like a telescope that you can simply slide into your bag or even your pocket! This is what makes it a great device to use for bird watching.
Which Is Better for Bird Watching Binoculars or Monocular?
Both binoculars and monocular are great devices to use for bird watching. The difference, however, is in the results that you are looking for. A binocular will give you a wide-angle view as there are two eye pieces.

A monocular, on other hand, will provide you with what is known as a "true field of view". If you are looking for precision spotting, which is often the case when one is bird watching, a monocular is the better option as you can lock in on the target and then zoom in. The field of view is not the concern when one is bird watching as it is the specific bird that one is interested in. 
Can You Stargaze with a Monocular?
Typically, people use binoculars for stargazing as it provides them with a wide-angle and magnification. However, a monocular is also a great option for stargazing as the field of view you might get in the night sky should not be so different from a binocular.

Besides, a monocular is practically half the size and weight of a full-sized binocular. If you happen to stargaze while on a camping trip, a monocular is a better device to pack as it is considerably more lightweight.
How Do You Hold a Monocular Steady?
It is of the utmost importance to keep a monocular steady, especially if you have zoomed into a target. Even the slightest shake or movement could mean that the lens will lose the target from sight.

To hold a monocular steady, you can support the arm that is holding the monocular by wrapping the palm of your other hand around the wrist of the first one.

Alternatively, you can also rest your forefingers near your eyebrow. In both cases, remember to keep your arm as close to your body as possible.