There's no question that birds are undeniably cute creatures! Bird enthusiasts usually spend most of their time deciding on the best bird feeders, then find out they have no place to hang them.
This is where bird feeder poles come into play! They carry shepherd hooks that allow you to hang bird feeders anywhere around your garden. Since they come in different shapes and sizes, it might prove difficult to pick the best one for your needs.
In this article, we've rounded up nine top picks to help you decide on the best shepherd's hook bird feeder for your garden.
Let's get started!
Our Top Picks of Shepherds Hook Bird Feeders
All our products are carefully inspected and extensively reviewed. Let's find out which products made it to our top picks!
Our first pick is COCONUT's stainless steel shepherd's hook. This stylish product contains one holder that can carry one bird feeder.
Author Note: What we like the most about this product is its simplicity. It's well-constructed, weather-resistant, and a perfect all-rounder.
There are five sizes to choose from. The smallest size is 30-inch and their largest is 94-inch.
We preferred the 62-inch model because it hits a sweet spot between price and height. The 30-inch model was too short for our liking. Not to mention, squirrels and other critters would easily be able to climb it and steal the contents of the feeder.
The 46-inch is okay, but still better suited towards lanterns, planters, and other decorations. If you want to hang a bird feeder, choose the 62-inch or 78-inch model.
The five-prong setup is stable, much more than the two-prong legs on other models. Overall, the competitive price point, durable material, and straightforward design land it a spot on our top picks!
Pros
Affordable across all models
Five sizes to choose from
Stable, even with heavy bird feeders
Easy to assemble/disassemble
Cons
Only one hanger
Doesn't come with a bird feeder
Best Choice Products takes every component in COCONUT's shepherd's hook and overhauls it, and we love everything about it! If you're willing to spend a little extra, there's no shortage of features on this multi-feeder bird feeding station.
This shepherd's hook measures around 90 inches tall, including the base, and 23 inches wide. It comes with a whole suite of bird feeding accessories. There's a water bowl, a food tray, a wire feeder, a tube feeder, a peanut feeder, and a suet feeder. Incredible value!
The pole itself has six hooks; four top hooks and two smaller ones that can be adjusted by a wingnut across the pole.
There are two additional wingnuts that support a tray and a bowl at the middle of the pole. The base has five prongs that dig deep into the ground. It's stable and doesn't seem to budge even at full capacity.
We measured the height of the pole after inserting the base and it measured exactly 80.5 inches. Construction-wise, the stainless steel looks durable, and the black coating adds a touch of elegance to the product.
Pros
All-in-one multi-feeder package
Two moveable hooks for smaller birds
Extremely durable steel
Cons
PEEKI offers a mix between simplicity and functionality. It borrows a lot of elements from COCONUT's shepherd's hook, but there are two hooks instead of one.
It only comes in one height option, which is 47 inches. However, there's an extension pole that can be removed to shorten it to 31 inches if you like.
Top Tip: One of the things we like about this product is that one of the hooks is adjustable. Using a wind screw, you can move the hook anywhere along the pole.
The base is made from the same five-prong base. The construction follows the same theme as the previous products; it's made of stainless steel and resistant to rust and extreme weather conditions. No complaints there.
In terms of value, we just wish the PEEKI shepherd's hook was a little bit cheaper. It's still affordable, but at this price point, it's better to just add a little more and buy a feeder pole with more bells and whistles.
Pros
Moveable hook
Extension bar for height adjustment
12-month warranty
Lovely black finish
Cons
Not the best value for money
BOLITE is another all-in-one bird feeder that offers all the features you'd expect from a premium shepherd's hook.
At first glance, it's extremely similar to Best Choice Products shepherd's hook. It has a water tray and a seed tray, four hooks that are all adjustable, and around 83-inches long.
However, there are a few things not present in BCP's shepherd's hook. For example, there are no bird feeders included, whereas the BCP product had four different feeders.
The base comes with three prongs, which is a shame. After the ongoing trend of five-prong bases on the other products, we wish BOLITE had followed the same route.
Don't get us wrong, we didn't run into any stability issues on this product. However, we still feel a five-prong base would've been more reliable, especially in windy conditions when all the bird feeders are installed.
Overall, this bird feeding station has one unique feature: the shepherd's hooks look appealing with unlimited adjustment options. The design elements are decorative and fun, adding a touch of elegance to your garden.
Pros
Beautiful design
Four adjustable hooks
Food and water tray included
Cons
No bird feeders included
Slightly expensive
Yosanger is yet another all-in-one bird feeding station. It's a little expensive, but it's also made from heavy-duty stainless steel and comes packed with features.
First of all, this is a 91 inches tall and 23 inches wide bird feeder, making it one of the tallest products we've reviewed so far.
Author Note: Depending on which type of birds you want to attract, this bird feeding station will attract tree birds like woodpeckers and orioles. This is the ultimate bird lovers' feeding station.
It follows the same design elements as BOLITE's feeding station. There are four hooks; two large ones at the top and two smaller ones that are adjustable below.
There's a water dish and a seed tray included. You also get a metal suet feeder, but no other bird feeders.
Overall, another solid contender that deserves a spot on our list. We just wish it came with more bird feeders to justify the higher price point.
Pros
Metal suet feeder included
91-inches long
One of the most durable constructions
Cons
No additional bird feeders included
A little expensive
Ashman's shepherd's hook combines beautiful design elements with clever functionality. The first thing that caught our attention was how subtly the shepherd hooks were blended into the floral construction.
There's a victorian-style spearhead at the tip that adds a touch of elegance to the overall aesthetic. You can hang up to eight bird feeders on the hooks, but they'll be a little crammed together.
Instead, we recommend you hang three to four feeders and leave the rest unoccupied. If you own a small lantern or have some decorative lights, you can add them to the bottom hooks for a tantalizing visual effect.
We were impressed with the high-quality stainless steel and glossy powder coat finish. The base contains two prongs that were just as stable as the multi-prong bases on the other products.
Of course, all of this comes at a price. Ashman's shepherd's hook is the most expensive product on our list. If you want a shepherd's hook that enhances the beauty of your yard, you may want to consider spending more on this product.
Pros
Adjustable height
Elegant design
Supports up to eight feeders
Cons
Gray Bunny shepherd's hook bundle offers the most incredible value for money. It contains four double-hook hangers that measure 35 inches tall.
The two metal prongs at the base weren't the most stable ones we tried, but they didn't get knocked off by heavy winds, either.
Author Note: The hooks are durable and can hold up to 10 lbs in total. There's no assembly required; you'll receive four single pieces of steel that are ready to be installed.
Overall, this is a fantastic option if you're on a budget and want to get more than one shepherd's hook for your garden.
The only drawback of this product is that once you've installed it, it only stands 29 inches high. This makes it easier for squirrels to reach the bird feeders and won't attract bigger birds that prefer higher feeding stations.
Pros
Incredible value for money
No compromise in quality
10-pack option available
Cons
Not the most stable
Short
If you want to buy some shepherd hooks without the hanger, APBFH offers a pack of two hooks at an attractive price point.
This will be more appealing for people with wooden panels and wall decor around their garden. Each metal hook supports up to 10 lbs and extends about four inches from the hanging point.
The construction material is durable and promises heavy-duty rust resistance. However, it'll most likely be more prone to rust than the powder-coated steel construction found on the other products.
Overall, these iron hooks are extremely affordable and can be installed almost anywhere. If you already own a shepherd's hook, you can screw a couple of these to the deck posts to add a touch of beauty to your garden.
Pros
Can be screwed anywhere around your garden
Very affordable
Durable construction material
Cons
Iron isn't rust-resistant like steel
What To Look For in a Shepherds Hook Bird Feeder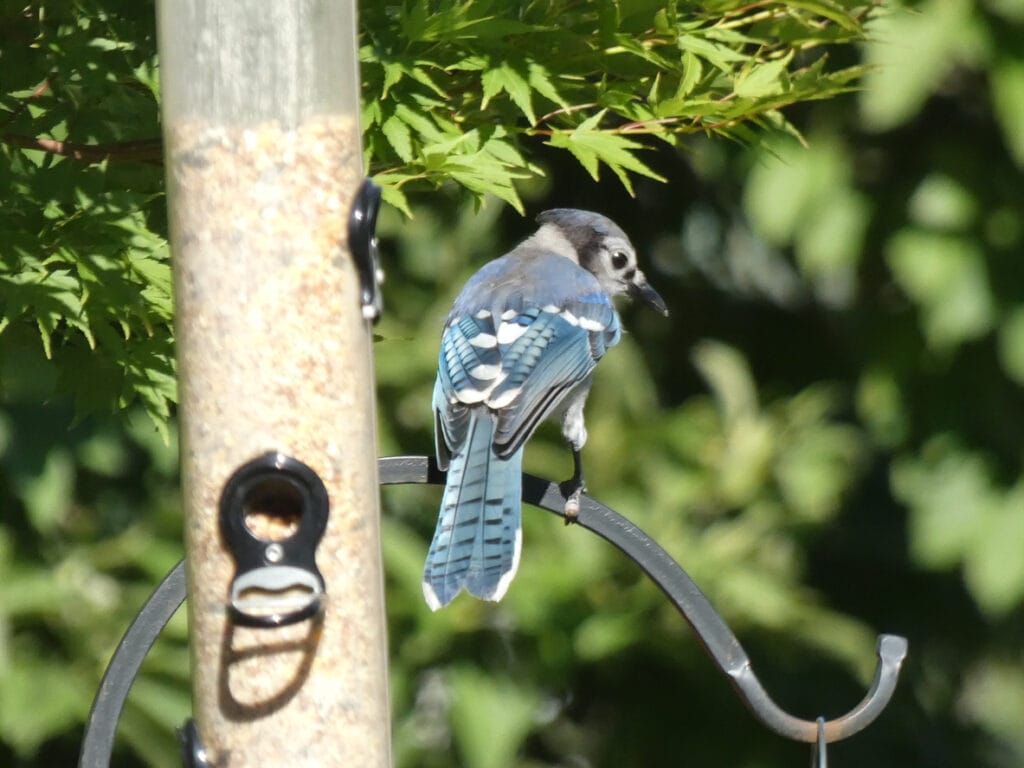 We've put together this buying guide to help you choose the perfect shepherd's hook bird feeder for your needs.
Material
The best material for shepherds hook bird feeders is high-grade steel. Make sure the hanger isn't hollow and always check for a powder coating that protects from rust and extreme weather conditions.
Wooden hangers are bulky and easily damaged, so we generally avoid them. However, if you don't want metal hangers around your gardens, choose a type of wood that's durable and resistant to moisture, like walnut or oak.
It goes without saying that plastic hangers should be avoided. Even if they claim the polycarbonate construction is "high-grade" or "durable," it probably won't last you more than a couple of months.
Stability
Stability is one of the most crucial factors in shepherd hooks. Five and six-prong legs are usually the most stable, but it ultimately depends on the length of the prongs.
All of the products on our top list fared well under strong winds, even the ones with two-prong bases.
As a general rule of thumb, you should make sure the prongs are longer than five inches.
Weight Capacity
The maximum weight capacity depends on the diameter of the hooks and the overall construction material of the hanger.
An acceptable maximum weight capacity would be 5 lbs, but some hangers can carry up to 10 lbs per hook.
If you choose a hanger with a lower weight capacity, make sure you don't exceed it or the whole hanger will tip over when subjected to a little gust of wind.
Height
The height of the hanger will depend on which types of birds you want to attract. Generally, you should choose hangers that are over 35 inches tall to avoid squirrels stealing the food.
Make sure you don't go too high, though. Most of the birds around your garden are ground-feeders, like sparrows and hummingbirds. You should keep the hanger below seven feet unless you have high trees with birds, like woodpeckers, that feed at ten feet or higher.
In Conclusion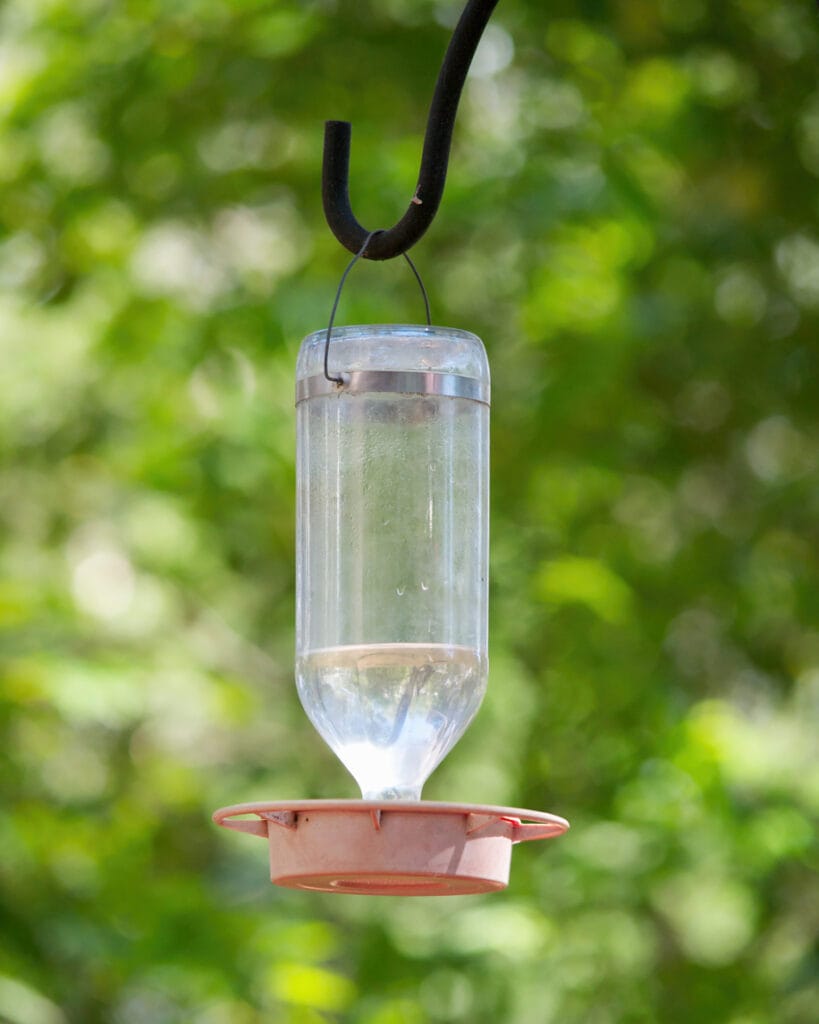 We can't help but recommend Best Choice Products as the best shepherd's hook bird feeder. It's one of the few products that offer a full suite of accessories, superb functionality, and high-grade construction material at a very competitive price.
If you're on a tight budget, Gray Bunny offers four shepherd hook bird feeders for the price of one. It's an absolute bargain!
In any case, you can't go wrong with any of our top picks. Once you choose a feeder pole, all you need to do now is buy some bird food and watch the birds fly in!
FAQ
How do I keep my hook stable?
There is an in-ground stake stabilizer that you can insert in between the stakes of the hook. They are available in home stores or online.
Where is the best place to put a bird feeder?
Consider carefully where you are going to put your feeder. You should think about:
* how much sun and shade it will get
* if it is near bushes so the birds feel safe
* if it is quiet so the birds are undisturbed
What sort of birds are attracted to hanging feeders?
Smaller birds can perch on the pegs and feed in safety so hanging feeders are really good for them.