Bird feeders are definitely something to consider if you enjoy bird watching. They draw birds in and let you watch them from a safe distance.
If you prefer to watch birds from the comfort of your own home, a window bird feeder is your best option. These fellows stick to windows using suction cups, and birds come by to eat and bath if there's water available.
The good news is, it makes no difference what kind of home or apartment you have. You're good to go as long as you have a window.
It can be hard to choose a suitable bird feeder. That's why we've compiled a list of the top bird feeders, so you know how to choose yours.
In a Hurry? Here's Our Top Picks…
The Top 5 Suction Cups Bird Feeders
You want your window feeder to be durable, solid, and large enough for the birds. It needs to be able to handle harsh weather as well. Here are the best options on the market.
This feeder from Wild Birds of Joy is a nice option if you're searching for a small bird feeder. The plastic is very durable and resistant to harsh weather conditions. Even during poor weather, the suction cups will stay tough and resilient.
Top Tip: Because of its solid materials, it can easily handle multiple little birds at once and larger birds like blue jays.
The seed tray glides without any effort and is easy to clean and maintain. However, there isn't a place to put water in the tray. You can include a birdbath outside the feeder, as some birds prefer to bathe rather than feed, especially in the summer.
Thanks to the feeders' transparency, you can see the birds clearly when they come to feed.
Key Features:
Transparent Color
Made of acrylic
2.38 x 6 x 5.75 inches
9.9 ounces
What We Like:
Robust suction cups
Durable for harsh weather
The seed trays have drainage holes
Affordable
What We Don't Like:
The tray isn't removable.
The D.F Omer feeder comes with four suction cups. It's made up of heavy-duty acrylic; as a result, it's waterproof and durable. The trays contain three portions for seeds and drainage holes to avoid collecting moisture.
The feeder doesn't have a water tray, but you can always use the seed tray for the same purpose. The tray can also be easily removed for cleaning, which is a bonus.
The feeder features a roof that protects the birds from bad weather, such as rain or wind.
It also comes fully equipped with a perch that birds will find very comfortable. The perch is located directly on the tray, making it more convenient for the birds to eat as they're perching.
Key Features:
Transparent Color
Made of acrylic
4 Suction Cups
1.08 pounds
What We Like:
Durable for harsh weather
You can use one of the seed trays for water
2-year warranty
What We Don't Like:
The roof design is a bit low
The hole to place the suction cup is small
The Nature Gear window feeder comes with solid glass suction cups. They're highly durable, and they stick to the windows robustly, protecting the feeder from falling.
The acrylic bird feeder is of excellent quality, and its design is both attractive and functional. It has a large opening in the back that prevents moisture from forming between the glass and the feeder.
The feeder's design also makes it simple to clean, as all you have to do is unhook the suction cups. It can accommodate multiple birds at once due to the tall pitched ceiling and spacious perch it has.
Author Note: It also has an excellent drainage system and is animal-proof.
Key Features:
Transparent Color
Made of high-quality acrylic
7.9 x 4 x 7.5 inches
1.2 pounds
What We Like:
Animal proof to avoid unwanted visits
Weatherproof
Durable suction cups
What We Don't Like:
The feeder doesn't have a water tray
If you want to feed plenty of birds at once, Tranquil Outdoor's bird feeder is ideal for this purpose. It has a high capacity of two cups, so you won't need to refill the tray very often.
This bird feeder has a unique design that sets it apart from other bird feeders, thanks to the suction cups design. They're attached with a hook to hold the feeder's weight well. So, you don't have to worry about heavy weight.
The Tranquil Outdoor's bird feeder features a brown rubber perch on which the birds may stand. Because of the material used, it's a durable feeder that can last for years.
Key Features:
Transparent Color
11 x 4.02 x 5 inches
3 Suction Cups
1 pound
What We Like:
Large to accommodate plenty of birds
Durable
Easy to clean
What We Don't Like:
The suction cup design can cause swaying
The plastic may turn yellow over time
The Perky-Pet Clear Birdscapes Window Feeder's design is like a birdhouse. This is usually appealing to the birds, which may help attract more birds.
To prevent condensation, the feeder has a hole in the back shaped like a house, which gives it a distinctive appearance from other bird feeders. It also has a roof, which is perfect to avoid snow build-upbuild-up and rain.
The window feeder is made of rigid plastic, making it very long-lasting. The tray may carry up to one cup of seeds. Keep in mind, however, that this bird feeder is only suitable for small to medium-sized birds.
Key Features:
Transparent Color
Made from plastic
5.6 x 6.88 x 7.78 inches
2 Suction Cups
8 ounces
What We Like:
Unique design
Hole shaped like a house in the back to reduce condensation
Strong material
Roof to prevent rain and snow build-up
What We Don't Like:
It doesn't come with installing instructions
Only two suction cups
The Types of Suction Cup Bird Feeders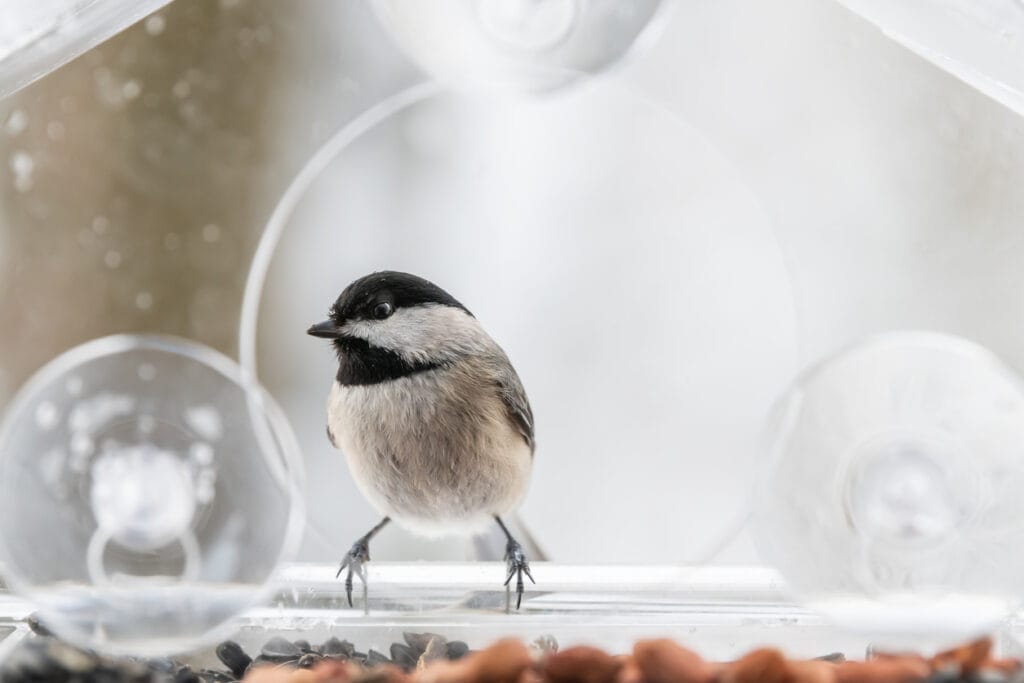 Bird feeders come in a variety of shapes and sizes. Each type serves a distinct purpose and offers different benefits.
Outside Window Mount
The outside window mount feeder is frequently mounted with suction cups, and it sticks straight onto a window. It's the most popular type among bird lovers because it's affordable. The low price is mainly because most outside window mount feeders are made of plastic, which turns yellow over time.
Solarium Feeder
Solarium feeders are fixed outside a closed window or extend inside the house through an open window. You can install them however you want to. ]
They're ideal if you're want to keep your window closed but enjoy watching the birds.
Author Note: It's worth noting that solarium feeders don't work with casement windows, though. It's better to check what kind of window you have and make sure your feeder of choice works for it.
Are Window Bird Feeders Safe For The Birds?
Many people ponder about the safety of window feeders because they're afraid of birds flying into their windows. Window feeders are, in reality, entirely safe for birds.
Placing a window feeder may actually reduce the likelihood of birds smashing. Just make sure it's high enough so that other animals can't get to it.
Or, buy an animal-proof feeder to make sure the birds are safe inside. You never know what cats and squirrels have in store for these tiny, poor birds!
If you're still afraid birds may smash into the feeder, you can add a colorful ribbon around it. A lot of birds are capable of recognizing bright colors, and the ribbon will prevent them from crashing right into the window.
How Do You Take Care of a Window Feeder?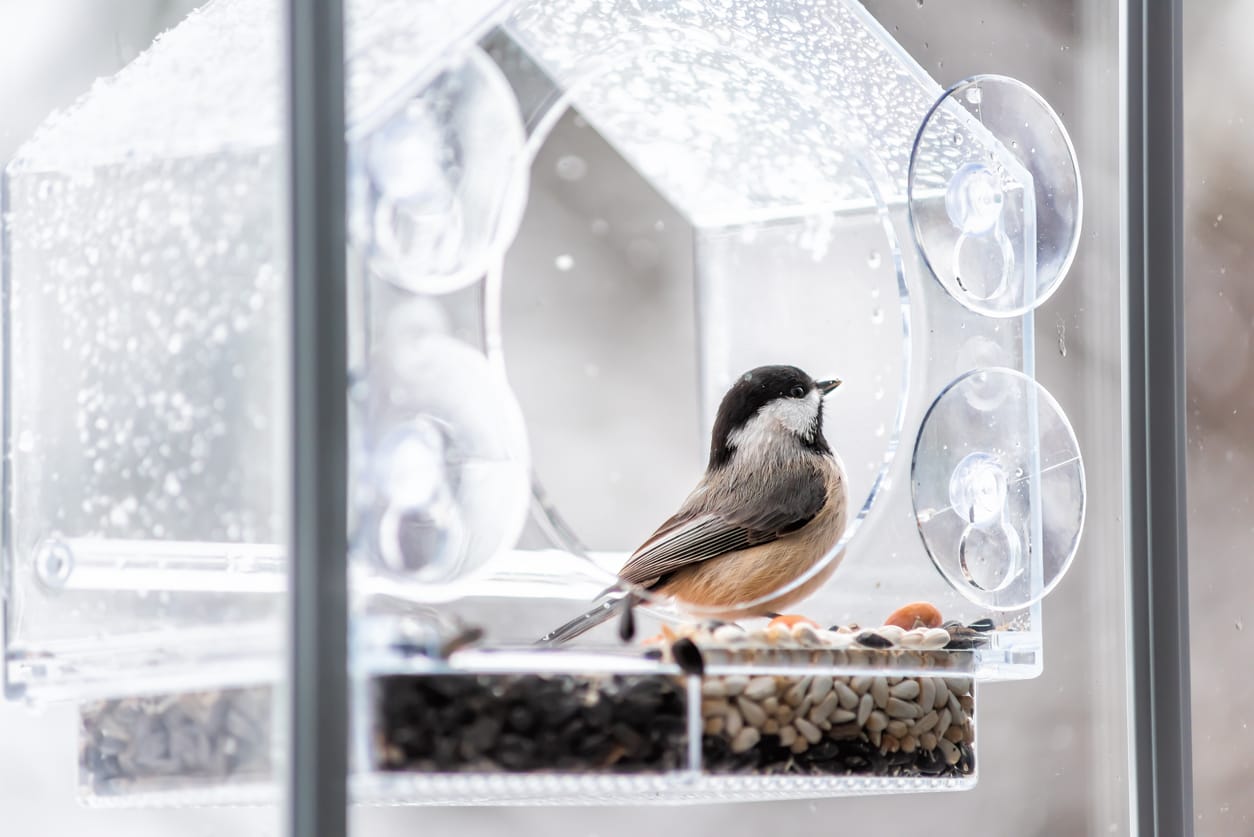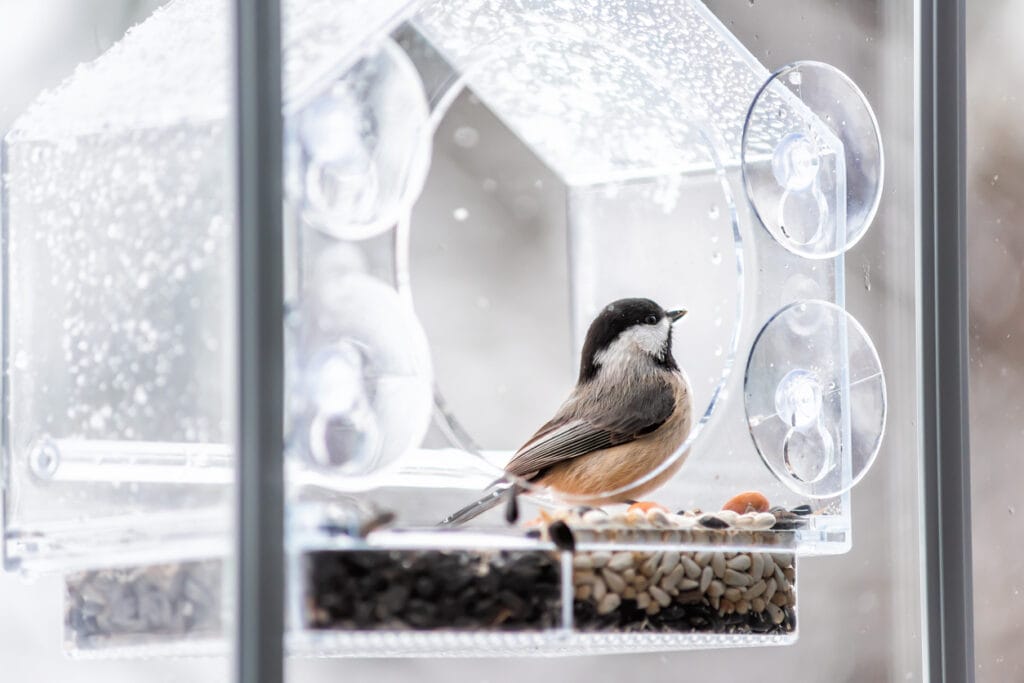 There are many things that you can do to maintain the cleanliness of your window feeder. The best thing you can do is use bird feeder cleansers to clean it. They'll do the job quickly and efficiently.
Alternatively, You can run your feeder on a hot setting in the dishwasher. A lot of bird feeders can safely go into a dishwasher, but you need to make sure yours is safe too. Check the manufacturer's label, and it should be written there.
If your feeder isn't safe for dishwashers, you can always use a hand wash with soap and hot water.
After you clean it, allow the feeder to completely dry before restocking it with food.
It's recommended to wash it once every two weeks. During periods of heavy traffic or rainy weather, clean it more frequently.
Author Note: You should also avoid a build-upbuild-up of uneaten seeds and other unwanted substances, or else they'll keep building up and dirtying the feeder.
Unwanted animals, such as rats, may come for the food left on the ground below the feeder. To prevent that, clean the ground underneath constantly, and make sure there aren't seeds lying around. If they don't attract rats, they may attract larger bids that won't fit into the feeder, and they'll bully the smaller ones.
How to Attract Birds to My Bird Feeder
It can be frustrating to prepare the feeder and leave seeds out, and still not get any birds.
You don't have to worry, though. If you have no birds at your feeder, it's no problem. There are a variety of things you could do to attract the tiny fellas.
It's recommended to use mixed seeds if you wish to attract a variety of birds. Avoid cheap mixed bird seeds. They have more filler, and birds have learned to filter the seeds out. If the birds frequently come to your feeder and find mixed seeds, they may not visit again.
On top of that, you may not be getting birds because your feeder is too small. If the birds in your area are larger than average, a small feeder won't do. In this case, you can start scattering seeds on the ground and see if the birds come by.
A tray or platform feeder on the ground might be a good idea. You can add many perches or platforms to comfortably accommodate a large number of birds.
You can also include a birdbath, as some birds prefer to be in the water rather than feed. Additionally, make sure your bird feeder is clean and hygienic to attract the largest number of birds.
Lastly, birds may not visit your feeder if the weather is really hot. In this case, it's better to place the bird feeder under partial shade.
How to Maintain Suction Cups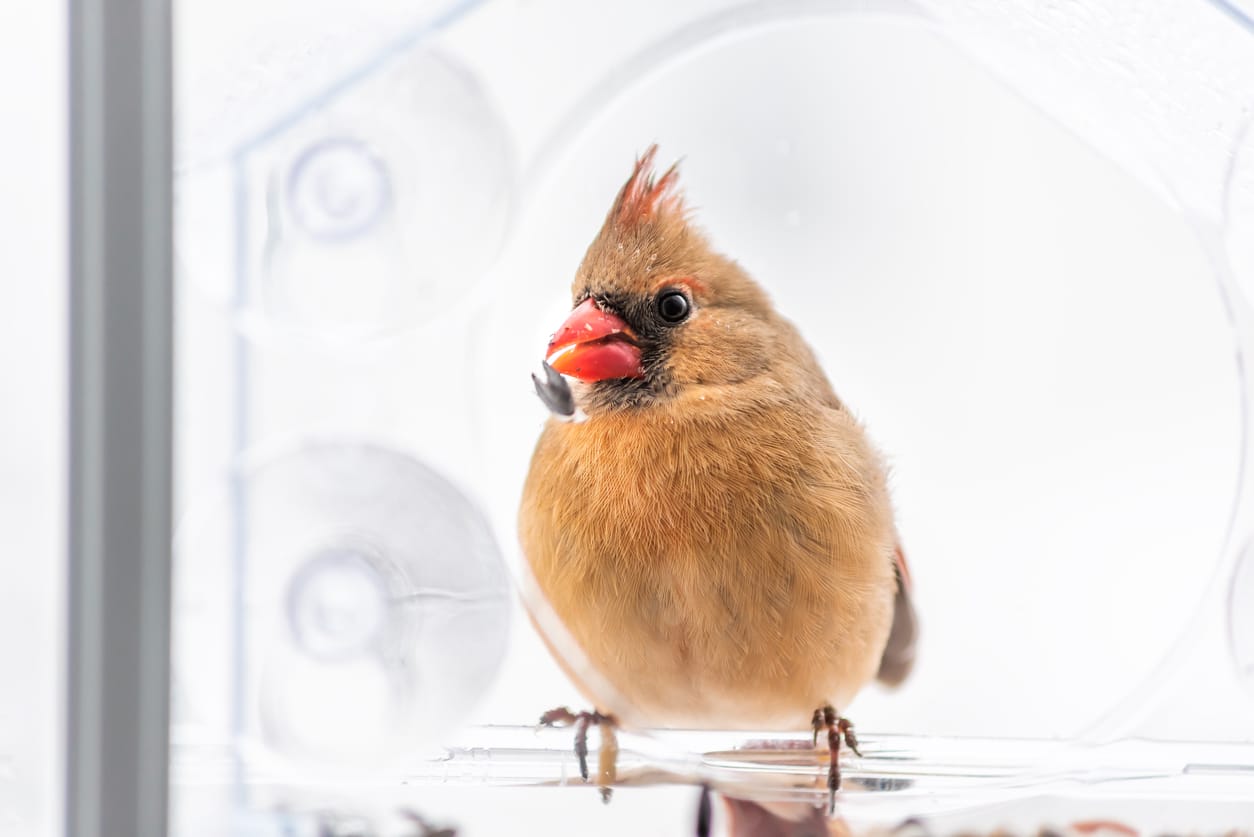 Suction cups don't stick well on all surfaces. Ensure that the window texture is smooth and that the glasses are clean. Also, wipe the suction cups with alcohol before using them and allow them to dry before mounting.
Top Tip: Suction cups prefer warm surfaces and are less effective in the cold.
So, if it's cold outdoors, use whatever heating device you own to heat the glasses. You can dip the suction cups in warm water as well. You can also use oil to make the cups more sticky.
Alternatively, you can give the center of the cups a gentle push now and then to release any trapped bubbles. This could help in making the cups stick better.
If you follow these guidelines, your suction cups will be as strong as ever.
Wrap Up
Window bird feeders are a wonderful idea. They allow you to see birds from the comfort of your own home. For bird feeders, there are a variety of options to consider. But, our top pick is Wild Birds of Joy Window Bird Feeder. It's durable and affordable, and it'll fit most small birds just fine.
Make sure to maintain the suction cups to ensure that they stay in place for a longer period of time. In chilly weather, remember to warm them up and make sure they're clean and sanitary at all times.
Also, don't forget to restock your food and water supplies.
This way, you'll have happy new small buddies who will visit you every day!