As a tropical archipelago, Hawaii is ideally placed for exotic sea, land and migratory birds to visit. The mixture of endemics, invasive and introduced species is unique in Hawaii. In this post we will be reviewing the white or partially white birds found across the Hawaiian Islands.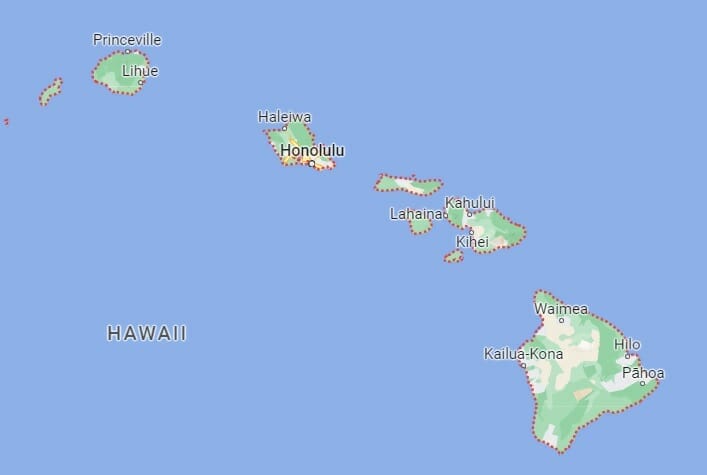 The State of Hawaii
Hawaii is known a tropical paradise and with constant trade winds from the north east, there are many micro climates and environments across the islands. These play host to a range of land and breeding sea birds. Furthermore, the volcanic origins of the islands mean they are rugged and mountainous, with rainforests and temperate pastures. For all these reasons, Hawaii is a vibrant and important location for flora and fauna.
From endemics skulking away in the forests and mountains to the glorious, soaring seabirds that visit to breed, Hawaii has a lot to offer birders. Ocean bound islands like this are a great place to see exotic birds all year round. Endemic birds may be colorful and exciting, but are there any white ones? Here are our best white bird finds for Hawaii.
10 of the best!
White-rumped Shama (Copsychus malabaricus)
Identification and Size
This male bird could be mistaken for a thrush except for the very long tail, which is white underneath. The rump is also white set against a black tail, back and wings. The underside of the bird is a rusty red. Females have the same coloring but faded and juveniles are a reddish brown.
Length: 8.6 – 10.6 inches
Weight: 0.77 – 1.48 ounces
Distribution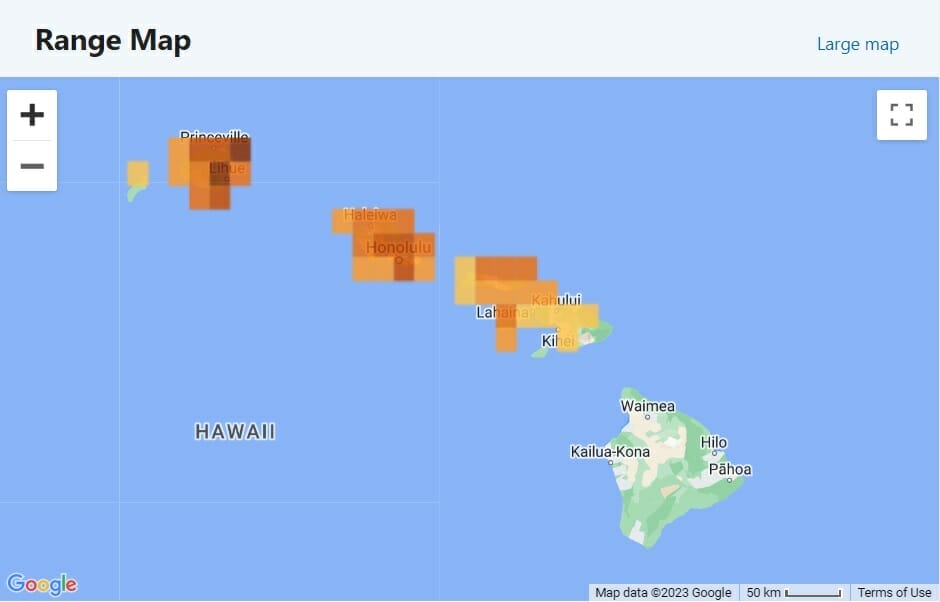 This Asian bird was introduced to Hawaii and is now mainly present on O'ahu and Kaua'i. It is resident and seen all year round.
Call
Recordings of this bird song are currently restricted because of entrapment or harassment. We respect this.
Diet
The White-rumped Shama eats mainly insects and worms. It will sometimes supplement its diet with fruit.
Interesting Fact
While the shama is able to fly for substantial distances, it prefers to move about in dense scrub where the long tail improves its maneuverability.
White Tern (Gygis alba)
Identification and Size
The White Tern is an odd looking bird. With a tubular body that almost resembles a sausage, it improbably balances effectively on bare branches. The all white plumage is offset by the rich blue bill, tipped with black.
Length: 9.1 – 12.9 inches
Wingspan: 27.5 – 34.2 inches
Weight: 2.7 – 5.5 ounces
Distribution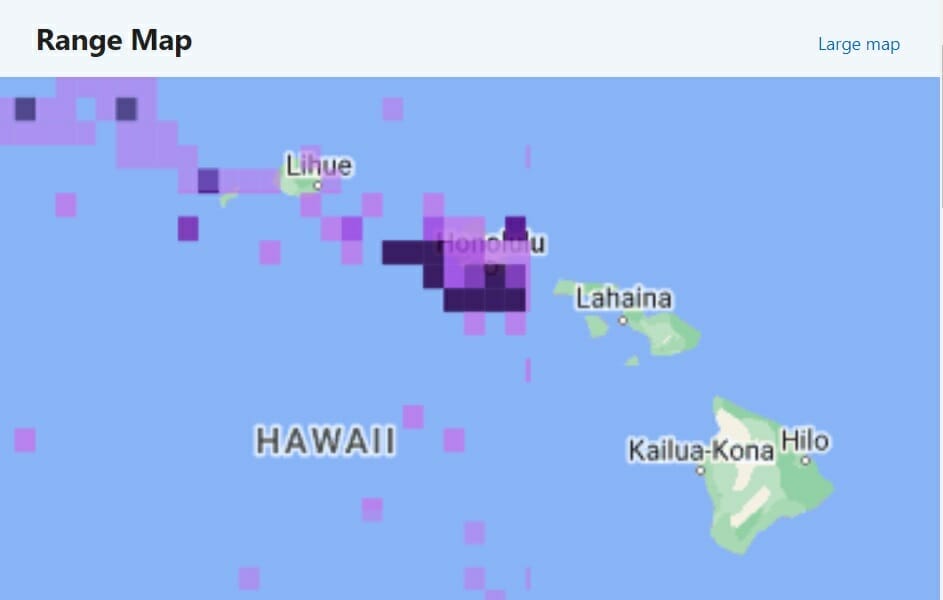 The White Tern is a tropical bird and Hawaii is the only state in America where it lives and breeds. It can be seen here all year round.
Call
Diet
The White Tern eats small fish and squid. It can be seen catching and returning with food around the islands.
Interesting Fact
The White Tern lays its eggs straight onto bare branches or rock. The egg and subsequent chick are vulnerable but seem to make it in good proportions.
Greater White-fronted Goose (Anser albifrons)
Identification and Size
This goose looks a lot like other domestic geese. Greylags, for example. It familiar brown markings and orange legs but the bright, white belly is distinctive.
Length: 25.2 – 31.9 inches
Wingspan: 53.1 inches
Weight: 68.8 – 116.8 ounces
Distribution
The Greater White-fronted Goose can be found on Hawaii where it overwinters. This species breed high in the Arctic Circle and so are less numerous in the summer months in Hawaii.
Call
Diet
Like other geese, this species can be seen grazing for seeds, grasses and grains.
Interesting Fact
The 'white-fronted' part of this goose's name doesn't refer to the belly. That term refers to the coloring just above the bill. Confusing, as at times this goose doesn't have any white there!
Red-tailed Tropicbird (Phaethon rubricauda)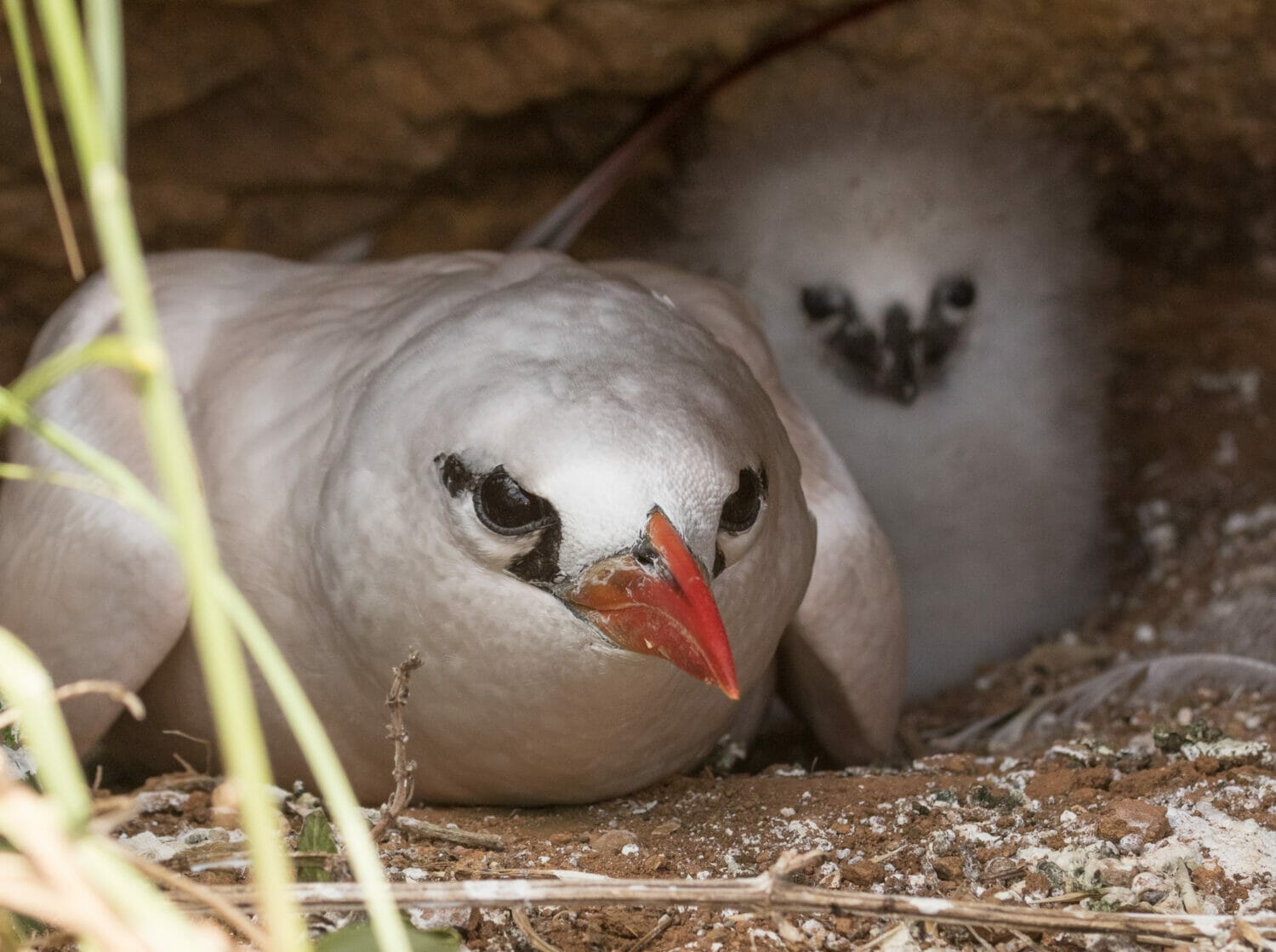 Identification and Size
The Red-tailed Tropicbird is truly an exotic, stunning bird. It has pure white plumage with black eye markings and a bright red bill. It's tail is long, red and slender.
Length: 17.3 – 18.5 inches
Wingspan: 38.9 – 46.8 inches
Weight: 21.1 – 29.4 ounces
Distribution
The Red-tailed Tropicbird can be seen from the shores of all the islands of Hawaii. They breed mostly in the northwestern islands of the Hawaiian archipelago.
Call
Diet
The tropicbird feeds offshore on fish that are close to the surface. There is some evidence that they will follow larger, predatory fish as they hunt the schools.
Interesting Fact
Locally known as Koaʻe ʻula, the Red-tailed Tropicbird is capable of amazing aerial acrobatics. It will fly backwards and in loops to impress a mate.
Cattle Egret (Bubulcus ibis)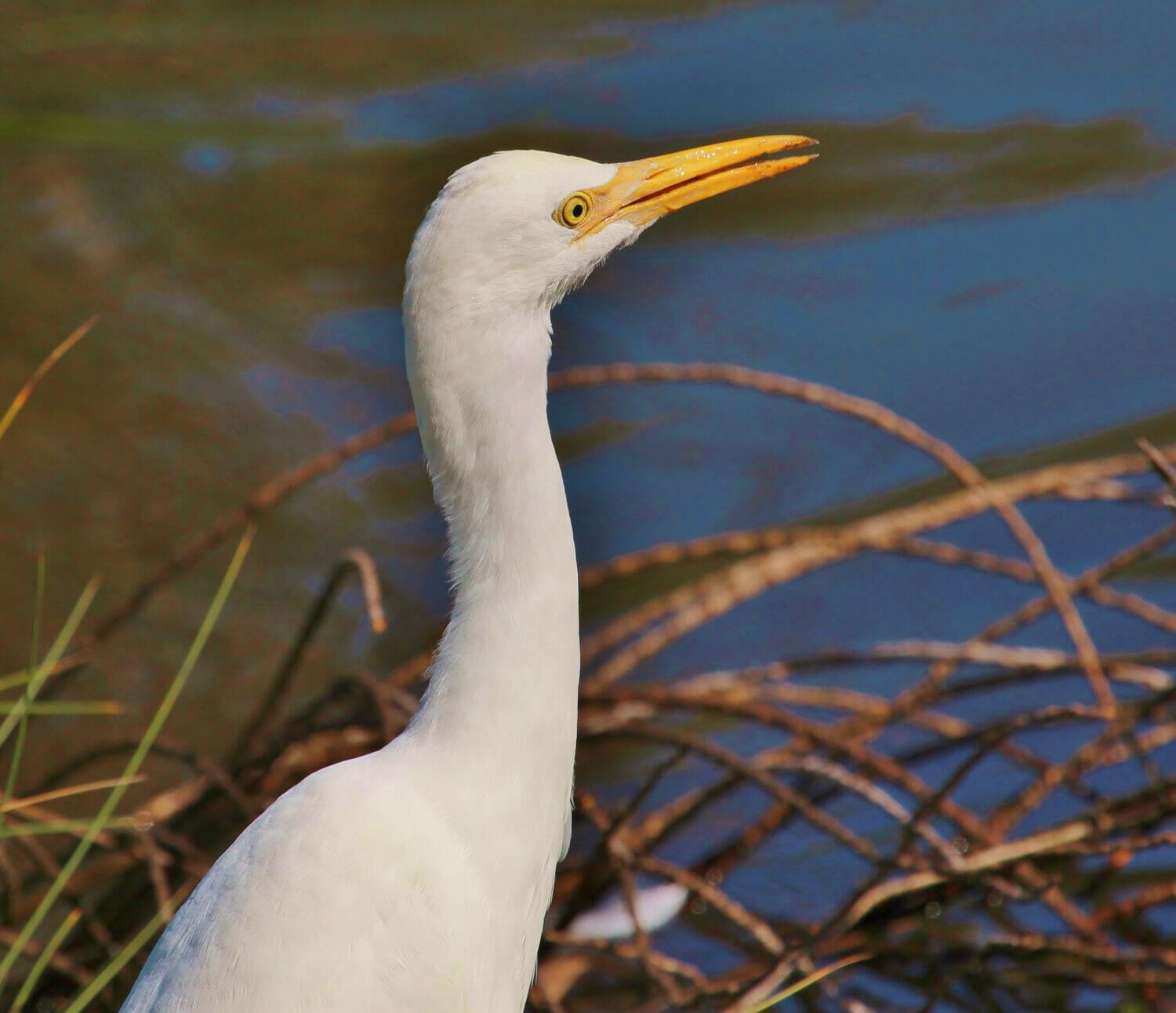 Identification and Size
The Cattle Egret is a relatively small egret and is less likely to be seen in water, preferring pastures. In non-breeding times, it is all white with yellow legs and bill. In breeding season, it develops orange coloring on the head and breast with plumes on the back.
Length: 18.1 – 22.1 inches
Wingspan: 34.6 – 37.8 inches
Weight: 9.5 – 18.1 ounces
Distribution
The Cattle Egret is now resident across the Hawaiian islands can be seen in pastures at any time of the year.
Call
Diet
The Cattle Egret has a broad diet and hunts for food in fields, usually near cattle as they disturb insects. It will mainly take grasshoppers, insects and some small fish.
Interesting Fact
Originally native to Africa, the Cattle Egret has spread across the globe, making it one of the most successful birds.
Semipalmated Plover (Charadrius semipalmatus)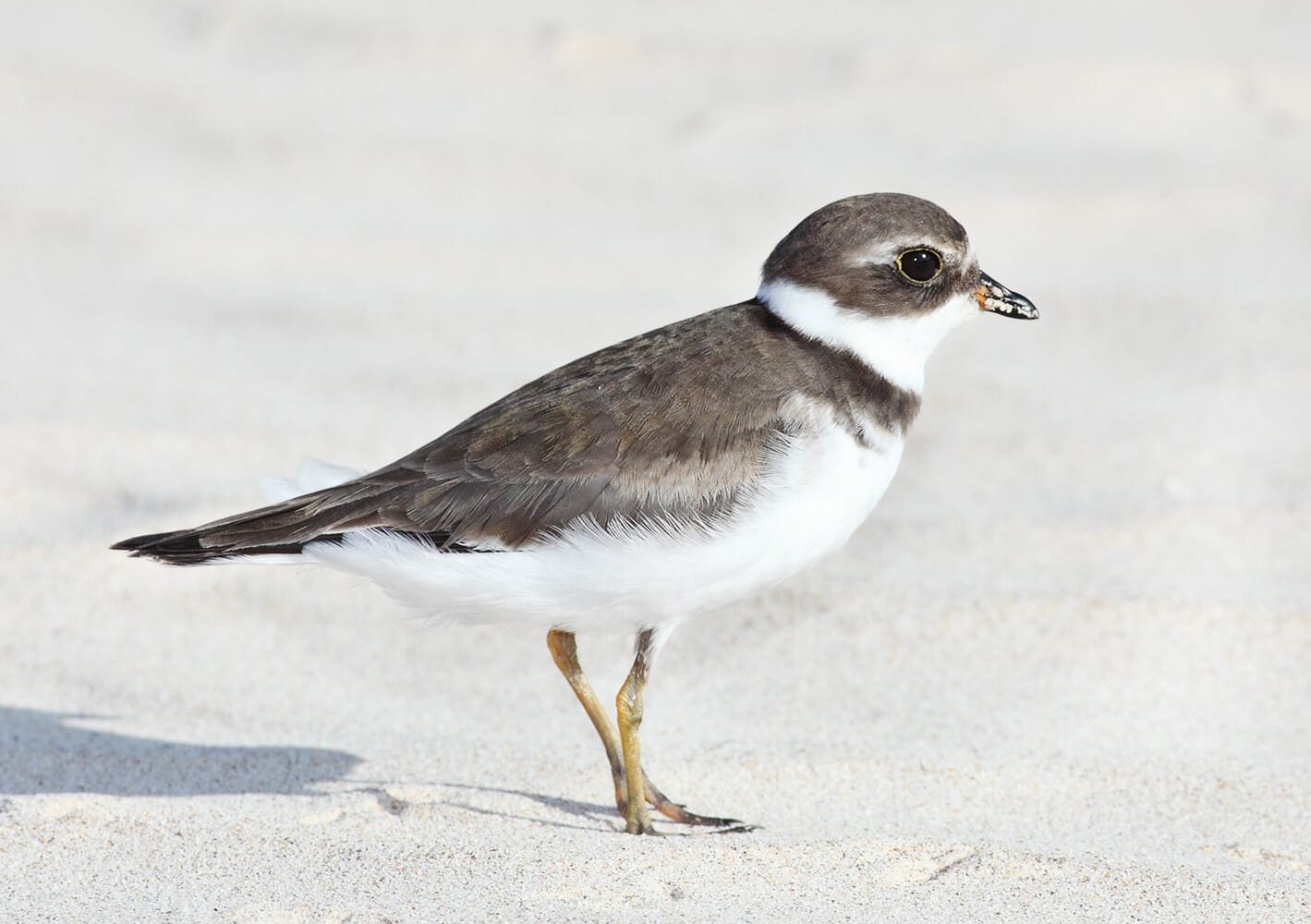 Identification and Size
A strongly marked small plover with brown back and bright white breast. A partial black collar and black tipped orange bill are diagnostic. A yellow eye ring also helps it stand out. In non-breeding plumage, all markings are faded.
Length: 6.7 – 7.5 inches
Wingspan: 18.5 – 19.7 inches
Weight: 1.6 – 1.8 ounces
Distribution
The Semipalmated Plover winters in Hawaii and can be seen infrequently on the shores of the islands.
Call
Diet
This little plover will feed by digging into sand looking for invertebrates in salt and fresh water locations.
Interesting Fact
Even though the Semipalmated Plover breeds in remote areas in the arctic, it can still like to find populated places to nest, including roofs.
Masked Booby (Sula dactylatra)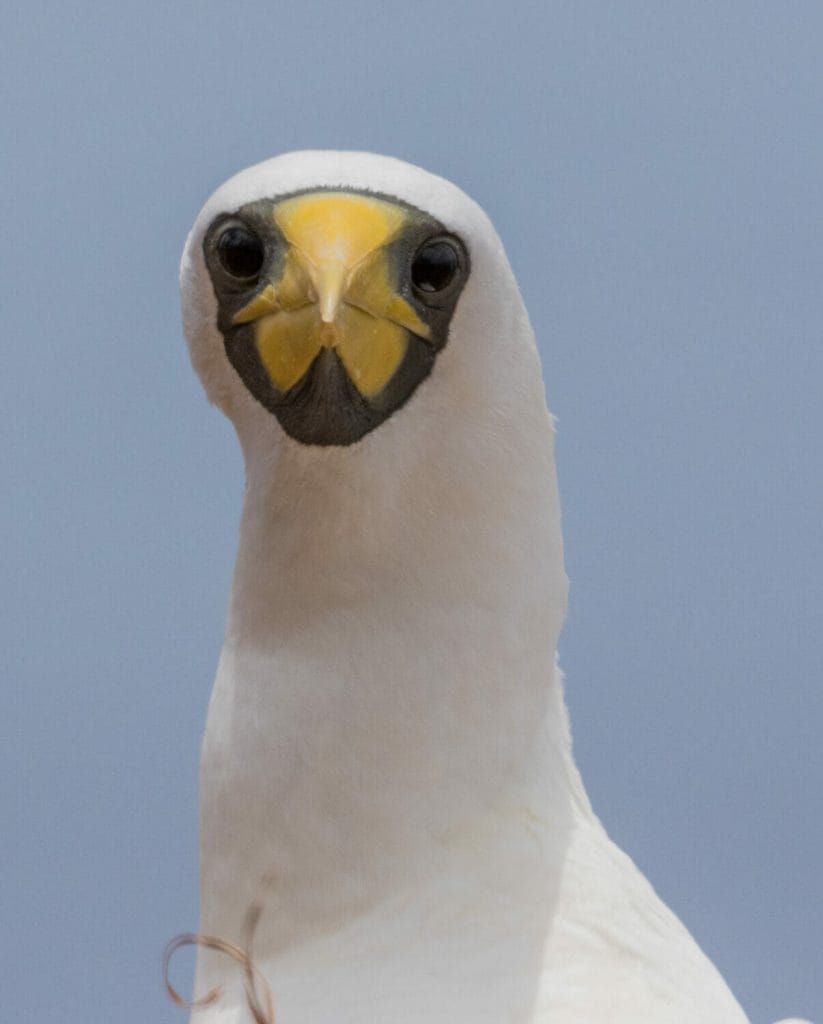 Identification
This is a large, tropical seabird that is mainly white. Black trailing edges on the wings are most noticeable in flight. A yellow bill and eyes give it a strong look set against the black ring around the whole face.
Length: 29.1 – 33.9 inches
Wingspan: 63 inches
Weight: 45.9 – 82.9 ounces
Distribution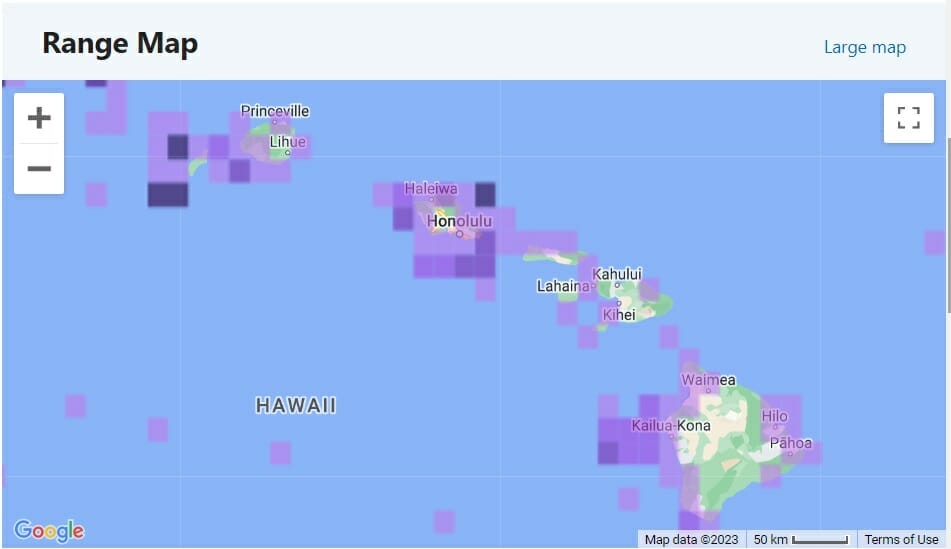 This bird is oceanic and will come ashore to breed. The Hawaiian Islands are the only place in the U.S. that they nest.
Call
Diet
Like other boobies, the Masked Booby dives for its food in a spectacular manner. It feeds on fish and squid.
Interesting Fact
The Masked Booby doesn't build a nest as such. Eggs are laid in a shallow depression on the ground. The males will sometimes decorate the edge of the area with shells and other items.
Hawaiian Petrel (Pterodroma sandwichensis)
Identification
Petrels are very difficult to distinguish between, especially when seen out on the water and the Hawaiian Petrel is no exception with its dark back and white underparts. I always look for a single distinguishing feature to help me and I think here, it is the strong white bar above the bill.
Length: 17 inches
Wingspan: 38.5 inches
Weight: 15.3 ounces
Distribution
At times the Hawaiian Petrel has been feared extinct but it is now considered Endangered. It nests on several islands high in the mountains.

Call
Diet
The Hawaiian Petrel fishes close to the ocean surface and it will take squid, crustaceans and fish.
Interesting Fact
Like other petrels, the Hawaiian Petrel looks uncomfortable and ungainly on land. They roost in burrows and land heavily and then shuffle to their resting area.
Red-crested Cardinal (Paroaria coronata)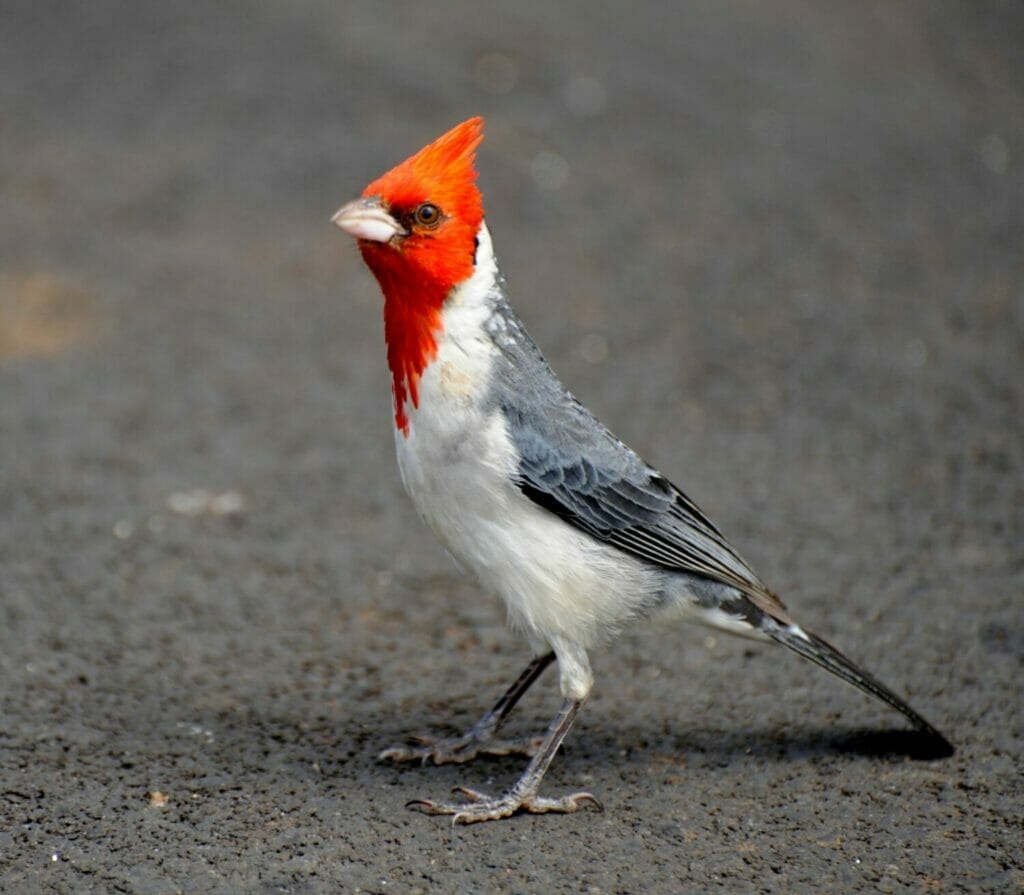 Identification and Size
Brightly colored, aptly describes the Red-crested Cardinal. Its gray and white body is in stark contrast to the bright red head and crest.
Length: 7.4 inches
Weight: 1.48 – 1.69 ounces
Distribution
Introduced from South America onto Oahu, the Red-crested Cardinal is now a widespread resident, seen all year.

Call
Diet
Showing its adapability, the Red-crested Cardinal will vary its diet accordingly and it includes insects, fruits, seeds and berries.
Interesting Fact
This cardinal is a capable singer with a range of melodies accompanies by squawks, warbles and mimicry.
Red-whiskered Bulbul (Pycnonotus jocosus)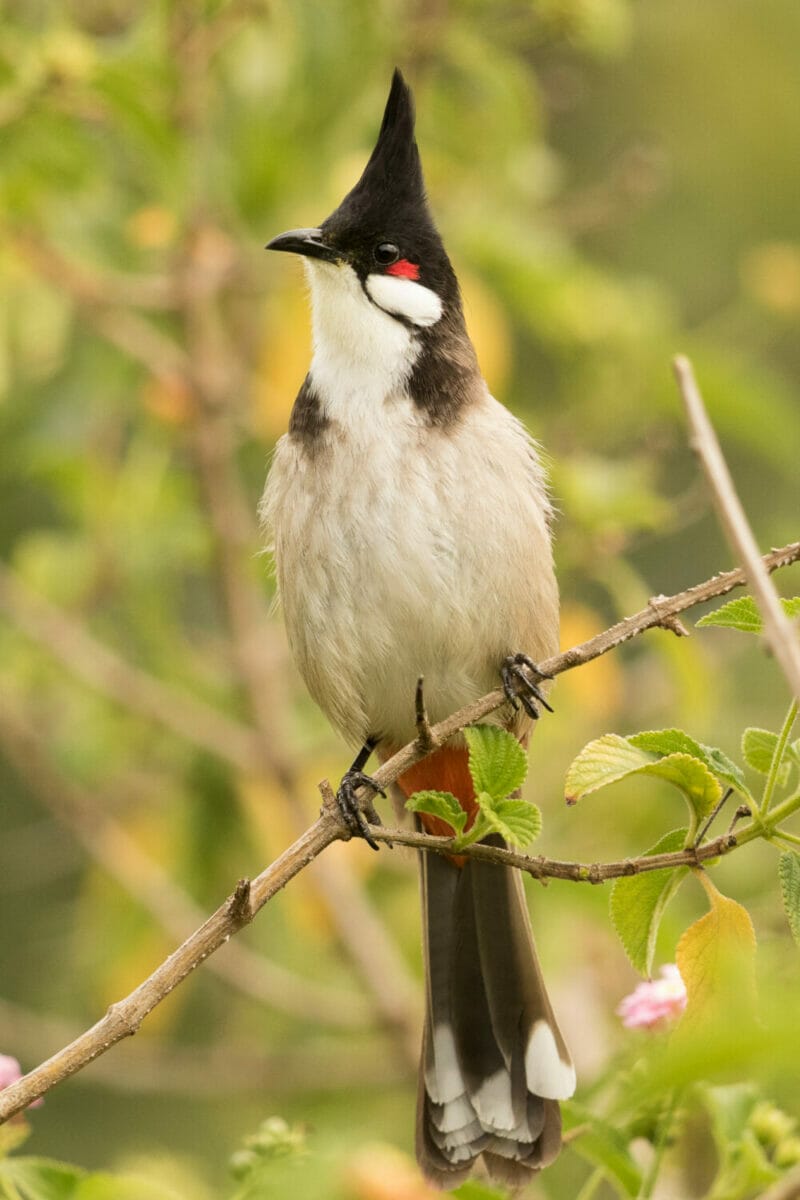 Identification and Size
While the black pointed crest and head of the Red-whiskered Bulbul is first seen, it is the contrast of the brilliant white throat that sets it off. The red patch on the cheek is almost third place!
Length: 6.6 – 9.1 inches
Weight: 0.84 – 1.1 ounces
Distribution
The Hawaiian population of the Red-whiskered Bulbul is on Oahu Island, predominately in the south east.

Call
Diet
This bulbul will primarily eat fruit but will also consume a wide range of animal and plant matter as the need arises.
Interesting Fact
The very aggressive nature of the Red-whiskered Bulbul may account for its success in spreading across the globe and for its reputation as a pest where is has established itself.
FAQs
What are the white birds on Oahu?
It is likely that these are White Tern, also known locally as Manu O Ku or the Fairy Tern.
What is the white endangered bird in Hawaii?
The Hawaiian Petrel is endangered and has been considered extinct at times.
Why is it called a booby?
The entire booby family are an interesting and entertaining bunch. They were given that name from the Spanish word 'bobo', meaning clown, reflecting their comical behavior.
There are our top picks for white birds in Hawaii. My favorite is always the White Tern. I have watched them and their chicks closely and I just couldn't beleive the ability of these birds to keep the eggs and themselves safe without nests.