The Old Dominion State is another which has adopted the Northern Cardinal as its official bird. While it may be very popular, in this post we are looking for blue colored birds in Virginia. Are they all warblers and forest birds or will there be any water birds? We research 10 of the best found in this wonderful state.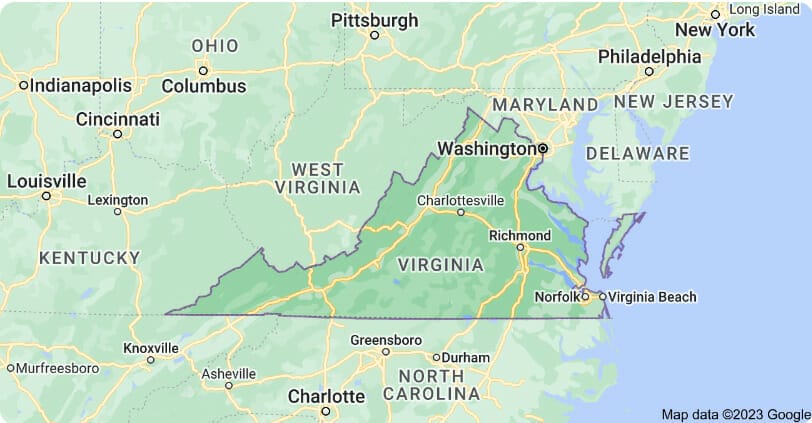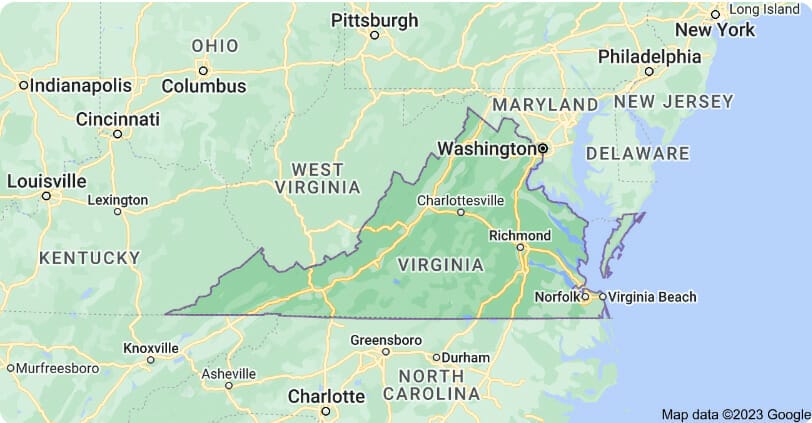 State of Virginia
Virginia has an incredible range of enivronments within its extensive border. The Shenandoah National Park is famous for its spectacular views across the Blue Ridge Mountains. Also, on either side of the state are the Appalachian plateau and Piedmont plains. In fact, over 60% of the state is forest. Add into the mix, warm summers and mild winters and it is no wonder that Virginia has an abundance of wildlife.
Birds of Virginia
Virginia ranks number 12 out of 51 states on eBird for number of species reported, at 491. Not bad when you consider the state is 35th out of 51 states in geographical size. With the amount of territory taken up by forests, you would rightly expect there to be a good number of migratory warblers, woodpeckers and other woodland birds. Having a coastline means there should also be water and shore birds. Here are 10 blue or partly blue colored birds we found in Virginia.
Ten of the best
Cerulean Warbler (Setophaga cerulea)
Identification and Size
The male Cerulean Warbler is an attractive little bird with a pure white belly marked along the sides with blue flashes. The back is a sky blue color with white wing bars and patches. The female is a yellow/brown color with similar markings.
Length: 4.3 inches
Wingspan: 7.9 inches
Weight: 0.3 ounces
Distribution
Mostly seen in the west of the state, the Cerulean Warbler is migratory and overwinters in South America. It arrives in the spring and leaves late summer/fall.


Call
Diet
The Cerulean Warbler is insectivorous but, when necessary, will eat other foods.
Interesting Fact
When the female Cerulean Warbler has been sitting on the nest for some time, as she leaves she dive bombs out of the nest with her wings held in. Only once she is well clear of the next will she open her wings and fly away.
Blue Grosbeak (Passerina caerulea)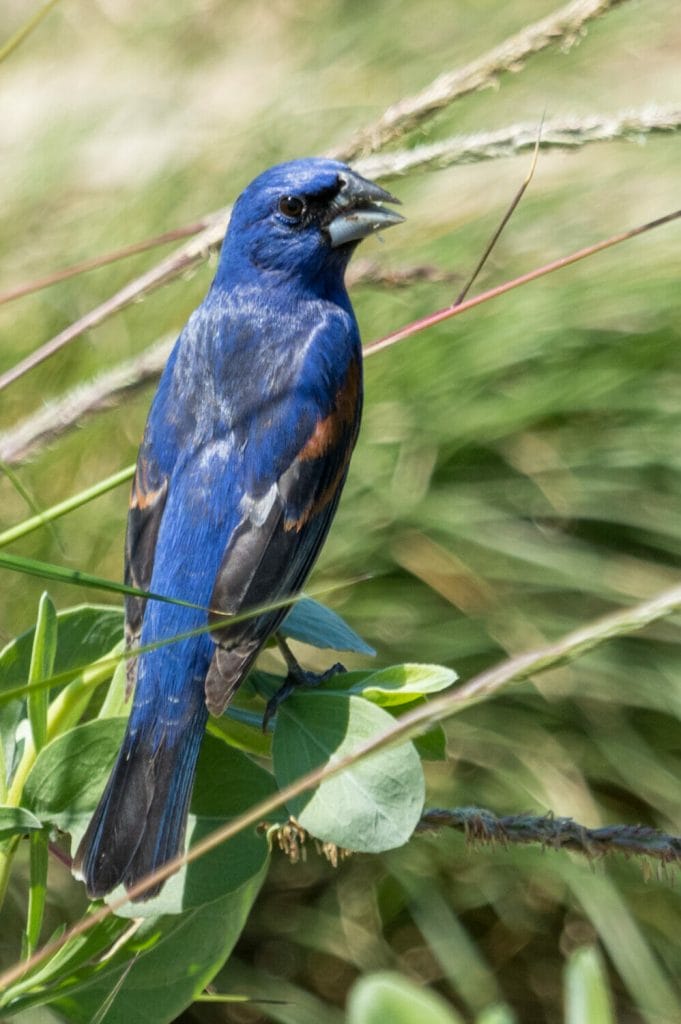 Identification and Size
The breeding male grosbeak is an electric blue color with dark red wing bars. When not breeding, colors are muted. The female is a mid brown also with darker wing bars. Both have huge bills.
Length: 5.9 – 6.3 inches
Wingspan: 11 inches
Weight: 0.9 – 1.1 ounces
Distribution
Another migrant, the Blue Grosbeak breeds and winters in the south of the U.S. and into Central America. When present in Virginia it can be regularly seen across the state.
Call
Diet
The Blue Grosbeak eats a mixture of grass seeds, insects and snails.
Interesting Fact
There has been little scientific study about the Blue Grosbeak. Even though it has extended its range further north into the U.S., numbers still remain low.
Northern Parula (Setophaga americana)
Identification and Size
This is an interesting bird with amazing plumage. The head and top half of the male back is a mid blue/gray color which then turns into an olive green. Blue, white and olive are on the wings and the short tail returns to blue. It has a partial white eye ring and a bi-colored bill. All topped off with a bright yellow throat. The female has olive green replacing the blue but she still has the yellow throat and bi-colored bill.
Length: 4.3 – 4.7 inches
Wingspan: 6.3 – 7.1 inches
Weight: 0.2 – 0.4 ounces
Distribution
The Northern Parula breeds in Virgina and most birds spend winter in the Caribbean or eastern parts of Mexico.
Call
Diet
The main diet of the Northern Parula are insects and spiders. These may be supplemented with berries, seeds and nectar in winter months.
Interesting Fact
The parula breeds from Florida to Canada but skips some of the mid-west states. They rely on tree moss for nesting and the loss of that habitat might be the explanation.
Black-throated Blue Warbler (Setophaga caerulescens)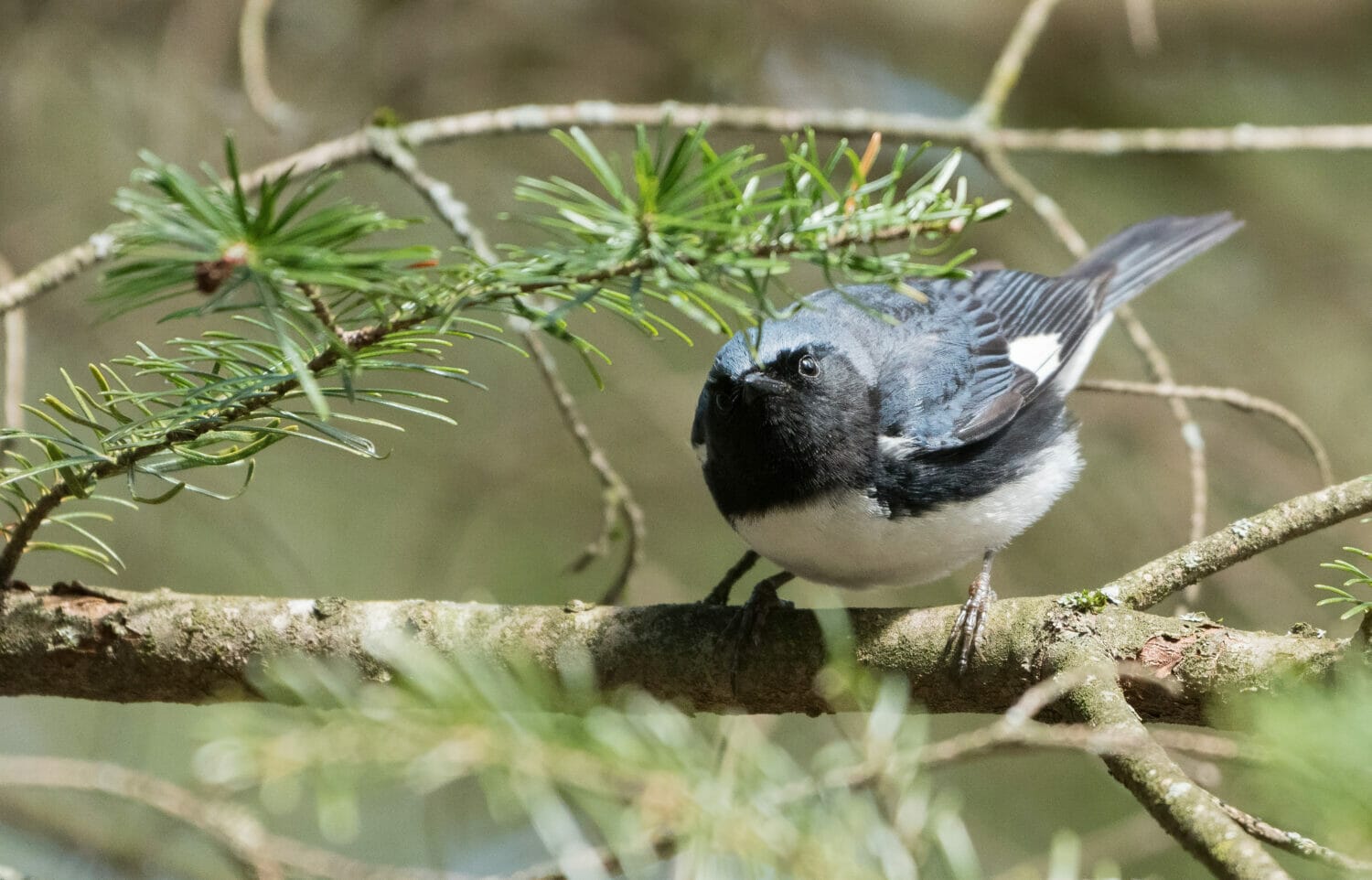 Identification and Size
The female Black-throated Blue Warbler has a plain brown and buff coloring with a faded white eye ring. The male is a deep blue with large black throat. The belly is white and there are black wing bars.
Length: 4.3 – 5.1 inches
Wingspan: 7.5 – 7.9 inches
Weight: 0.3 – 0.4 ounces
Distribution
The Black-throated Blue Warbler can be seen just about anywhere in Virginia during the summer and fall seasons. It returns to the Caribbean for the winter period

Call
Diet
The Black-throated Blue Warbler eats mainly flies and their larvae. It will supplement its diet with small snails when required.
Interesting Fact
The incredible difference between the sexes of the Black-throated Blue Warbler causes a lot of confusion about their identity. Until they were studied closely, it was thought that the male and female were actually different species.
Eastern Bluebird (Sialia sialis)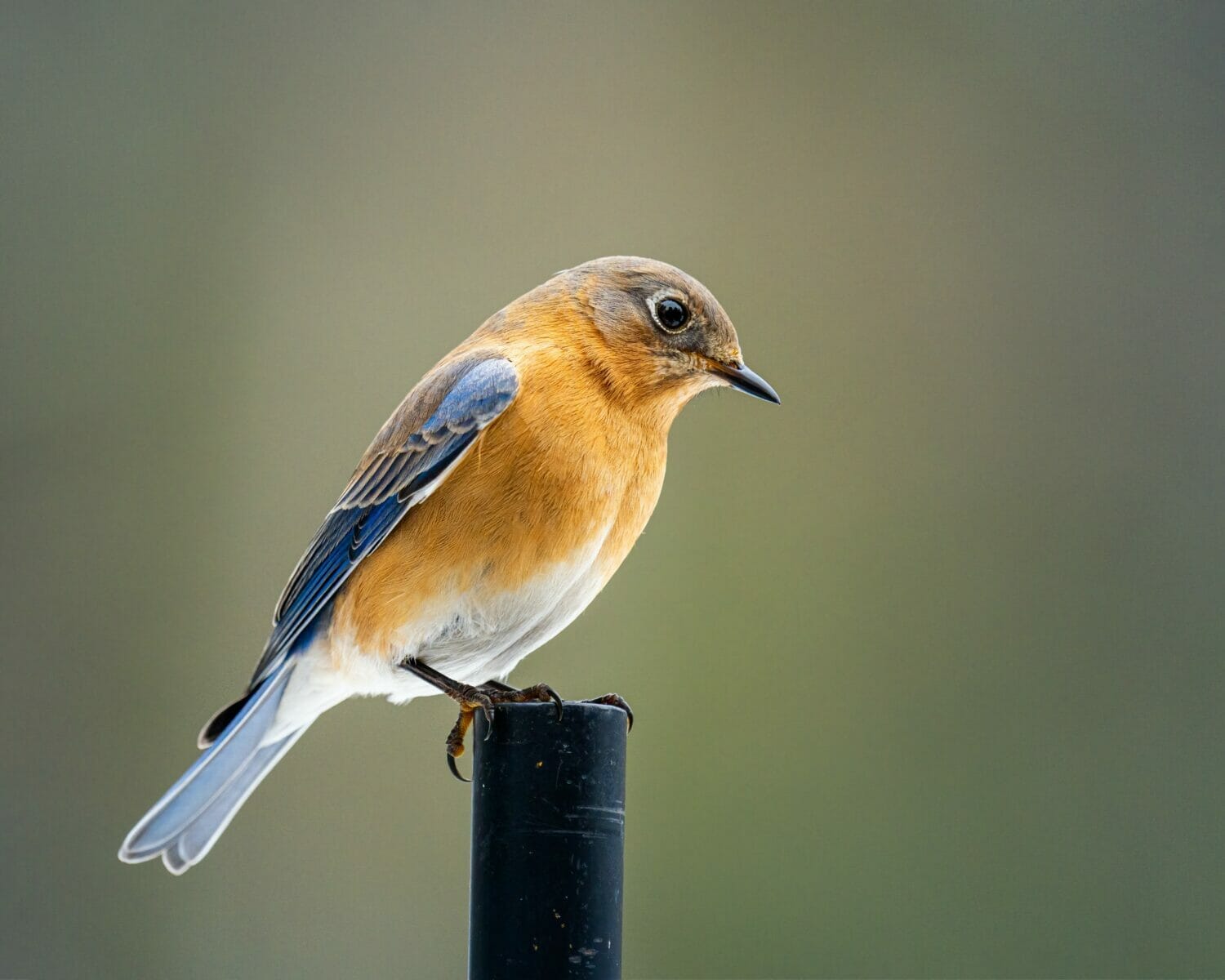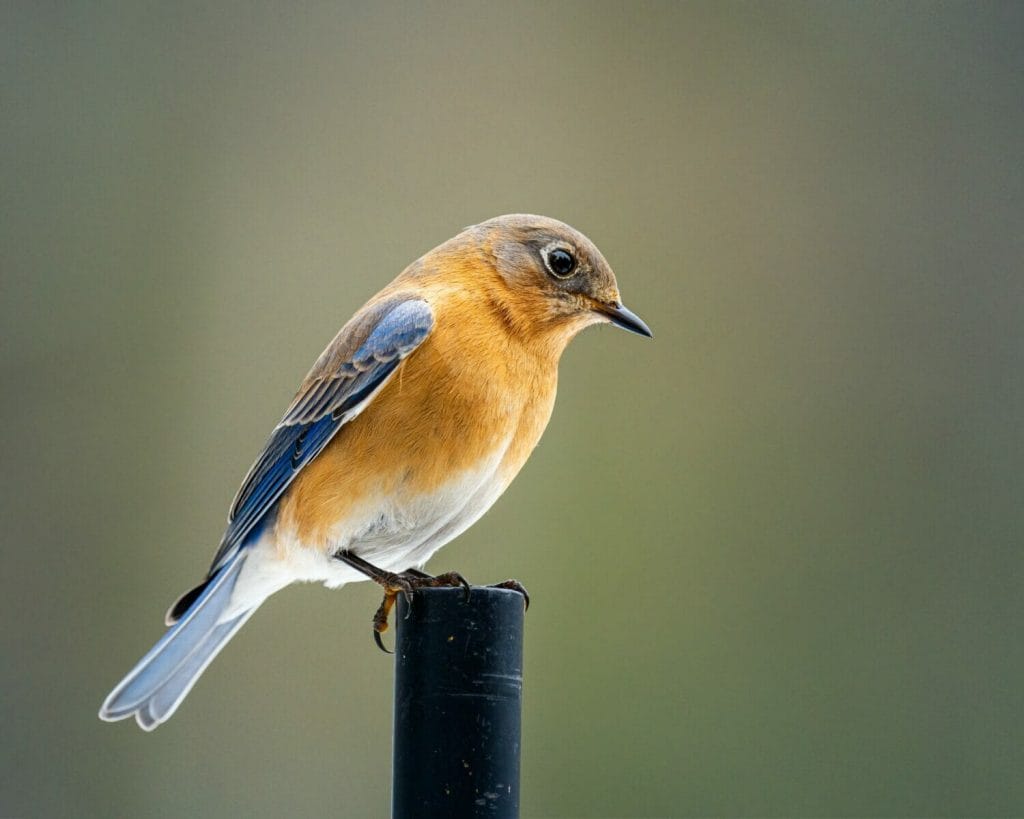 Identification and Size
The male Eastern Bluebird is a pale brown underneath and royal blue on the back and head. It has a partial brown neck band. The female is similar but her colors are muted and the brown more widespread.
Length: 6.3 – 8.3 inches
Wingspan: 9.8 – 12.6 inches
Weight: 1 ounce
Distribution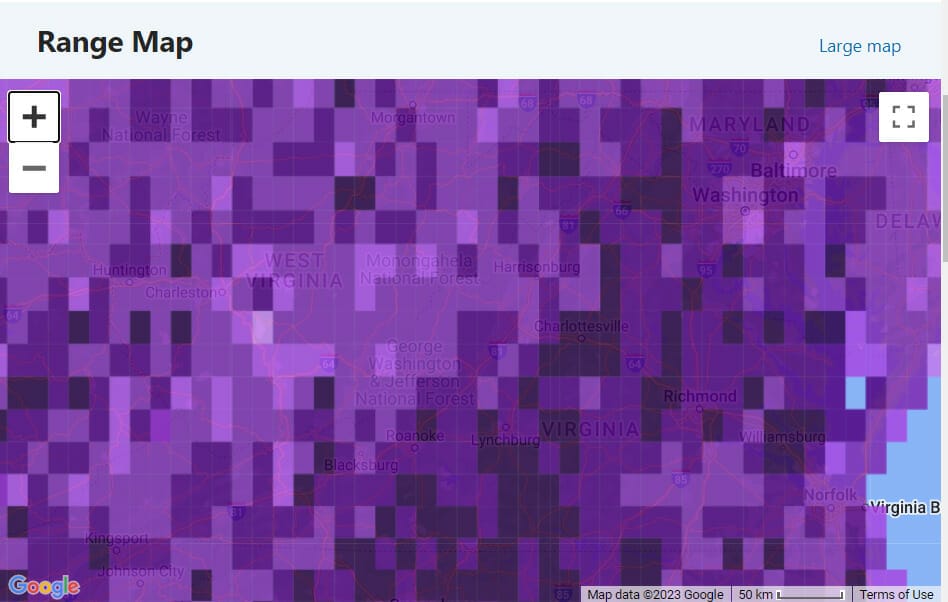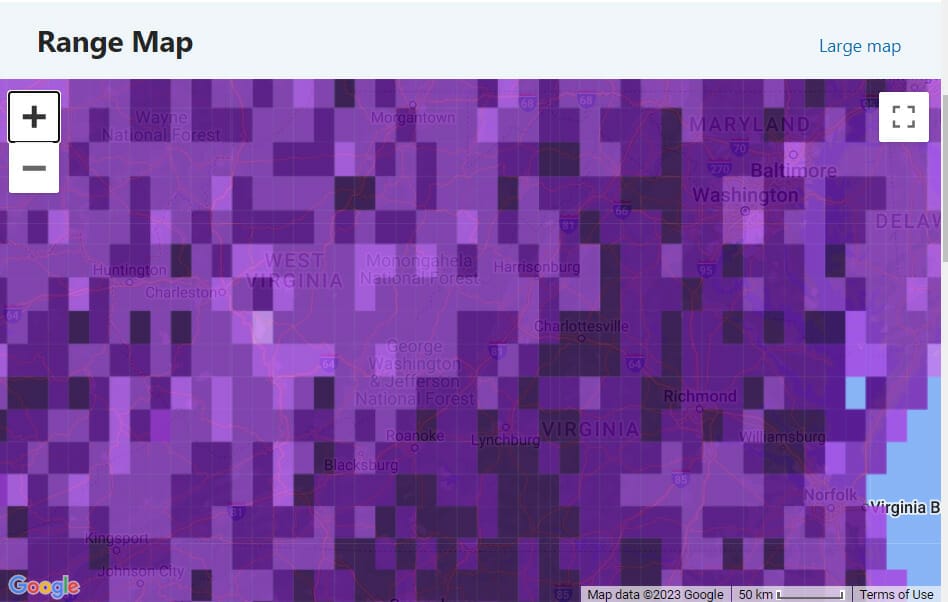 As the range map above and distribution chart below clearly show, the Eastern Bluebird is a resident of Virginia and can be seen across the state, all year round.

Call
Diet
The Eastern Bluebird primarily eats insects like beetles, worms and spiders but will also, at times, eat berries.
Interesting Fact
The Eastern Bluebird occurs in the east of the U.S. and as far south as Nicaragua. Breeding birds in the north and west range of that area lay more eggs than their counterparts to the south and east.
Blue Jay (Cyanocitta cristata)
Identification and Size
The Blue Jay is a stunning blue color with intricate blue and white scallops down its wings. The belly is white and the face a mix of blue, black and white completed by a glorious crest.
Length: 9.8 – 11.8 inches
Wingspan: 13.4 – 16.9 inches
Weight: 2.5 – 3.5 ounces
Distribution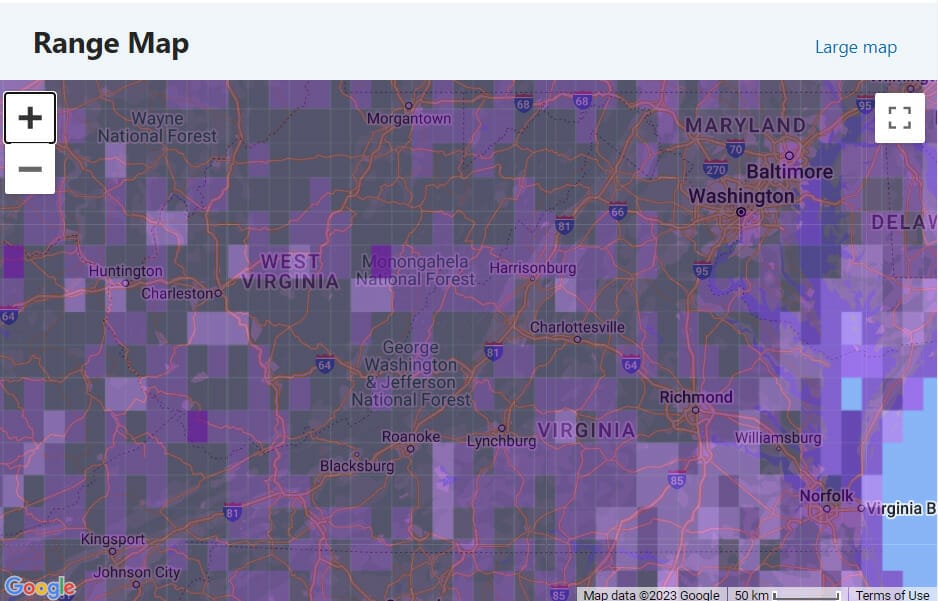 The Blue Jay is a common resident of Virginia and is seen in numbers all year round.

Call
Diet
While the Blue Jay is omnivorous, its diet is largely plant based.
Interesting Fact
The black facial markings of the Blue Jay vary tremendously from bird to bird. It is thought that these characteristics may help them recognize each other.
Indigo Bunting (Passerina cyanea)
Identification
The Indigo Bunting male has a plumage of an unusual turquise blue color, with black wing bars in breeding. During the non-breeding season, colors are muted. The female bunting is a plain brown with some wing markings.
Length: 4.7 – 5.1 inches
Wingspan: 7.5 – 8.7 inches
Weight: 0.4 – 0.6 ounces
Distribution
The Indigo Bunting can be seen pretty much anywhere in the state of Virginia during the summer months. In winter the birds disperse to the south.

Call
Diet
The Indigo Bunting eats mainly insects including spiders. It will also eat seeds and berries at times.
Interesting Fact
There is no blue pigment in the feathers of the Indigo Bunting. Similar to how we see that the sky is blue, it is all about refraction and reflection of blue light that give it that incredible hue.
Purple Martin (Progne subis)
Identification
The Purple Martin is a large member of the swallow family and initially looks all black. In the light and close up, you can see it has a blue/purple iridescence on the back. Females are much grayer.
Length: 7.5 – 7.9 inches
Wingspan: 15.3 – 16.1 inches
Weight: 1.6 – 2.1 ounces
Distribution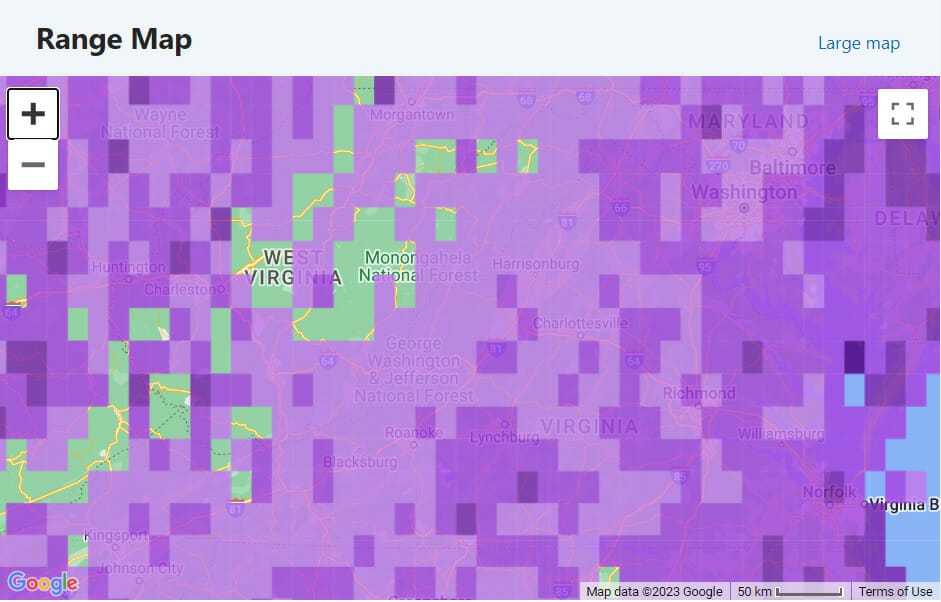 The Purple Martin can be seen statewide, absent only in a few, small pockets. It spends winter in the Amazon.
Call
Diet
The Purple Martin is an aerial feeder, catching bugs on the wing.
Interesting Fact
The Purple Martin doesn't stop for food, always catching it on the wing. It also collects water this way too, scooping it up without landing.
Blue-winged Teal (Spatula discors)
Identification and Size
The Blue-winged Teal have a large blue patch on the wing, only visible in flight. A slightly darker blue patch is on the face, marked by a white cresent. The body is patterned in pale browns and creams.
Length: 14.2 – 16.1 inches
Wingspan: 22.1 – 24.4 inches
Weight: 8.1 – 19.2 ounces
Distribution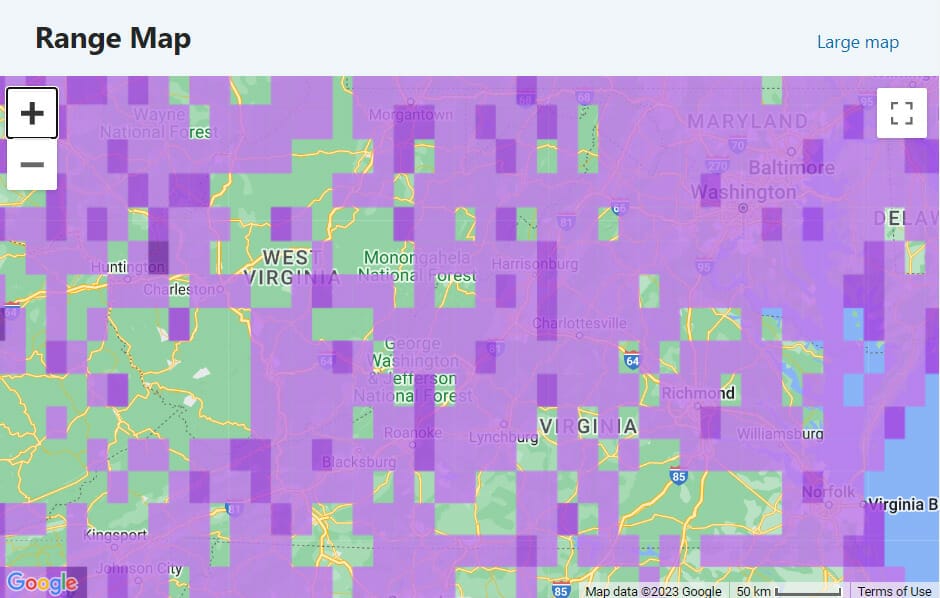 Although the Blue-winged Teal can be seen in a good proportion of the state, its reported numbers are low. Most likely to be seen in spring and fall.
Call
Diet
Similar to other ducks, the Blue-winged Teal will consume just about anything it can find in the water. Invertebrates, seeds, aquatic plants and grains are all on the menu.
Interesting Fact
Blue-winged Teal will form mating pairings over the winter or on the migration back to breeding grounds. When they arrive there, they are most likely an established pair.
Little Blue Heron (Egretta caerulea)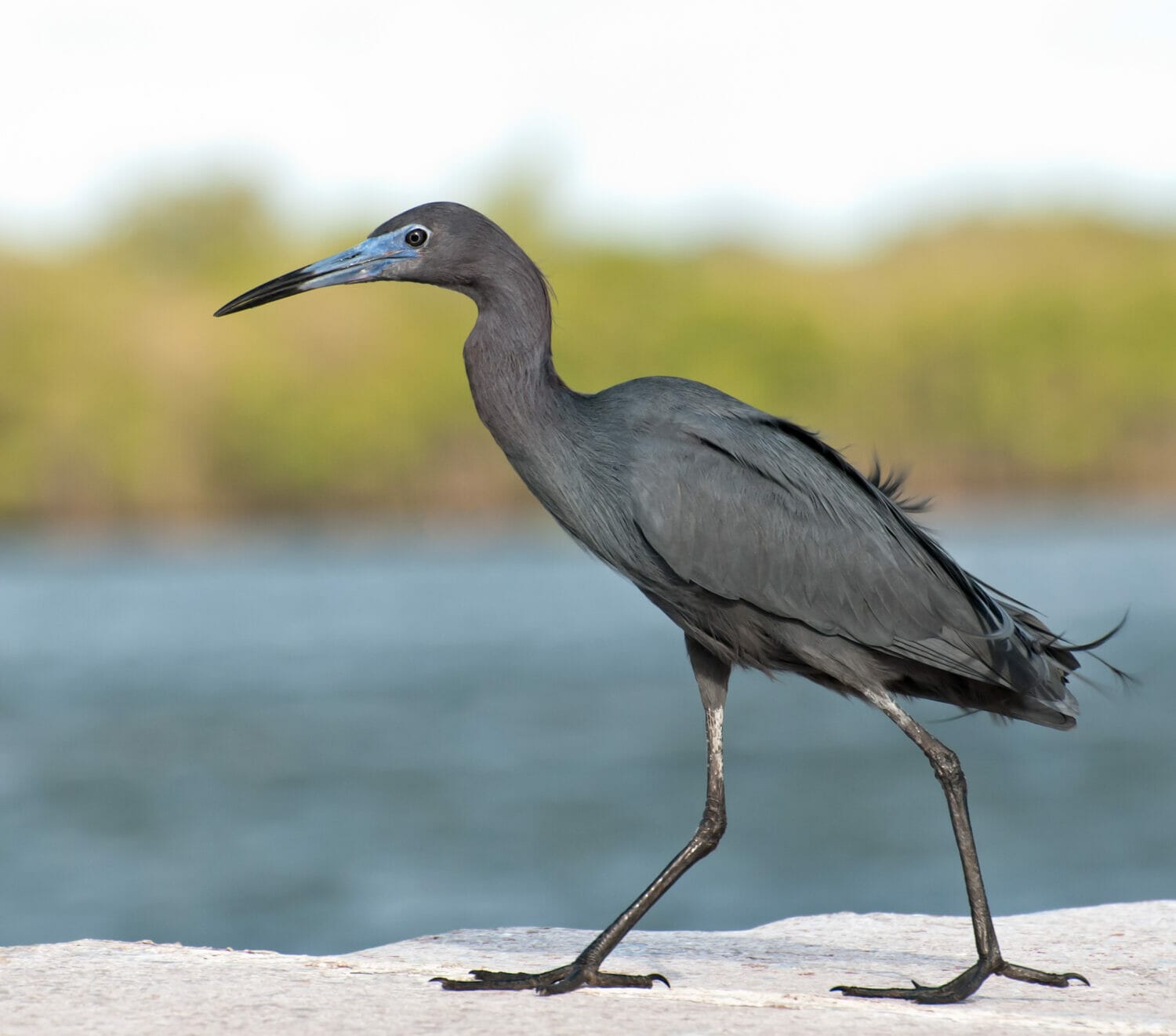 Identification and Size
Young Little Blue Heron are all white, only developing blue blotches and eventually full blue/gray plumage in their second year. Adults have greenish legs and a slate gray bill tipped with black.
Length: 22.1 – 29.1 inches
Wingspan: 39.4 – 41.3 inches
Weight: 10.4 – 14.5 ounces
Distribution
The Little Blue Heron can be found in suitable habitat across the state and in these places it is locally common. Sparse elsewhere but more common on the coast.
Call
Diet
Typical heron, the Little Blue Heron eats mainly fish although it will also take amphibians and invertebrates.
Interesting Fact
The white morph of the juvenile Little Blue Heron could be a defense mechanism. By helping it blend in with the much more common Snowy Egret, the Little Blue Heron benefits from safety in numbers.
FAQs
What are the blue birds in Virginia?
Pretty much guaranteed that the answer to this question will always be the Eastern Bluebird. It is common, well known and very attractive.
What is the solid blue colored bird called?
Most likely, it is the male Indigo Bunting. The vivid coloring of this bird make it a very distinctive sighting.
What are other blue birds of Virginia?
Not making our list today are the Barn Swallow and Belted Kingfisher.
We hope our list of blue birds found in Virginia helpful. Let us know which is your favorite in the comments.