Binoculars are great tools to improve visibility and focus across long distances, particularly when you are out in a boat or watching birds. However, for people who frequently experience shaky hands and cannot end up capturing a good focus through their binoculars, it can be difficult to use these binoculars.
To solve this problem, there are several binoculars in the market that have an enhanced and stronger grip to improve one's hold over them so that the shakiness can reduce and lead to a clearer image from the binoculars.
Which pair of binoculars should you opt for? Which are the best binoculars for shaky hands? To make your decision easier, we have picked some of the best options out there. We have also reviewed them along with their pros and cons so that you can make the best possible choice.
There are also a few things that you need to keep in mind when it comes to choosing these binoculars, such as the material, its grip, its weight, additional features, and more. We will elaborate on these factors as the guide proceeds.
Now that you know what to expect, we can get started with the reviews of each product. It's worth noting you can buy these binoculars old or new and they'll be great for shaky hands.
Best Binoculars for Shaky Hands
Let's take a look at some of the best binoculars for shaky hands and what you can expect from each of them. You can then pick one based on its features as well as your own requirements.
The Celestron Nature DX 8×42 Binoculars can be an excellent choice for solving the problem that arises due to shaky hands. You can carry them around wherever you want due to their portability.
These binoculars have an army green color and can blend in well with the surroundings. They are made from a synthetic material which makes them durable, sturdy and dependable.
They are known for their coated lens that can provide better contrast, a great resolution as well as clear images. They can magnify up to 8x and have coated prisms along with a focus that can present close images up to 6.5 feet.
You can also easily adjust the eye covers on the binoculars near the viewing lens, making these binoculars convenient for you whether or not you wear glasses. The covers also have several stop options that you can access.
The entire structure is waterproof and is made from a combination of rubber and polycarbonate that protects the internal parts of the binoculars. It also prevents the lens from fogging up due to the involvement of nitrogen gas during its construction.
The objective lens diameter of these binoculars is 42 mm or 1.65 inches. It also provides sufficient eye relief.
What We Like
Waterproof and fog-proof construction for better functioning even in difficult conditions.
Lightweight but sturdy enough to conveniently carry around.
Protective covering made from synthetic materials to prevent damage.
Adjustable eye lens cover for use by people with and without glasses.
Included lens caps, carry case, neck strap, lens cleaning cloth and eyepiece rain cap.
High quality of images through focused magnification.
Comes with a limited lifetime warranty for repairs or replacements.
What We Don't Like
Might need to buy a tripod for greater stability for a longer time.
These binoculars can make another good choice to help you have a stronger grip even if your hands get shaky. It has an 18-mm large eyepiece that allows you to view larger images as compared to relatively smaller eyepieces.
It comes with a 12x magnification power that allows you to see faraway images with great clarity and quality. You can carry these binoculars around to all your outdoor trips while accessing a large area through the lens.
They have adjustable eyecups that can be useful and comfortable for people who wear glasses as well as those who do not.
These binoculars have an objective lens diameter of 42 mm and also have coated lenses. They can further offer you brighter images due to their ability to gather more light.
Importantly, these binoculars are waterproof and fog proof. They are made from a polymer called acrylonitrile butadiene styrene (ABS) that provides durability and a strong grip that can be useful for shaky hands.
Additionally, the binoculars include a phone adapter that can hold most smartphones even with their covers on. You can also make adjustments to hold it in place without slipping. This can be a convenient and stable way to capture photos or videos.
What We Like
Included phone adapter to hold onto your phone for taking photos or videos with a stable grip.
Covers a long distance to provide clearer images.
Adjustable eyecups for better viewing for both glass wearers and non-wearers.
Waterproof and fog proof to prevent damage and maintain quality.
Textured grip surface to help those with shaky hands.
Includes carry case, lens caps, a cleaning cloth and strap.
What We Don't Like
Only waterproof in light rain conditions.
The Athlon Optics Midas Roof Prism UHD Binoculars are gray-green in their color and can provide a sturdy and reliable build, making it a good option for people with shaky hands.
These binoculars are purged with argon, which gives them their waterproof quality. This also provides them with temperature stability so that they can survive even under the harsh sun.
The lenses of these binoculars are made from extra-low dispersion (ED) glass which can enhance the image that you receive from a further distance. It can also reduce the chromatic fringe to improve the clarity and quality even more.
In addition, it includes a multi-coating on its lenses that can make the light reflection and transmission much better. This can then improve the brightness of the images.
You can cover a large area through the lens. This can provide some necessary eye relief as well while also allowing you to adjust the eyecups according to your requirements.
The structure itself is rugged and includes a textured grip to provide relief to your shaky hands. A tripod socket in case you want to attach a tripod for better positioning is also available.
It has 8x magnification and an objective lens diameter of 42 mm.
What We Like
Argon purged to make it waterproof and stable in varying heat conditions.
Textured grip for better hold even with shaky hands.
ED glass for high-quality images and viewing.
Enhanced magnification settings.
Adjustable eyecups for versatility.
You get clear and bright images through the coated lens.
Includes a case, lens caps and a neck strap.
What We Don't Like
Eyecups and lens covers can be a bit loose.
These binoculars are black in color and include lens covers, a carry pouch, neck strap as well as eyepiece covers. They have a 10x magnification along with an objective lens diameter of 42 mm to allow you to view scenes and images that are at a further distance from you.
These binoculars include a smartphone adapter that you can use to hold your phone in place for capturing photos and images in a stable and convenient way, adding to the benefits for shaky hands. This mount is compatible with most kinds of phones.
The structure includes a durable and strong body along with rubber armor to provide a better grip for your hands. This can also act as a shock absorbent while keeping the binoculars safe from harsh conditions.
The lenses have multiple coatings on them that can reduce the dispersion, maintain a certain level of brightness, enhance the clarity and ensure a good quality of the image that you see.
The eyepiece is 18 mm large and has a blue film on it to improve the clarity and sharpness even more. Additionally, these binoculars have protections in place against rain, dust as well as fog.
What We Like
Adjustable eyecups for use with and without glasses.
Included carry pouch, lens covers, neck strap and cleaning cloth.
Firm grip and material for shaky hands.
Smartphone adapter to capture stable photos and videos.
Crisp and bright images through the multi-coated lenses.
Comes with a lifetime warranty to easily access any repairs or replacements.
What We Don't Like
These binoculars are long and can offer great support for shaky hands. They have a 15x magnification power along with a 70-mm objective lens diameter. Overall, this can cover long distances while maintaining the quality of the images.
The eyepieces have a green film on them that can lead to better transmission of light while also decreasing too many changes that may occur in the color quality of the image that you receive through the lens.
The lens of these binoculars also has multiple layers of coating that can provide you with sharper, clearer and brighter images even from a long distance.
It has rings on both left and right eyepieces that are 17 mm in size. This can be a good way to offer eye relief while also being compatible with people with different eyesight levels. This can work well without needing to wear your glasses (if you have them).
There is also a central focusing knob for sharper focus. The strong and durable outer material of the binoculars makes the structure waterproof and fog proof. The area for your hands is also textured for improved grip.
A smartphone and tripod adapter is also included for better stability and a way to capture images and videos.
What We Like
Waterproof and fog-proof structure to withstand various weather conditions.
Textured grip for shaky hands.
Smartphone and tripod adapter for greater stability.
Coated lenses that can provide clearer images.
Visibility across long distances.
Included carry case, neck strap, cleaning cloth, lens covers and user manual.
What We Don't Like
The covers and outer material can be a bit flimsy.
How to Choose the Best Binoculars for Shaky Hands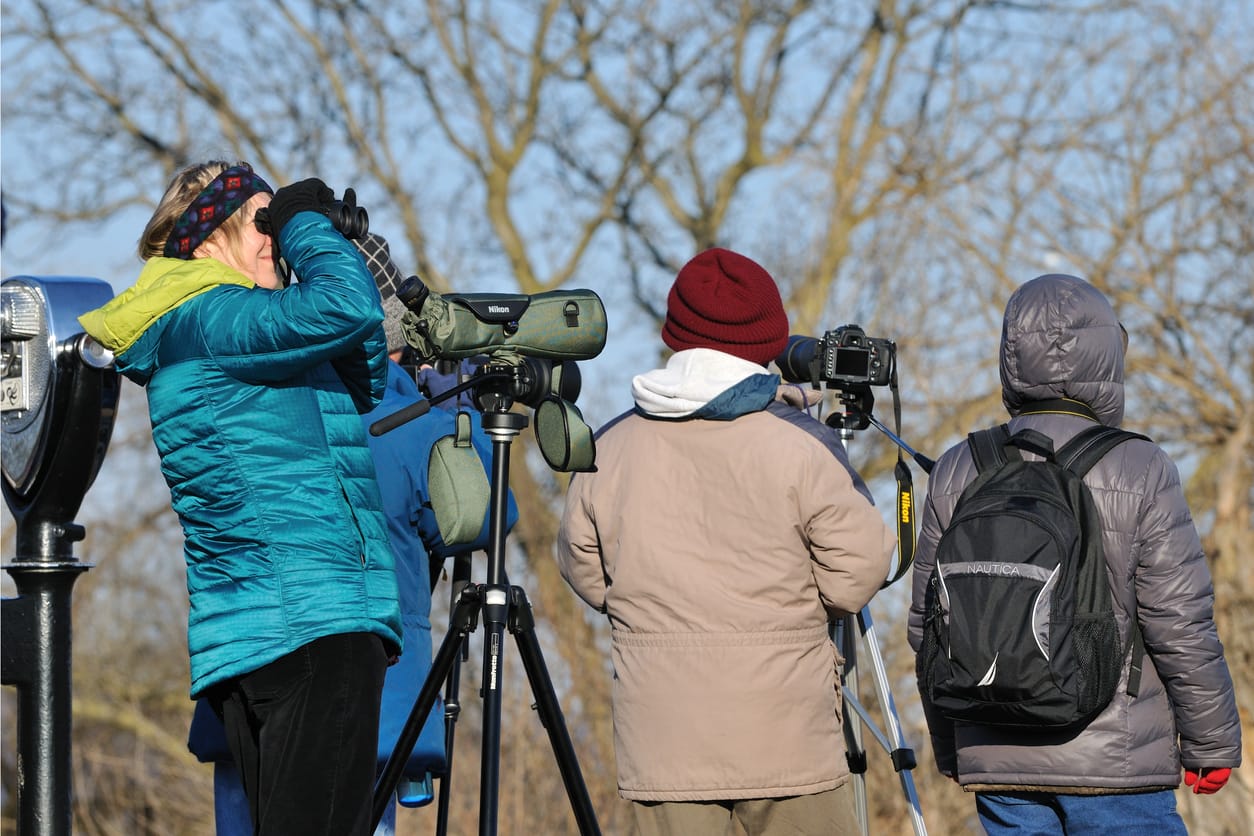 You have now seen the best binoculars for shaky hands along with their detailed reviews. To make the final choice, however, there are a few other factors that you should consider that we can elaborate on in this section.
Material
It is important to consider the material that the binoculars are made from to get a better idea about the strength of the structure as well as its durability. Usually, the outer casing of these binoculars is made from some kind of polymer or synthetic material that can offer different kinds of quality and sturdiness.
Author Note: This material should also be waterproof and should be able to withstand fog and different weather conditions.
Additionally, the lenses of the binoculars must ideally have multiple layers of coating and protections in place to give you good and clear image quality.
Grip
Since we are particularly looking at binoculars that can work well for shaky hands, the pair of binoculars that you ultimately opt for should have an excellent grip and focus that can provide you with a clear image and a firmer grasp to reduce the consequences of your shaky hands.
In some cases, binoculars might also have textured grips that can allow you to hold onto them better.
Further, you should also look for tripod holders that can let you attach your own tripod to the binoculars to provide stability for a long enough time so that you can provide relief to your hands.
Water Resistance
Ideally, your binoculars should be waterproof so that they can function well even when there are splashes of water nearby or rainfall. Most binoculars have this kind of feature, including all products mentioned in this list.
However, some binoculars might have lower water resistance as compared to others, so make sure you confirm this before going ahead with your purchase.
The material of the binoculars as well as the lenses will most likely have protective measures in place. Apart from water resistance, you should also look for protection against fog, dust, different heat conditions and other kinds of debris.
Weight
The weight of the binoculars can also make a huge difference when it comes to convenience and portability. Your binoculars should be lightweight so that you can easily carry them around wherever you go without too much hassle.
A heavy pair of binoculars can not only slow you down but can also affect your grip throughout your journey. Your hands can get shakier more often if the binoculars are too heavy to hold onto for a long time.
Author Note: Lighter binoculars can also reduce the need for tripods. Make sure you check the weight while looking for a good pair of binoculars.
Features
Binoculars also have several other features in place that can enhance their functioning. For instance, the lenses should be of high quality and must be able to transmit light well and offer you clearer and brighter visions.
Some binoculars might also have adjustable focus options that you can confirm through the specifications. Make sure that the eyecups are adjustable enough for you to use conveniently.
Furthermore, the binoculars must come with caps and covers, a cleaning cloth, a neck strap, a user manual as well as a carry bag or pouch to maintain the condition of the binoculars while also making them portable.
You should also look into the magnification power and lens diameter to get a better idea about what you can expect from the binoculars and how much distance and area they can cover.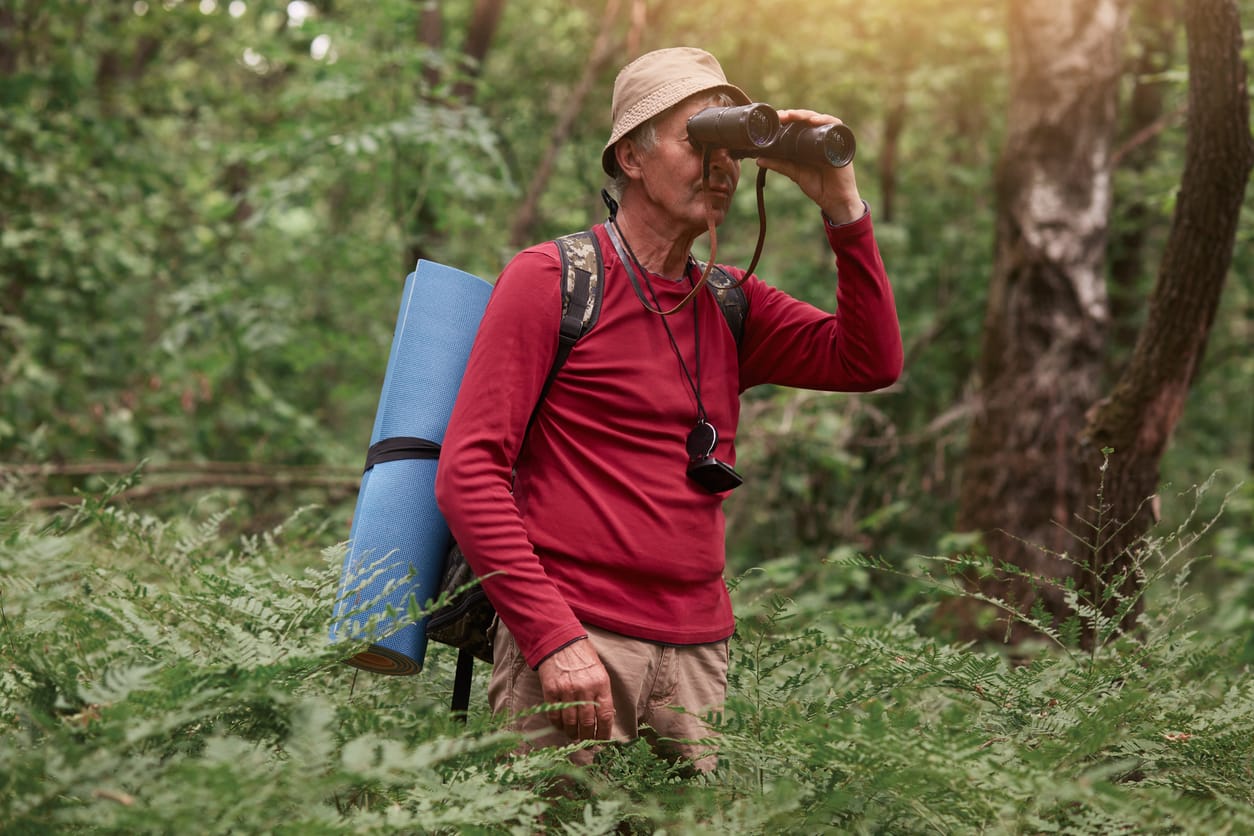 Concluding Remarks
Through this guide, we have taken you through detailed product reviews of the best binoculars for shaking hands, along with ways to pick the best one for yourself. The Celestron Nature Binoculars are a great overall choice.
You can also opt for any of the others if some of their features work better for you.
Fly high friends!
FAQ
Is there any way to reduce shaking while using binoculars?
Generally, the grip that is present on the binoculars must be strong enough to minimize the impact of shaky hands. You can also opt for lightweight structures to reduce the chances of your hands shaking while using them.

If this is not enough, you can buy a tripod and carry it around with you on your outdoor trips so that you can easily attach it to the binoculars whenever your hands start getting tired.
What does magnification power mean?
Magnification power can refer to how large a device or appliance can make an object appear through its lens. This usually requires you to adjust the magnification through controls on the binoculars.

You can figure out the magnification power of binoculars through the digit that comes before the 'x' in their features, such as 8x, 10x and more. This can indicate the distance up to which the binoculars will be able to magnify.
Is 15x the best magnification?
It is in our list. Most people recommend using binoculars with 8x magnification because it balances magnification with stability. If you want more magnification, like 15x, then try them out to see if they are too shaky or not.