Bird watching and photography is one of the most enjoyable and rewarding experiences ever. Yet, it might be quite difficult to sneak up on birds without spooking them away. The ideal solution for this problem is using bird hides or blinds. These are highly portable tent-like structures that are camouflaged to keep you out of sight! So what are the best portable hides for bird photography?
If you're looking for the best portable hides for bird photography, you're in for a treat! Today, we'll walk you through reviews of the highest-rated options on the market as well as a guide to pick the ideal one for your needs. So without further ado, let's dive in!
Top 5 Portable Hides Available on the Market
To make the search process easier, we've scoured the market to find the camouflaged hides that are geared with all the necessary features for bird photography. Here's a brief overview of each one of them.
Kicking off the list with one of the all-around best options for serious bird photographers. The Thunder Bay Spur Collector is a spacious bird hide that is designed for portability and ease of use.
The frame of the highly portable hide is made of fiberglass and features 210 Denier polyester with a polyurethane coating, which ensures maximum durability against wear and tears as well as weather elements.
The blind has dimensions of 69 x 66 x 55 inches, which makes it suitable for the accommodation of two adults.
It comes with 270 degrees windows that give you almost complete visibility of 3 sides for maximum photography opportunities.
The windows are designed to minimize noise while opening them and have optional mesh covers to keep mosquitoes and insects out if you use them for aeration.
Pros
Remarkably rugged 210 Denier fabric
Ultimate visibility while retaining excellent camouflage
Highly portable and lightweight
Cons
Might leak few drops when it's raining heavily
The Ameristep is one of the blinds that are designed for portability and cost-effectiveness. It's designed to take the shape of doghouses, which offers quite enough legroom while saving on the headspace, making the hide quite difficult to spot by birds.
The blind's frame is made of Durashell Plus fabric, which is pretty durable and resistant to wear and tear.
However, the anchors of the blind are not super rugged because the loops are a bit flimsy. This makes it quite ideal for hunting around trees that can break the wind.
One of the best things about this Doghouse Blind is that it comes in three different camouflage finishes, giving you the opportunity to match them exactly as their surroundings.
The Ameristep Doghouse blind is lightweight and easy to carry when folded because you can easily pack it into a small bag.
Pros
Affordable price tag
Available in a variety of camouflage finishes to suit different backgrounds
Folds into a small bag
Cons
Not suitable for open windy fields
It's fairly obvious that ground blinds can get a bit costly. However, if you're on a budget and looking for a suitable option that costs a bit less while offering decent quality, you should consider the Rhino R75-MOC ground blind.
The R75-MOC is also a doghouse design that has a maximum height of 66 inches in the center and a floor space of 60 x 60 inches, making it large enough to accommodate 2 adults.
Despite that, the ground blind is pretty lightweight and easy to carry around because it only weighs about 11 lbs.
One of the things that make this blind unique is the ease of setting up and taking down. In both cases, the process should take anywhere between 60 to 90 seconds!
Pros
Ideal for buyers on a budget
Easy to fold and store in a bag
Relatively spacious interior
Cons
The roof straps might come off easily with time
Although the Ameristep Tent Chair is specifically designed for hunting, it can be an excellent bird photography hide too!
This one is among the few options on the market that combines polyester with cotton. This makes it incredibly durable and able to withstand strong wind as well as rain.
It has a perfect view of your surroundings, thanks to its wide-angle view presented by its multiple windows.
The chair design inside is pretty comfortable and flips easily with the blind. It also comes with a shadow guard that prevents the formation of silhouettes as well as cup holders to stay hydrated while photographing.
Pros
Available in both 1 or 2 person sizes
Comes with a carrying case and handy shoulder strap
Durable cotton and polyester construction
Cons
Last but not least, this one is another ground blind by Rhino, which shows the level of quality and performance that their hides offer.
Similar to the Rhino R75-MOC, the R100 RTE is also made of 150 Denier polyester, which is both horizontal and vertical weave for maximum durability.
It's also quite easy to set up and take down and should take as little as 60 seconds once you take the blind out of the carrying bag.
What makes it unique from the previous Rhino model is that this one is quite larger and has a trapezoidal design that makes it large enough to accommodate two people comfortably.
Moreover, this one has triple stitching on the corners as well as reinforcements on the frame rods to ensure maximum resistance to rain and wind.
Not only that, but the blind is also treated with an antimicrobial material to prevent the formation of mold and mildew on the fabric.
Pros
Spacious design
Wide-angle view thanks to its multiple windows
Treated against the formation of mold
Reinforced against elements of weather
Cons
The carrying bag's seams aren't as durable as the hide itself
Things to Look for While Shopping for the Best Portable Hide for Bird Photography
Author Note: In addition to bird watching and photography, camouflaged hides are also used by hunters while dwelling in the wild. However, not all of these hides are ideal for photography.
In the following section, we'll show you the most essential features that you need to check in a hide before making up your mind.
Materials Used
The materials used for building bird photography blinds should be durable enough to handle everything from wear and tear to elements of weather.
Most hides on the market are made of polyester because it's fairly durable and waterproof. Always make sure that the fabric is at least 150 or more Denier and tightly woven to ensure ruggedness.
The inner walls of a bird photography blind should also be lined with black polyurethane to conceal you in darkness. This ensures better visuals for you and less for the birds!
As for the frame, you should look for the ones that use fiberglass because it's both durable and light.
Portability and Storability
The portability and storability of a bird blind depend on a variety of factors, such as the design and the overall weight of the structure.
Always check the structure's weight and make sure that it's light enough to carry along with all your items.
You should also see how easy and quickly you can fold the hide and how compact it gets. The best ones on the market should be foldable enough to be stored in a small bag.
Ease of Deployment and Taking Down
Bird photography is all about chances and opportunities. If you spot a rare bird in your way, you don't want to miss out on it or spook it away while trying to figure out how to deploy the hide.
Author Note: This is why ease of deployment and taking down is something you should always take in account while picking a hide.
Dimensions When Deployed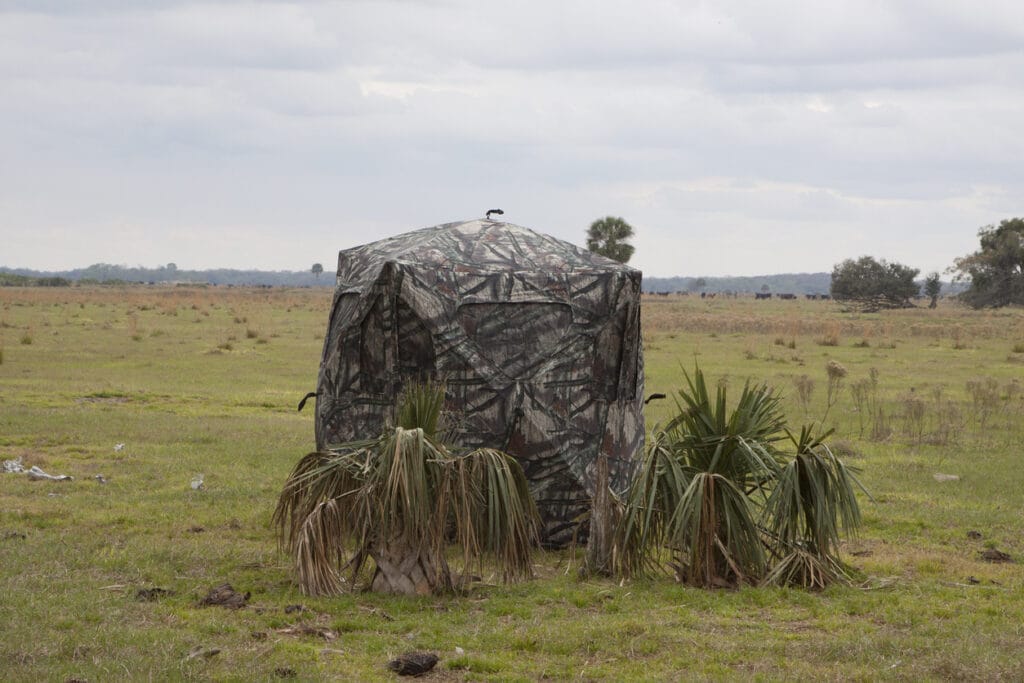 While sitting inside the hide, you need enough space to stay comfortable in addition to your photography gear and potential friends.
Checking the dimensions and comparing them with the space you need is essential to avoid inconvenience in critical times.
Noise Produced
Plastic, zippers, and synthetic fabric can cause a lot of noise that will deter and scare birds away.
The good portable hides will use specific materials that are known for being silent or highly muffled.
Windows
One of the most essential features of bird photography blinds is the availability of windows. You need them to take photographs without having to peek out of the blind.
Top Tip: Ideally, you should look for hides with anywhere between 180 degrees to full 360 degrees visibility.
Wrap Up
There you have it! A complete guide with everything you need to know in order to land the best portable hides for bird photography.
In addition to portability, you should also make sure that the bird watching hide is made of durable fabrics that can handle the wild.
If you're looking for a decent all-rounder, THUNDER BAY SPUR Collector 2 Person Portable Blind should be a good option to consider.
It's made of tightly woven 210 Denier polyester that can withstand the elements as well as the wear and tear. And if you're looking for a good pair of riding shoes, be sure to check out our guide on the best birding shoes.
Fly high friend!
FAQ
Are there alternatives to portable hides?
Yes, you can get camouflage netting that covers your whole body and acts to make you invisible to the birds. I often use my vehicle when I can get close enough. Birds generally ignore parked cars.
Do these hides have seating?
Individual models may have seating built in or you can carry your own fold up chairs if there are room for them inside. However, whatever you take with you, you have to carry!