More than 45 million practice birding in the US, either close to their homes or away from home. Birds are fascinating creatures, and watching them is a great way to keep the mind healthy as you connect with nature, enjoy the calmness, and disconnect from everyday stress. So what are the best shoes for birding?
Before going on your next birding trip, you need to make sure that you've picked the right birding gear. So, how can you choose the best shoes for birding? Keep on reading to learn more about the best footwear for birding.
Best Shoes for Birding
Looking for the best shoes for your next birding adventure? We searched the market for the best options and chose the following ones for you.
Made of durable synthetic materials, these sneakers are designed to keep your feet protected and comfortable all day long. The flexible insole fits the contours of your feet and provides intuitive support for better movement. They're waterproof, so you can walk in muddy terrains without getting your feet wet.
These versatile running sneakers can be worn for all types of outdoor activities because they're durable, comfortable, and easy to wear. With excellent arch support, these sneakers won't strain your feet after taking long hikes to watch your birds. They also look stylish, so you can wear them while running errands.
Secure the laces for a perfect fit, or let them a little loose if your feet get swollen. The outsole provides good traction on slippery surfaces. They're perfect for bird watching in your backyard, along paths, or in open areas.
These waterproof hiking boots will allow you to watch birds in every terrain because they're comfortable and durable. They're designed to be waterproof, so even if you step into a water puddle, your feet will stay dry and warm. They come in several colors and patterns to provide better camouflage while you're bird watching.
Enjoy trail days, thanks to their full-grain leather construction. The mesh provides better breathability to keep your feet cool and well-ventilated. The boots feature laces for an adjustable and secure fit.
The arch support will keep your feet comfortable after spending long hours hiking to get close to the birds. They feature a durable midsole with EVA foam to provide better cushioning to support your tendons and muscles. The midsole also provides a high-energy return to decrease the strain on your feet after a long day.
Whether you're walking on rough ground or slippery land, the outsole will provide excellent traction, even on the most slippery surfaces like snow and ice.
Why Do You Need Special Shoes for Birding?
Birding involves a lot of walking on challenging trails, so if your feet aren't comfortable, it's hard to enjoy your time. Picking the proper birding footwear will have a significant impact on the quality of your birding adventure and how close you can get to these fantastic creatures.
Footwear design and construction are crucial when you're picking shoes for birding. There are different types of footwear that you can pick depending on the terrain and duration of your birding journey. Here are some reasons why you should pick special shoes for birding.
Your feet should be comfortable. After spending a lot of time walking and standing, you need adequate cushioning to support the tendons and muscles in your feet. Comfy shoes will support your back and the muscles in your leg to decrease pain and discomfort.
The shoes protect your feet from the elements. As you walk in the mud and water puddles, you need to make sure that your shoes are dry and warm. Trench foot syndrome is a serious condition that you can suffer from if your feet stay wet and cold for a long time.
The right footwear will allow you to get closer to the birds. If you have flashy shoes, birds might notice your presence. This also happens if they squeak or the outsole is making your footsteps noticeable.
Birds gather in wetlands, forests, and around swamps, so you need shoes that provide good traction on slippery surfaces. This will protect you from slips that can result in serious pain and fractures.
How to Choose the Right Shoes for Birding?
With different styles and models of footwear, finding the right shoes for birding can be a little challenging. Here are a few things you need to think about.
Style
The birding shoes should match the terrain you're in. This will help you blend in and guarantee that you will remain unnoticeable for the longest period, which will help you get closer to the birds you want to watch. Picking the right shoes will also protect you in case you're exploring slippery terrains or get too close to cactus or rocks.
Fit
Author Note: Make sure that your shoes fit comfortably. At the end of the day, your feet might swell a little bit, especially if you've been standing and walking for long hours. This is why you need to have room for your toes to move comfortably.
At the same time, your shoes shouldn't be too wide. Your feet might slip inside the shoes, which can make you feel extremely uncomfortable. The friction between your skin and the shoes can also cause painful blisters.
It's best to try your shoes with the socks you're going to wear. In some cases, you'll have to wear thick socks to protect your feet from the water and coldness. In this case, your shoes should be comfortable enough to accommodate your feet till the end of the day.
Color
Although neon colors might look stylish, they won't work for birding. You need shoes that complete the camouflage of your outfit. This is why you should study the terrain you're exploring and pick a color that fits. There are several dark and light colors that you can choose based on the location of your birding activity.
Moreover, you should remember that your shoes are part of your overall birding gear. They should complement the overall look of your outfit.
Styles of Birding Shoes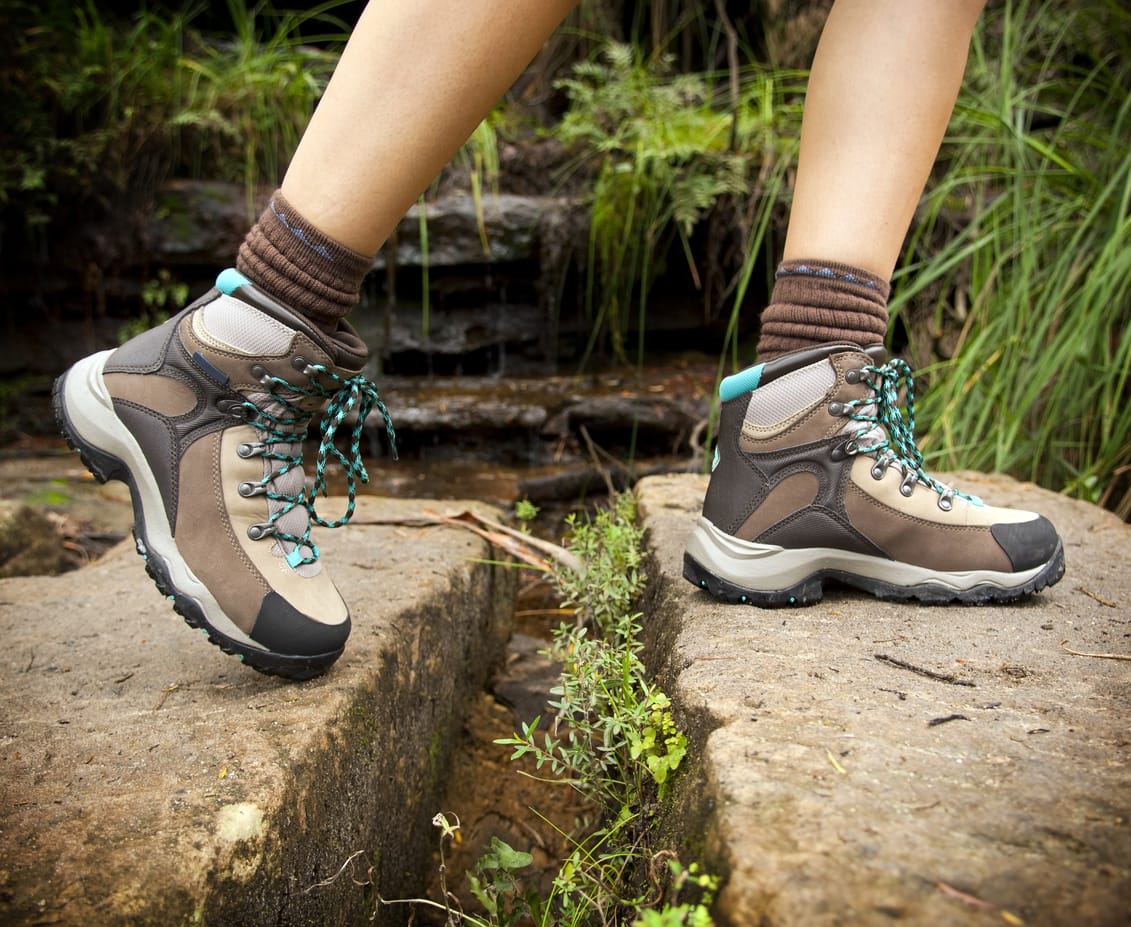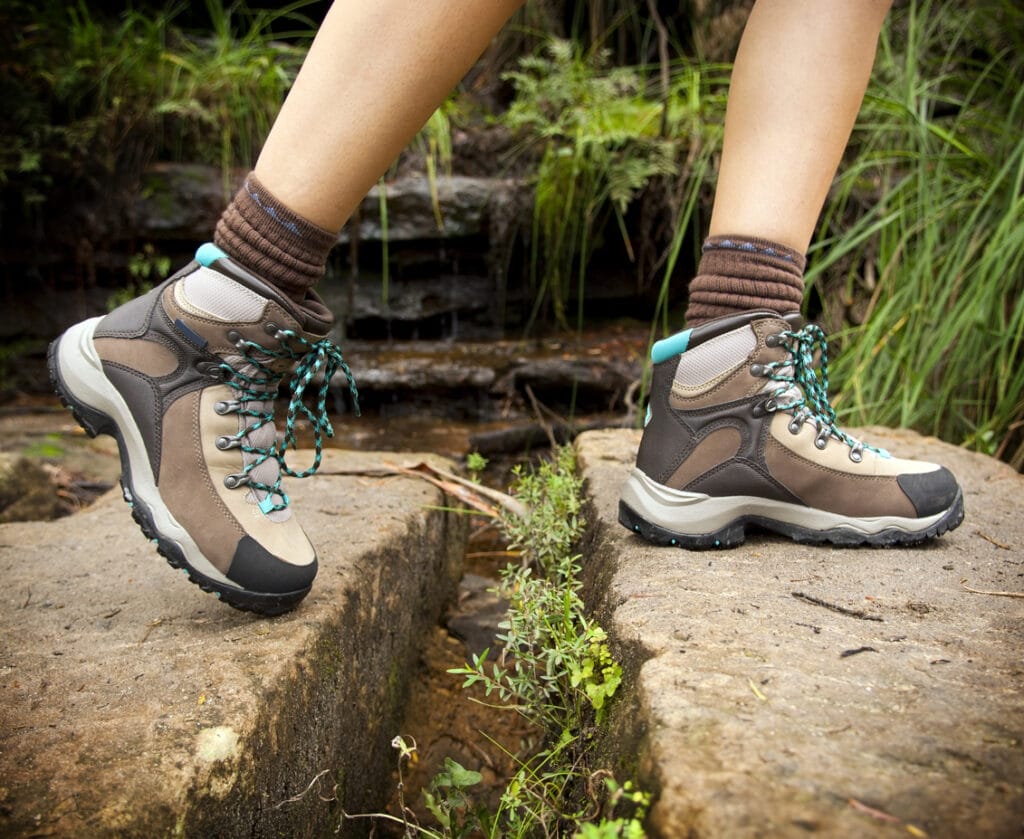 Outdoor shoes come in different styles and models, and picking the right ones will enhance the overall look of your birding gear. You need to make sure that you've picked an adequate style that supports your feet and keeps them warm and protected.
At the same time, it should prevent the risk of slips and allow you to move comfortably as you get close to the birds.
Some shoes are suitable for specific terrains and situations, while others are more versatile. Here are some types of birding shoes that you need to consider.
Sandals
Sandals are perfect for hot weather because they're breathable. If you suffer from an ingrown nail or an athlete's foot, you can still go bird watching if you're wearing the right sandals.
However, sandals offer the least degree of protection when you're enjoying an outdoor activity. They also lack adequate arch support.
Author Note: If you're going for bird watching along a path or a boardwalk, they will work for you. They're probably the best shoes to wear when you're watching birds close to your house or in your backyard.
Sneakers
Comfortable shoes like running sneakers are suitable for outdoor activities like bird watching. They provide adequate ankle support and cushioning, so they will keep your feet in perfect condition after walking and standing for a long time.
Some sneakers are waterproof, so they will keep your feet dry when you're bird watching in muddy terrains or national parks. However, they're not suitable for walking into water puddles or getting close to rocks and other sharp objects.
Mud Boots
Keep your feet warm and dry in all weather conditions while wearing mud boots. They're as comfortable as sneakers and running shoes, and they're waterproof all the way up the shaft. Due to their weight, you won't feel any discomfort after wearing them for long periods.
These boots are able for bird watching along creeks and swamps as the outsole provides better traction in wet conditions. However, they won't protect your feet from sharp objects like cactus or sharp thorns and rocks.
Hiking Boots
These are the most durable boots for hiking in all challenging conditions. They're usually made of durable leather and can keep your feet warm for long periods.
The hard rubber sole provides excellent traction and keeps your feet protected from any sharp objects. They come in several lengths, so you can use half boots for more comfort or long boots for more protection.
Author Note: While wearing these boots, your feet will stay dry all day long. However, they can feel a little bulky after spending a long time while you're walking for long periods.
Wrap Up
Choosing the right gear for birding will help you make the best of your bird watching experience. Your shoes should be comfortable enough to be worn all day long. At the same time, they should support your tendons, keep your feet warm, and provide good traction on all surfaces.
Make sure that you've picked the right color, fit, and style to enjoy a better bird watching experience. Avoid wearing shoes that are too wide or too narrow as they can cause skin problems or jeopardize your safety.
You should also choose the right color to help you blend better with the environment, so you can get close to the birds' location without startling them.
We hope you enjoyed this article on the best shoes for birding.
Fly high friends!
FAQ
My feet get too hot in heavy walking shoes. Are there any alternatives?
There is an excellent selection of walking sandals nowadays but they might not be suitable if you are in a wet area or going cross country. Shoe manufacturers like Merrell now do really good lightweight but robust walking shoes that should be suitable.
What walking sandals are there that I can use when bird watching?
Keen have a really good range of walking sandals that offer arch and ankle support. However, it doesn't matter what sandals you wear, you are guaranteed to get stones in your feet!